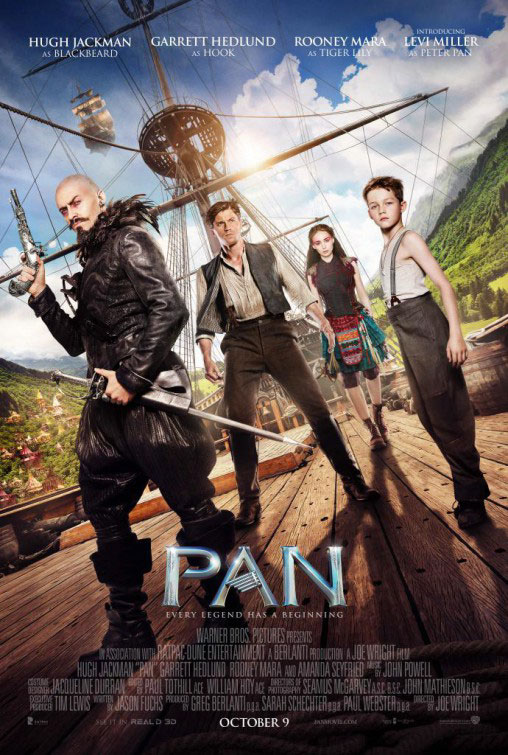 It's Thanksgiving weekend and there are a number of new movies for you to enjoy on your three days off! Several of these screened at TIFF, including Hyena Road and This Changes Everything, and we were lucky enough to interview the stars so make sure to check those out! We'll include links to the interviews below. Here's what's being offered as of today in theaters:
Pan is the big release of the weekend. Starring Hugh Jackman as the villain Blackbeard, this is an origin story about Peter Pan, based on the book by J. M. Barrie. In it, Peter teams up with Hook (Garrett Hedlund), who hasn't yet become the evil Captain Hook, in order to save the land from the pirate. This should be entertaining for parents and kids alike.
TRAILER: Pan
Hyena Road is the latest offering from much-loved Canadian director and actor Paul Gross. When a Canadian sniper (Rossif Sutherland) and his team are saved by a former mujahid, an officer (Paul Gross) formulates a plan to involve him. Click here to watch our exclusive interviews with Paul Gross, Rossif Sutherland, Allan Hawco, Christine Thorne and Karl Campbell.
TRAILER: Hyena Road
Playing in select cities, This Changes Everything gives a global overview of the ravages of climate change as told through the experiences of communities on the front lines. Click here for showtimes and/or click here to watch award-winning environmentalist director Rob Stewart's exclusive interview with filmmakers Avi Lewis and Naomi Klein.
TRAILER: This Changes Everything
Playing in Toronto, Calgary, Vancouver, Halifax and Montreal is the new thriller Knock Knock, starring Keanu Reeves as a happily married man who is put in an uncomfortable situation when two young girls come to his door.
TRAILER: Knock Knock
Playing in Toronto, Vancouver, Calgary, Victoria and Kelowna, the movie He Named Me Malala tells the true story of Malala Yousafzai, who was shot in the head by the Taliban when she was 15, for speaking out on behalf of girls' education in Pakistan. Now an educational activist, she has since emerged as a leading campaigner for the rights of children worldwide and in December 2014, became the youngest-ever Nobel Peace Prize Laureate.
TRAILER: He Named Me Malala
The drama 99 Homes opens in Toronto, Vancouver and Montreal. It's about an unemployed construction worker (Andrew Garfield) who teams up with an unscrupulous realtor (Michael Shannon) to save his family home.
TRAILER: 99 Homes
The Forbidden Room is playing in Toronto and Winnipeg. It opens in Vancouver on October 16 and in Montreal on October 23. A woodsman (Roy Dupuis) trying to save a maiden from bandits ends up in a submarine with them.
TRAILER: The Forbidden Room
The fascinating tale Labyrinth of Lies takes place in 1958, when lawyer Johann Radmann (Alexander Fehling) discovers that certain prominent institutions and branches of government are entangled in a conspiracy to cover up the crimes of Nazis during World War II. Johann works tirelessly to uncover the evidence, but as he gets deeper into it, he begins to wonder if his own family history is as honorable as he once thought. This intriguing drama is playing in Toronto and Vancouver. Click here for our interview with star Alexander Fehling and director Giulio Ricciarelli.
TRAILER: Labyrinth of Lies
That's quite a number to choose from! Which of these do you most want to see? Tell us below in the comments and make sure to come back after you've seen a film to rate it and give your movie review!