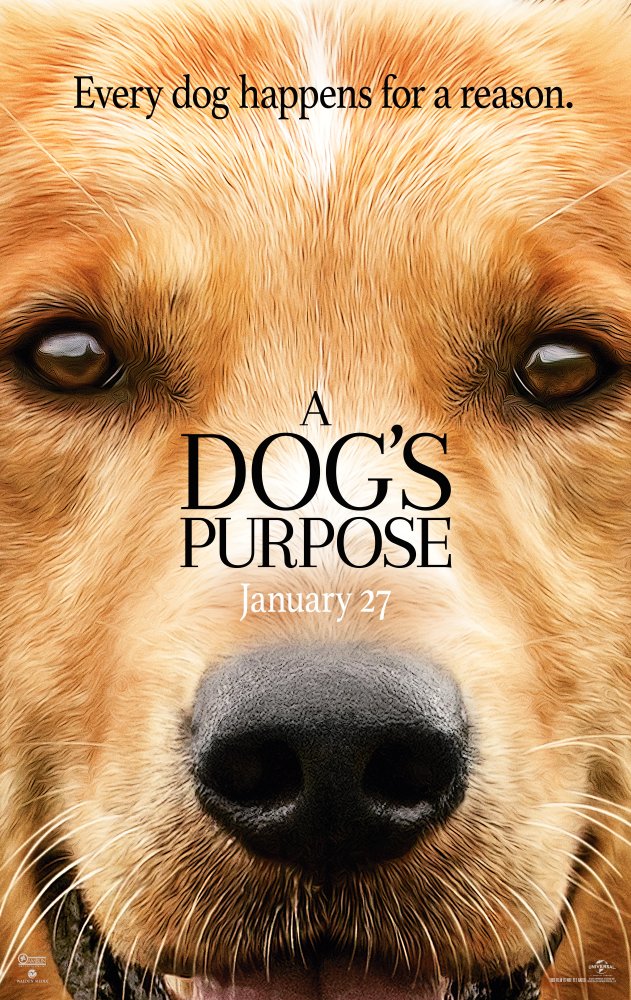 From a heartwarming tearjerker, to a hair-raising zombie thriller, the new movies arriving in theaters this weekend will have you covered no matter what kind of movie you are in the mood for.
Based on the bestselling novel by W. Bruce Cameron, A Dog's Purpose is a heartfelt tale of one dog's impact on the lives of his owners.
Alice (Milla Jovovich) is back and ready to face off against the undead one last time in Resident Evil: The Final Chapter.
In Gold, Matthew McConaughey and Édgar Ramírez find out the true price of getting lucky.
Check out the full list of movies hitting theaters this weekend below! ~Ashleen Grange
A Dog's Purpose – A devoted dog (voiced by Josh Gad) goes on a quest to discover his purpose in life over the course of several reincarnations and the many owners to whom he belongs. Along the way, he ponders such existential questions as "Why does food taste better in the trash?" and "What is the meaning of life?" Releasing everywhere today.  Click for showtimes.
Trailer: A Dog's Purpose 
Resident Evil: The Final Chapter – Immediately after the events of Resident Evil: Retribution, humanity is nearly doomed after rogue warrior Alice (Milla Jovovich) is betrayed by Wesker (Shawn Roberts) in Washington D.C. She must now travel back to what used to be The Hive in Raccoon City, the site where the nightmare began and where the Umbrella Corporation is preparing a final strike to eliminate all remaining survivors of the apocalypse. In theaters everywhere today.  Click for showtimes.
Trailer: Resident Evil: The Final Chapter
Gold – Kenny Wells (Matthew McConaughey) has never been a lucky man, and is so desperate for cash that he resorts to taking his girlfriend's jewelry. He teams up with geologist Michael Acosta (Édgar Ramírez) and the two men set off to search for gold deep in the uncharted jungles of Indonesia. Meanwhile, Kenny's relationship with longtime girlfriend Kay (Bryce Dallas Howard) is pushed to the breaking point. Opening wide today. Click for showtimes.
Trailer: Gold
Trespass Against Us – For three generations, the Cutler family has lived as notorious outlaws in some of Britain's wealthiest areas, spending their time hunting, raiding large estates, and causing trouble for the police. However, Chad Cutler (Michael Fassbender) wants to break away from the outlaw life. He finds himself torn between loyalty for his father's principles, and his dream for a better life for his children — all while the law is finally starting to catch up to him. Opening in select theaters today. Click for showtimes.
Trailer: Trespass Against Us
The Red Turtle – This animated film follows a castaway trapped on a deserted tropical island. The man's attempts to escape on a raft are constantly thwarted by a giant red turtle. Angry and frustrated, he seeks violent revenge on the creature. However, he is shocked to discover that the turtle's shell has magically split open, and what has emerged from inside will change his life forever. Screening in select theaters in Toronto and Montreal today. Click for showtimes.
Trailer: The Red Turtle
Toni Erdmann – Winifried (Peter Simonischek) is a retired piano teacher and divorcé who delights in playing silly (and annoying) pranks on everyone in his small German suburb. He also happens to be the father of Ines (Sandra Hüller), a corporate management consultant who is the complete opposite of her dad. Ines' tightly wound and controlled lifestyle is shaken up when the eccentric Winifried decides to pay her an unexpected visit after years of estrangement. What ensues is a hilarious clash of personalities that leaves both father and daughter exhausted. Opening today in Toronto, Vancouver and Montreal. Click for showtimes.
Trailer: Toni Erdmann
The River of My Dreams: A Portrait of Gordon Pinsent – In this moving documentary, Canadian screen icon Gordon Pinsent takes audiences on an emotional journey through his illustrious 70-year career. It is the real story behind Gordon's early years and the life he shared with his late wife Charm (Canadian actress Charmion King) — how they met, how they fell in love, and how she helped him reconcile his past. Releasing in Toronto today, and in Halifax, Ottawa, Calgary, and Vancouver Feb. 17, 2017. Click for showtimes.
Trailer: The River of My Dreams – A Portrait of Gordon Pinsent