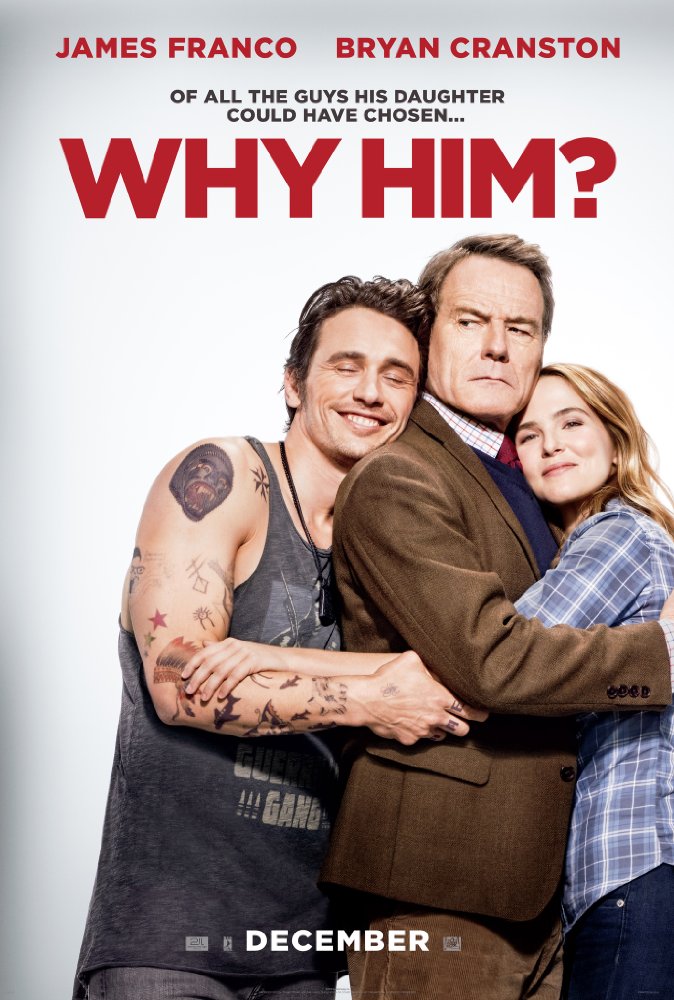 The Christmas weekend has arrived and cinema's gift to avid filmgoers is a package of diverse offerings.
Since Wednesday, four major motion pictures have been screening and satisfying their respective viewers. The heartfelt Lion, musically-inclined Sing, action-packed Assassin's Creed, and star-powered Passengers have lit up theaters.
The attraction opening today is the James Franco comedy Why Him?.
For film fans who prefer to spend Christmas Day in the comfort of a theater chair, the Oscar-hungry drama Fences — with Denzel Washington and Viola Davis — is scheduled to release on the 25th, as are awards contenders La La Land and Hidden Figures. ~Matthew Pariselli
Lion- When a five-year-old Indian boy, Saroo, goes with his older brother, Guddu, to beg for money at a train station, they get separated. Saroo climbs on a train to search for Guddu and winds up many miles away from his home. Too young to provide police with his home information, he ends being adopted by an Australian couple (Nicole Kidman, David Wenham). When Saroo (Dev Patel) grows up, he searches for his biological family. Opening wide. Click here for showtimes.
Trailer: Lion
Sing- A koala named Buster Moon (voiced by Matthew McConaughey) runs a beloved, once-grand theater, that has fallen on hard times. With the help of his sheep friend Eddie (John C. Reilly), Buster decides to raise money to keep the theater from being shut down, and holds the world's greatest singing competition. He distributes flyers far and wide, and a large number of singing hopefuls dream of winning, including unappreciated stay-at-home mother pig Rosita (Reese Witherspoon), a gorilla named Johnny (Taron Egerton) who doesn't want to follow his father's criminal footsteps, and a shy young elephant named Meena (Tori Kelly). In theaters nationwide. Click here for showtimes.
Trailer: Sing
Assassin's Creed- Based on the popular video game series of the same name, the film adaptation revolves around criminal Callum Lynch (Michael Fassbender), who is rescued from his own execution by Abstergo Industries, the modern-day incarnation of the Templar Order organization. He is then forced to participate in the Animus Project and relive the memories of his ancestor Aguilar de Nerha, in 15th century Spain. Through these memories, Callum discovers he's a descendant of the secret Assassins society, and gains incredible knowledge and skills that will help him confront the oppressive and powerful enemies of the Assassins — the Knights Templar organization of the present day. Screening nationwide. Click here for showtimes.
Trailer: Assassin's Creed
Why Him?- A straight-laced, overprotective dad named Ned (Bryan Cranston) and his family travel on holiday to visit his daughter Stephanie (Zoey Deutch), who's studying at Stanford. There, Ned meets his worst nightmare: Stephanie's new socially awkward billionaire boyfriend Laird (James Franco), who is by far the opposite of Ned's envisioned perfect suitor. Finding him wildly inappropriate for his daughter, Ned sees Laird as obnoxious, rich, and worst of all, tattooed. When Ned discovers that Laird is planning to propose to Stephanie, he goes on a mission to stop the engagement before it happens. Releasing wide today. Click here for showtimes.
Trailer: Why Him?
Fences- In the 1950s, Troy (Denzel Washington), 53, works hard as a garbage collector in order to provide for his family. Troy, who once dreamed of being a baseball player, believes he never made it because of his skin color, so when his son, Cory, wants to play football in order to get a scholarship, Troy doesn't allow him. He doesn't show Cory or his younger brother much love, and this causes tension between Troy and his wife Rose (Viola Davis). Meanwhile, Rose discovers Troy's affair with a woman who is pregnant with her husband's child. Releasing everywhere Sunday, Dec. 25, 2016. Click here for showtimes.
Trailer: Fences
La La Land- Mia (Emma Stone), an aspiring actress, keeps bumping into the disgruntled Sebastian (Ryan Gosling), a dedicated yet stubborn jazz musician who dreams of opening his own jazz club one day. The two finally get together and Mia even begins to love jazz, but she also begins to lose faith in herself when yet another audition goes wrong. Sebastian convinces her to give it one last shot, but she feels he's selling out when he joins a popular band as a keyboard player in an effort to make money for the two of them, which drives a wedge between them. Opening in select cities Christmas Day. Click here for showtimes.
Trailer: La La Land
Hidden Figures- The inspirational true story of the first female African-American mathemetician, Katherine Johnson (Taraji P. Henson), and her two colleagues, Dorothy Vaughan (Octavia Spencer) and Mary Jackson (Janelle Monáe), whose groundbreaking calculations helped NASA catch up in the "Space Race" with the Soviet Union and allowed John Glenn (Glen Powell) to become the first American astronaut to successfully make a complete orbit of the Earth. Screening in select cities Sunday, Dec. 25, 2016. Click here for showtimes.
Trailer: Hidden Figures
Passengers- Starship Avalon is a spacecraft on a 120-year voyage to a distant planet known as Homestead Colony. When there's a malfunction, a hibernation pod opens 90 years too early, leaving a single passenger (Chris Pratt) the only one awake on the ship. He wakes one of the other passengers (Jennifer Lawrence). When the ship has further malfunctions, they have to try to save the thousands of other passengers on board. Screening everywhere. Click here for showtimes.
Trailer: Passengers