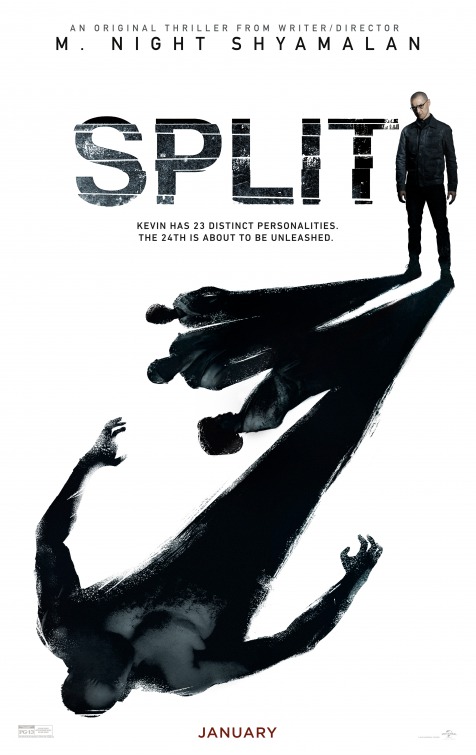 It's a big weekend for new movies grounded in male-driven stories.
First, there's Split, M. Night Shyamalan's latest thriller starring James McAvoy as a man with 24 personalities.
Vin Diesel returns to flex his muscles in xXx: Return of Xander Cage, which boasts a supporting cast that includes Samuel L. Jackson and Toni Collette.
Finally, if you're looking for a film based on a true story, check out The Founder with Michael Keaton. The drama profiles Ray Kroc, the man responsible for making the golden arches of McDonald's one of the most recognizable symbols in the world.
Scroll down to learn more about the movies releasing across Canada today! ~Matthew Pariselli
Split- As three girls wait in the back of a car, a seriously mentally ill man named Kevin (James McAvoy) gets into the driver's seat. He kidnaps the girls and locks them in a bunker. They quickly learn he has more than one identity when he shows up dressed as a woman. Another of his personalities, Hedwig, says he's nine years old. One of the girls, Casey (Anya Taylor-Joy), tries to convince one of Kevin's nicer egos to let them go. Meanwhile, Kevin's psychiatrist (Betty Buckley) believes there is a personality she hasn't yet met who dominates the others. Click for showtimes.
Trailer: Split
xXx: Return of Xander Cage- Spy/extreme sports enthusiast-turned-government operative Xander Cage (Vin Diesel) is back after being left for dead and living in exile for years. He's recruited by Agent Gibbons (Samuel L. Jackson) and Jane Marke (Toni Collette) to take on four dangerous individuals in possession of a device that controls every military satellite in the world. He teams up with three other agents, including Adele Wolff (Ruby Rose), in a violent, high-octane journey around the globe. Click for showtimes.
Trailer: xXx: Return of Xander Cage
The Founder- The true story of how small-time salesman Ray Kroc (Michael Keaton) met brothers Dick McDonald (Nick Offerman) and Mac McDonald (John Carroll Lynch) when he was selling them mixers for the small restaurant chain that they'd started on their own. Impressed by the brothers' speedy system of making and serving the food, he saw the potential to make a highly profitable franchise. He went on to create the billion-dollar McDonald's empire. Click for showtimes.
Trailer: The Founder