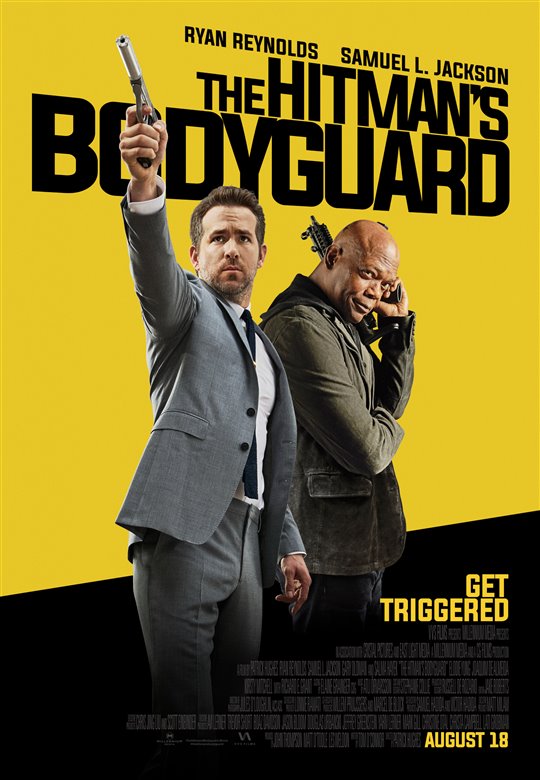 This weekend's new releases include action comedies The Hitman's Bodyguard and Logan Lucky, as well as the live tribute Extraordinary: Stan Lee and the drama The Neighborhood.
The Hitman's Bodyguard – Michael Bryce (Ryan Reynolds) was a highly regarded protection agent, but recently has fallen on hard times. His ex-girlfriend, an Interpol agent, asks him to take on the task of delivering the world's most wanted hitman, Darius Kincaid (Samuel L. Jackson), to the International Court of Justice in The Hague to testify against a cruel dictator (Gary Oldman). But there's one big problem: the two are longtime enemies. Opening wide today. Click here for showtimes.
Trailer: The Hitman's Bodyguard
Logan Lucky – Brothers Jimmy (Channing Tatum) and Clyde (Adam Driver) are down on their luck. Jimmy and Clyde, along with their sister Mellie (Riley Keough), decide to rob the Charlotte Motor Speedway. However, they realize they're going to need some help pulling off the job, so they recruit a demolition expert (Daniel Craig), whom they first have to break out of prison. A scheduling snafu finds them executing the elaborate heist during the most popular race of the year, and things get worse when an FBI agent (Hilary Swank) shows up to investigate. Opening wide today. Click here for showtimes.
Trailer: Logan Lucky
Extraodinary: Stan Lee – Hosted by Chris Hardwick, this tribute to the career of the legendary Stan Lee, who created characters such as Spider-Man, the X-Men and Doctor Strange, is broadcast live via satellite in HD from Los Angeles. Celebrity guests such as Channing Tatum, Zoe Saldana, Tom Bergeron, Michael Rooker, comic book artist Todd McFarlane, and many more will reflect on the life and career of the famous comic book creator. Fans will also have a chance to live tweet their questions to Stan Lee. Showing live in select theaters on August 22. Click here for showtimes.
The Neighborhood – In Brooklyn, mob boss Gianluca Moretti (Giancarlo Giannini) is the Godfather whose family has been in charge of the Neighborhood for four generations, including the drug supply. Angelo Donatello is the leader of a small-time group of criminals who've been committing minor crimes since they were kids. Moretti asks Angelo to join his ranks, but he's not interested. That is, until one of his guys stupidly gets involved in the Don's heroin, and Angelo becomes a wanted man. Opening in select theaters today. Click here for showtimes.
Trailer: The Neighborhood
What are you seeing this weekend? Let us know in the comment section below and be sure to rate and review the film on our website! ~Alexa Caruso