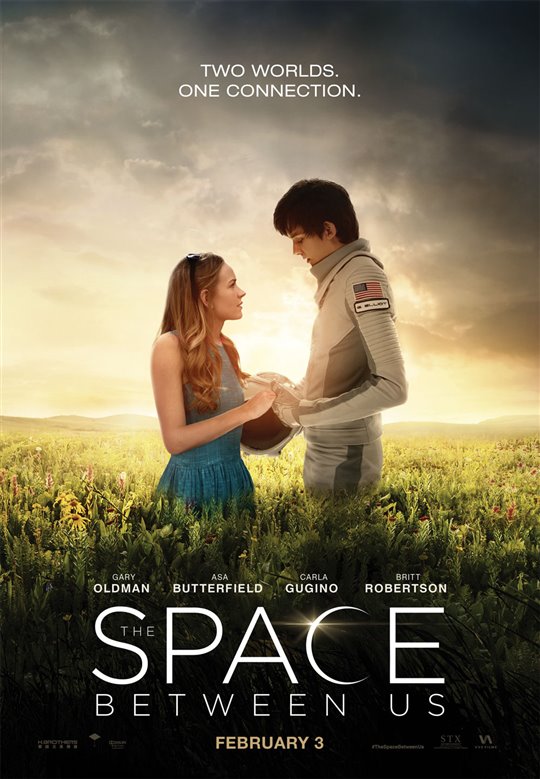 TGIF — and we're also thankful that there are plenty of new movies arriving in theaters today. Check out the list below!
The Space Between Us is a reminder that true love can withstand the even the farthest distance. Asa Butterfield and Britt Robertson are perfect as the star-crossed lovers.
If you're planning a Friday night fright fest, look no further. Rings, the prequel to The Ring franchise, takes us to the origins of the cursed tape that claims lives.
Nominated at this year's Oscars for Best Foreign Language Film, The Salesman is an emotional drama that captures how a couple heals after a tragic incident.
When all seems lost for former-funnyman Jackie (Robert De Niro), a small gig at a retirement home could be just the spark he needs in The Comedian.
Journey to the West: The Demons Strike Back is an intense, action-packed adventure that will take you on a nonstop journey! ~Ashleen Grange 
The Space Between Us – A group of astronauts go on a mission to colonize Mars. After they land, one of the astronauts discovers she's pregnant. Sixteen years later, her son, Gardner Elliot (Asa Butterfield), has lived his entire life on Mars. He he uses the Internet to communicate with Tulsa (Britt Robertson), a teenage girl who lives in Colorado. When Gardner and the astronauts return to Earth, he begins exploring in order to find his father, but discovers his organs aren't used to the Earth's atmosphere. He's placed in a medical facility but breaks out, finds Tulsa and they go on the run. Releasing wide today. Click for showtimes.
Trailer: The Space Between Us
Rings – The third installment of The Ring series takes place before the creation of the unmarked tape that terrorizes whoever watches it, and focuses on high school student Julia (Matilda Lutz) and her college boyfriend, Holt (Alex Roe). When she arrives, Julia discovers that Holt watched the tape six and a half days ago, and now they have a half day to find a way to save him. Releasing wide today. Click for showtimes.
Trailer: Rings
The Salesman – An Iranian couple, Emad and his wife Rana, are forced to move to a new apartment in Tehran when the building they were living in collapses. One night when Emad is out, a man enters their home and attacks Rana. Rana, who was in the shower when the intruder showed up, was struck on the head. She's taken to the hospital and gets stitches, but won't let Emad report the attack to the police. As they try to cope with the aftermath of the attack, Emad becomes obsessed with the identity of the intruder in order to exact revenge. Opening in Toronto, Montreal, and Vancouver today; expanding Feb. 10. Click for showtimes.
Trailer: The Salesman 
The Comedian – Aging comedian Jackie (Robert De Niro), who was once the star of a successful TV sitcom, has fallen on hard times. He's having difficulty finding work and when his agent finally gets him a gig in a club, he blows it by attacking a member of the audience for filming his act. Things slowly begin to turn around for Jackie when his agent books him a gig at a retirement home. The video goes viral and he's asked to make appearances on high-profile talk shows. Opening in select theaters today. Click for showtimes.
Trailer: The Comedian 
Journey to the West: The Demons Strike Back – Tang dynasty Buddhist monk Xuan Zang (Kris Wu) and his three disciples — the Monkey King, Pigsy, and Sandy — continue on their journey to India as they battle demons who want to feast on the monk's flesh. Meanwhile, a spider demon and her minions stake out a mansion to trap and capture the monk. Opening in select cities today. Click for showtimes.
Trailer: Journey to the West: The Demons Strike Back