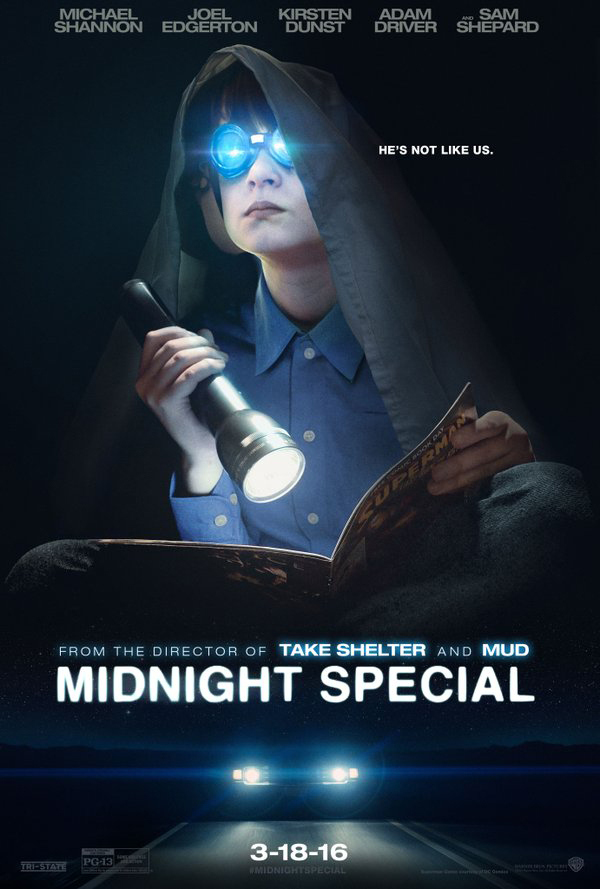 Long weekends are always tough to follow up. There's a certain sullenness that hangs in the air, but with this week's assortment of movies launching onto screens, we're here to inform you that your spirits may be about to lift.
There's the mysterious Midnight Special, about two men on the run in an effort to protect one of their sons, who happens to have some extraordinary powers that the government seeks to harness. Michael Shannon, Joel Edgerton and Kirsten Dunst light up this flick.
Speaking of light, if you're not in the mood for something quite so heavy, Everybody Wants Some!! is your best bet. The Richard Linklater comedy takes us back to college during the 1980s, where a male baseball team navigates all the unspeakable activities of, well, a male baseball team.
There's also the Nicholas Hoult and James Corden-led comedy Kill Your Friends. This fast-paced film centers around a British music executive whose unstoppable ambitions plant him in plenty of entertaining situations. ~Matthew Pariselli
God's Not Dead 2 follows high school history teacher Grace Wesley (Melissa Joan Hart), whose response to a student's question about Jesus lands her in big trouble. Her remarks culminate in an epic court case that could cost her the career she loves and expel God from the classroom—and the public square—once and for all. The film opens nationwide today. Click for showtimes.
Trailer: God's Not Dead 2
Roy (Michael Shannon) and his friend (Joel Edgerton) go on the run to protect Roy's son Alton (Jaeden Lieberher) and to uncover the truth behind the boy's special powers. On the way to the home of Alton's mother Sarah (Kirsten Dunst), they have to dodge the authorities, who want to capture the boy to find the truth behind his special powers. Midnight Special opens in Toronto, Montreal and Vancouver today. Click for showtimes.
Trailer: Midnight Special
Hitting screens in Toronto today, then in Montreal/Vancouver on April 8 and additional cities on April 15, Everybody Wants Some!! is the product of Richard Linklater, best known for Boyhood and Before Sunset. The film takes place in the 1980s, when high school baseball star Jake (Blake Jenner) has freshly arrived at college and aims to find a way to fit in with his fellow students and baseball teammates. His upperclassman fellow baseball players take it upon themselves to teach Jake and the rest of the newbies how to navigate the party scene and make the most of their first year. Click for showtimes.
Trailer: Everybody Wants Some!!
In Absolutely Anything, opening in Toronto and Ottawa, a group of aliens bestow the ability to make absolutely anything happen upon a random Earthling (Simon Pegg), to determine whether or not he uses the power for good. If he uses it for evil, Earth will be destroyed. Click for showtimes.
Trailer: Absolutely Anything
Opening in Toronto today, Kill Your Friends is the story of a music executive (Nicholas Hoult) who will stop at nothing to further his career. Set in 1997 Britain, at the height of the Britpop era with extremely popular bands like Blur, Radiohead and Oasis, the film features drugs, sex, greed and power – the ingredients of success. It co-stars James Corden and Rosanna Arquette and is based on the bestselling novel by John Niven. Click for showtimes.
Trailer: Kill Your Friends
Set in the 1980s, 10,000 Saints opens in Calgary today and is the story of a teenager (Asa Butterfield) from Vermont who moves to the East Village in New York City to live with his father (Ethan Hawke). Click for showtimes.
Trailer: 10,000 Saints