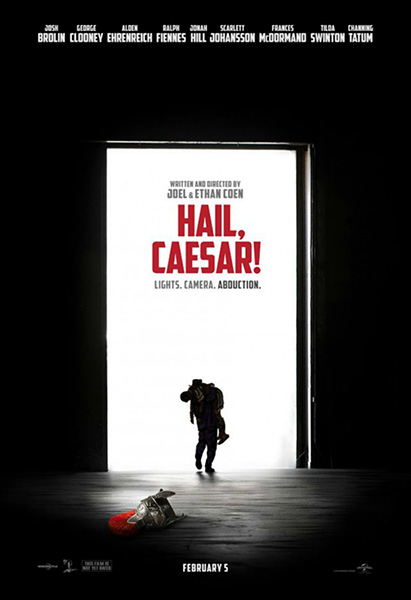 The task is simple this week. Go see a movie. Seriously, just do it. It really takes the edge off the workday. Take a friend. Take your spouse. Take your kid. Take yourself. Whatever your movie preference, we've got it all right here.
Written and directed by the Coen Brothers, every actor with a SAG card is in the new musical comedy Hail, Caesar!. So if you're a George Clooney fan, don't move. Dying to see the lovely Scarlett Johansson on screen again? Look no further. Haven't seen the chameleon that is Tilda Swinton in a while? We're pretty sure she's in it. Need your Channing Tatum fix? Stop shaking.
OK, so you're leaning towards some low-key romance, featuring a couple of extremely good-looking leads. Well then, The Choice is easy. See what we did there? In a similar vein, you can also check out the romantic comedy A Date with Miss Fortune, a tale for the hopeless romantic in all of us — with a less-than-hopeful twist.
If you are indeed a fan of all that kissy, lovey stuff, but with the happy addition of blood and guts, then Pride and Prejudice and Zombies is the twisted, apocalyptic romance flick for you. Or, for those with very specific tastes, how about some Maggie Smith? In a van? A little van Dame never hurt anybody. If this sounds like you, then you can see the talented Dame Maggie in the new comedy The Lady in the Van. And attention, rabid Star Wars devotees — watch your man Oscar Isaac in action as a murderous psychopath in the new thriller Mojave.~Shelby Morton
Opening wide across Canada today, the comedy Hail, Caesar! stars Josh Brolin as studio "fixer" Eddie Mannix who is faced with his most daunting fix yet — an up-and-coming starlet (Scarlett Johansson) is pregnant, and the studio's biggest movie star, Baird Whitlock (George Clooney), has been kidnapped. This all-star ensemble also includes Ralph Fiennes as director Laurence Laurentz, Jonah Hill as bookkeeper Joseph Silverman, Frances McDormand as film editor C.C. Calhoun and Channing Tatum as a singing and tap-dancing actor. Click here for showtimes.
Trailer: Hail, Caesar!
Ladies' man Travis Shaw (Benjamin Walker) isn't looking for a serious relationship — until he meets his new neighbor Gabby (Teresa Palmer). She's a beautiful and smart medical student, who already has a  serious boyfriend. As the two grow closer, Travis hopes that Gabby will follow her heart and choose a life with him instead. Based on the 2007 novel by Nicholas Sparks, the romantic drama The Choice opens everywhere today. Click here for showtimes.
Trailer: The Choice
Based on the parody novel of the same name, and opening wide today, Pride and Prejudice and Zombies is a wild re-imagining of Jane Austen's 1813 classic Pride and Prejudice. Lily James plays the ever-precocious and independent Elizabeth Bennet, who is also a martial arts specialist. Sam Riley plays the very wealthy Mr. Darcy. As in the original, the two are equally prideful and prejudiced. In this adaptation, however, they must case aside their differences in order to fight off an impending plague of zombies. Click here for showtimes.
Trailer: Pride and Prejudice and Zombies
The Lady in the Van depicts the real-life friendship between playwright Alan Bennett and the homeless lady who lived in his driveway for over a decade. A woman of uncertain origins named Mary (Maggie Smith) "temporarily" parks her van in Alan's (Alex Jennings) driveway, and proceeds to stay there for 15 years. Over the course of those 15 years, the two form an unlikely bond, as Alan learns many surprising things about the lady in the van. This quirky comedy opens in select cities today. Click here for showtimes.
Trailer: The Lady in the Van
The crime thriller Mojave, which opens in Toronto, Edmonton and on VOD, follows Thomas (Garrett Hedlund), a brilliant artist with a wife and daughter, as he travels to the Mojave desert in order to clear his mind, or commit suicide — whichever comes first. There, he encounters a mysterious and homicidal drifter named Jack (Oscar Isaac) who sets his deranged sights on mentally and physically torturing the unsuspecting Thomas. Click here for showtimes.
Trailer: Mojave
When Jack comes across Portuguese beauty Maria, he think he's met the one. But on their accidental "first date," he finds out that maybe their future isn't as bright as he had originally thought in the romantic comedy A Date with Miss Fortune, opening in Toronto and Winnipeg. Click here for showtimes.
Trailer: A Date with Miss Fortune