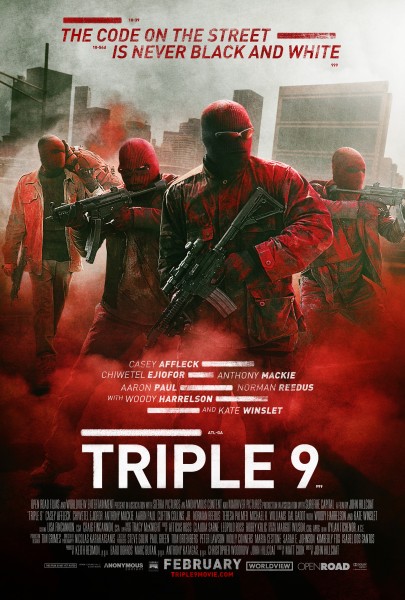 Although many moviegoers will be hitting theaters this weekend to catch the Oscar-nominated films in time for Sunday's show, there are plenty of other options to choose from if Oscar isn't your man.
There's the heist flick Triple 9, which features just as much action as it does A-list talent, including Chiwetel Ejiofor and Kate Winslet. If it's action of a different kind you're on the hunt for, Gods of Egypt should satisfy your craving. Starring Gerard Butler (and his bulging biceps), the film looks to reel in epic battle-hungry crowds.
Crouching Tiger, Hidden Dragon: Sword of Destiny is the long-awaited follow-up to the soaring success of its 2000 predecessor. Scheduled to stream on Netflix, it's also available on IMAX this weekend for die-hard Toronto fans who want an experience that's as real as it gets. If you'd rather watch an Olympian fly through the sky on skies instead of a martial artist swinging a sword mid-air, check out the inspiring and humorous Eddie the Eagle, based on the true story of one of sport's greatest underdogs.
To toss in some variety, there's also the Benicio Del Toro dramedy A Perfect Day and Michael Moore's latest Where to Invade Next.
Finally, for animation aficionados, the stunning Only Yesterday is making its North American debut.
~Matthew Pariselli
Opening Canada-wide today, Triple 9 follows ex-Special Forces member Michael Atwood (Chiwetel Ejiofor), who helms a crew of corrupt cops looking to pull off a hugely daring bank heist. Detective Sergeant Jeffrey Allen (Woody Harrelson) is assigned to track the group but faces a rude awakening when he realizes his nephew Chris (Casey Affleck) is in tight with one of the cops (Anthony Mackie). This year's Academy Award-nominee Kate Winslet enters the mix as Russian-Israeli mob boss Irina Vlaslov and a "999" incident code is staged, signifying "officer down." A wild spiral of events unfolds that eventually culminates in an edge-of-your-seat ending. Click here for showtimes.
Trailer: Triple 9
In this action-adventure harking back to classic mythology, Gods of Egypt sees the survival of humanity placed in the palms of mortal hero Bek (Brenton Thwaites), who is tasked with saving the world. After Egypt is overtaken by the cruel god of darkness Set (Gerard Butler), Bek must band together with the powerful god Horus (Nikolaj Coster-Waldau) to combat the forces of evil and return Egypt to its original peaceful and prosperous balance. The film explores themes of greed, revenge, courage and sacrifice, and opens Canada-wide today. Click here for showtimes.
Trailer: Gods of Egypt
Eddie the Eagle, the biopic inspired by Great Britain's most famous ski jumper, is a feel-good story that is rocketing into theaters across Canada today. Michael "Eddie" Edwards (Taron Egerton) is a resilient, driven and likable young man who never loses faith in himself, even when the world discounts him. Under the tutelage of an unconventional coach (Hugh Jackman), Eddie challenges the establishment in order to compete at the 1988 Calgary Winter Olympic Games. In the process, he captures the hearts of those watching with his historic showing and leaves an indelible mark on the world of sport. Click here for showtimes.
Trailer: Eddie the Eagle
The first original film Netflix announced in 2014, Crouching Tiger, Hidden Dragon: Sword of Destiny is finally here and tears onto select IMAX screens today. Sixteen years after Crouching Tiger, Hidden Dragon won over audiences, Michelle Yeoh reprises her role as Yu Shu Lien from the original smash hit as she mentors young warriors and strives to keep the legendary Green Destiny sword from the evil Hades Dai. The film is also available on Netflix today. Click here for showtimes.
Trailer: Crouching Tiger, Hidden Dragon: Sword of Destiny
The year is 1995 and it's just another day for a clan of war zone rescue workers in the Balkans as they escape death and encounter the chaos of combat in A Perfect Day. The film, which opens today in select Canadian cities, follows Mambrú (Benicio Del Toro) as he leads his team of humanitarians, accentuated by veteran B (Tim Robbins), through a day's worth of adventure, unexpected emergencies and the reappearance of a past lover. Through it all, the team exudes selfless courage and a welcome amount of humor. Click here for showtimes.
Trailer: A Perfect Day
Controversial filmmaker Michael Moore makes his return to cinemas with his most recent documentary Where to Invade Next, opening today in Toronto, Montreal and Vancouver. Following in the footsteps of Bowling for Columbine and Farenheit 9/11, the film takes a critical look at the United States, this time examining the nation's extensive and contentious history of invading foreign countries. Exploring the issue from a unique and comedic standpoint, Moore places himself in the shoes of "the invader" and travels to a host of places in search of how the U.S. could better improve its tactics. Click here for showtimes.
Trailer: Where to Invade Next
Opening today in Toronto, Studio Ghibli's masterpiece Only Yesterday, which was originally released in 1991 but never screened in North America, is finally getting the Western treatment it deserves. A new English-language version of the animated adult film features the voices of Dev Patel and Star Wars: The Force Awakens' Daisy Ridley. The story, about an unmarried 27-year-old Tokyo native who travels to visit her family in the countryside and is flooded by memories of her girlhood, takes self-discovery and the importance of being true to oneself as its central elements. Click here for showtimes.
Trailer: Only Yesterday