New on DVD – A Most Violent Year, The Voices and more
By Tribute on April 7, 2015 | Leave a Comment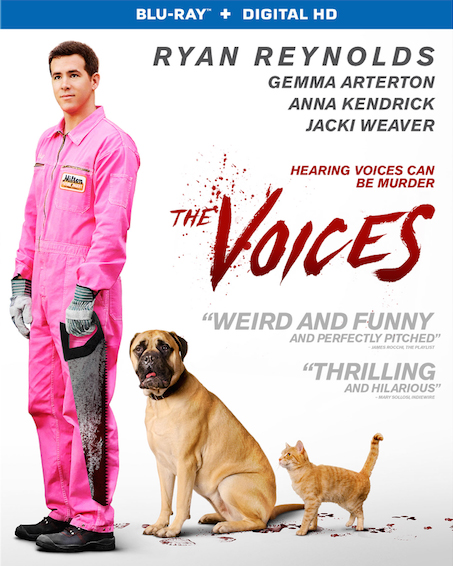 If you were lucky enough to have Easter Monday off, you can get your week started with a new DVD—and we have quite the selection for you to choose from. Here's what's new on DVD today.
In the dark comedy drama The Voices, Jerry (Ryan Reynolds) is a factory worker who lives with his dog, Bosco, and his cat, Mr. Whiskers. Due to his mental health problems, Dr. Warren (Jacki Weaver), his psychotherapist, keeps Jerry on a rigid regimen of antipsychotics. However, once he stops taking his medications, he begins hearing voices. Bosco gives him positive reinforcement and builds him up. Mr. Whiskers, on the other hand, is a little more torturous to Jerry's self-esteem. Wanting to prove to the cat that he is actually lovable, he asks out Fiona (Gemma Arterton), a woman he meets at an employee barbecue. Unfortunately, things take a dark turn and go disturbingly wrong. 
TRAILER: The Voices
1981 has gone on record as being New York's most destructive period in the crime drama A Most Violent Year. Immigrant worker Abel Morales (Oscar Isaac) and his wife Anna (Jessica Chastain) have hopes of living the American Dream. They try to expand their heating oil business, reach for success and capitalize on opportunities. After one of Abel's drivers is brutally attacked and several oil trucks are hijacked, Anna tries to persuade him to retaliate using violence. Can Abel and Anna achieve their goals and live the life they've dreamed of while surrounded by violence and corruption?
TRAILER: A Most Violent Year
In the crime thriller Son of a Gun, 19-year-old JR (Brenton Thwaites) is sent to prison for six months. Within his first few days in lockup, he witnesses his cellmate being sexually abused by the other inmates. When the cellmate commits suicide, the other inmates turn their attention to JR. Infamous criminal Brendan Lynch (Ewan McGregor) and his gang offer to protect JR—but with one catch: Brendan will protect him while he's on the inside as long as JR helps him once he's back on the outside.
TRAILER: Son of a Gun
In the dark comedy thriller Home Sweet Hell, Don Champagne (Patrick Wilson) and his perfectionist wench-of-a-wife Mona (Katherine Heigl) live in suburban paradise—until Mona finds out about Don's affair with the very attractive Dusty (Jordana Brewster). When the couple learn that Dusty is now pregnant with Don's child, Mona decides she must eliminate all obstacles to maintain her picture-perfect life.
TRAILER: Home Sweet Hell
In the romantic comedy The Rewrite, Keith Michaels (Hugh Grant) is an award-winning screenwriter. Finding himself in a slump after numerous box office fails and a divorce, he enrolls as a writing professor at a college. He intends to coast by on mediocrity while working on his latest script, until he meets Holly (Marisa Tomei), a working single mother looking to write the next chapter in her life.
TRAILER: The Rewrite
Finding Vivian Maier is a documentary surrounding the life and work of the late Vivian Maier, a nanny whose 100,000 secret photographs have earned her the reputation as one of the 20th century's most famed street photographers. Her stunning work was first discovered in 2007, at an auction house in Chicago's Northwest Side.
TRAILER: Finding Vivian Maier
In the Turkish drama Winter Sleep, Aydin is an educated and wealthy, yet arrogant, former actor who owns a mountaintop hotel. His philanthropic young wife, Nihal, contemplates divorcing Aydin and in an emotional fit, he tells her she's free to leave. Regretting his hasty response, he and Nihal relocate to Instanbul for the winter. 
TRAILER: Winter Sleep
In the comedy 108 Stitches, a college baseball team is trying to deal with having the longest losing streak in the institution's history. After becoming aware that the school's unethical president is planning on eliminating the program, they realize they have one afternoon to figure out how to sell out the stadium, enlist the most sought-after prospect and give their coach a send-off to remember.
In the drama The Yellow Eyes of Crocodiles, Josephine is forced to readjust to life as a single mother after her cheating husband leaves her. Having extensive knowledge of the 18 century, she has difficulty with contemporary life. Little does she know, her life is about to be transformed forever.
In the documentary The Overnighters, a local pastor comes to the aide of men chasing their dreams of working in the oil fields in the North Dakota oil boom. With affordable housing nearly impossible to find, he allows them to take shelter in his church, helping over 1,000 people over two years.
Despite being a successful author, Hubert Wolfe hasn't written anything in a decade in the comedy The Masters of Suspense. He's also a fraud. Hubert uses a brilliant ghostwriter, Dany, to pen all of his masterpieces. When Dany becomes unable to write, Hubert finds a new ghostwriter. Upon meeting, all three of their lives are turned upside down. ~Sandra D. Sukraj
---
---
---
Similar Articles
---
---