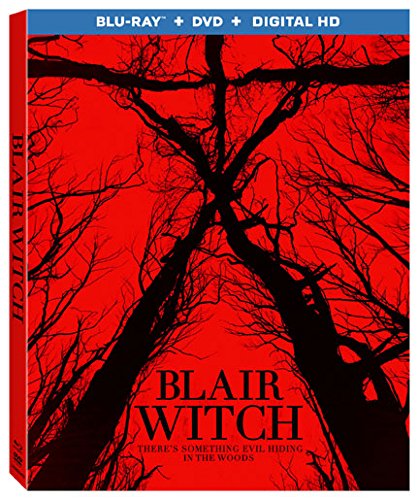 Let's bid a hearty adieu to 2016, and give a warm welcome to 2017! With this long-awaited new year comes a fresh batch of flicks to satisfy your chronic binge habit (don't worry — there's always next year's resolution).
The first movie hitting the DVD/Blu-ray shelf is Blair Witch, the follow-up to 1999's cult classic The Blair Witch Project. Set 20 years after the events of the first film, a college student enters the legendary Black Hills forest in search of his missing sister and encounters much more than he bargained for.
Next up is the Holocaust drama Denial, which stars Oscar-winner Rachel Weisz as the real-life American historian Deborah Lipstadt, who found herself embroiled in a legal scandal after outing a notable British historian as a Holocaust denier in 1993.
Rounding out our excellent selection are two flicks for teens: Middle School: The Worst Years of My Life, a comedy which follows a preteen hell bent on breaking all the rules, and Natural Selection, a thriller about a boy's dangerous friendship with a classmate. ~Shelby Morton
Take a closer look at the movies below:
Blair Witch- Two decades after the events of The Blair Witch Project, a college student named James (James Allen McCune) comes across a video on the internet that was shot in the haunted Black Hills forest in Maryland. He believes one of the people in the video is his missing sister Heather, who disappeared with her camera crew while investigating the legend of the Blair Witch. Along with his filmmaker girlfriend Lisa (Callie Hernandez) and some friends, he heads for the woods to search for Heather. As Lisa documents their journey, the group begins to encounter events that are eerily similar to those that Heather and her film crew had previously encountered.
Trailer: Blair Witch
Denial- In 1996, Brit David Irving (Timothy Spall) sued American historian Deborah Lipstadt (Rachel Weisz), as well as Penguin Books, which published her book Denying the Holocaust, because she criticized some of his anti-Semitic writings and public statements, in which he claimed to be able to prove there had been no gas chambers at WWII concentration camp Auschwitz. With the suit having been filed in Britain, Lipstadt worries, because English libel law puts the burden of proof on the defendant rather than the plaintiff, so if she is not able to prove the veracity of the existence of gas chambers for the purpose of killing Jews and other prisoners at Auschwitz, it will become widely acceptable for hatemongers to claim the Holocaust didn't happen.
Trailer: Denial
Middle School: The Worst Years of My Life- Rafe (Griffin Gluck) has an epic imagination…and a slight problem with authority. Both collide when he transfers to an oppressive, rule-crazy middle school. Drowning in do's and don'ts, Rafe and his scheming best friend Leo (Thomas Barbusca) hatch a plan to break every rule in the school's Code of Conduct. It's Ferris Bueller meets Home Alone as their battle with Principal Dwight (Andrew Daly) explodes into chaos both real and imagined. But Dwight displays his own fiendish creativity, striking back at the rule breakers. Meanwhile, Rafe struggles to hide his misbehavior from Jeannie, the straight-A, overachieving girl of his dreams, and at home, his mother (Lauren Graham) has a new boyfriend — a mooching, jack-of-no-trades named Bear — who threatens to become his stepfather.
Trailer: Middle School: The Worst Years of My Life
Natural Selection- Tyler (Mason Dye) has just transferred to a new high school where he's having trouble fitting in. He makes friends with Indrid, a cool, handsome student who seems to have everything figured out. But when he realizes Indrid's cool outlook includes ideas about natural selection and survival of the fittest, which may ultimately put the other students in danger, Tyler struggles with right and wrong.
Trailer: Natural Selection