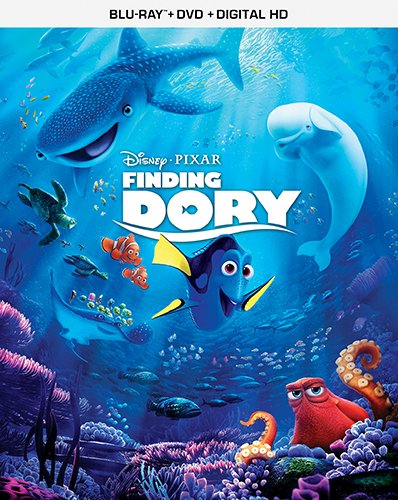 After a massively successful run at the summer box office, the animated sequel Finding Dory is now on DVD for children and adults of all ages to enjoy while in the comfort of home. And for those truly dedicated TV fans, the highly anticipated sixth season of HBO's Game of Thrones is hitting shelves for your viewing (and binging) pleasure today.
There are also got two incredible music documentaries, The Beatles: Eight Days a Week – The Touring Years and Rush: Time Stand Still, which are both available in store and online on Friday (November 18). And believe it or not, there's more where that came from — check them all out below! ~Shelby Morton
Finding Dory- One year after her journey with Nemo, Dory (voice of Ellen DeGeneres) is curious about her past. Unfortunately for her, her memory doesn't offer much help. But with Nemo and Marlin (voice of Albert Brooks) by her side, she embarks on a journey to uncover her roots. Who are her parents? Where did she learn to speak Whale? Their epic adventure teaches them more about the meaning of friendship and how truly important family is.
Trailer: Finding Dory
Game of Thrones: Season 6- Following the epic season five finale, season six finally reveals Jon Snow's (Kit Harington) ultimate fate, all while bringing back fan-favorite characters such as Daenerys (Emilia Clarke), Cersei (Lena Headey), Jaime (Nikolaj Coster-Waldau), Tyrion (Peter Dinklage), Sansa (Sophie Turner), Arya (Maisie Williams), Littlefinger (Aidan Gillen), Theon (Alfie Allen), Margaery (Natalie Dormer), Bran (Isaac Hempstead Wright), Hodor (Kristian Nairn) and Sam (John Bradley-West) for even more fiery and high-stakes adventures in Westeros.
Trailer: Game of Thrones: Season 6
Army of One- Gary Faulkner (Nicolas Cage) is an ex-con, unemployed handyman, and modern day Don Quixote who receives a vision from God telling him to capture Osama Bin Laden. Armed with only a single sword purchased from a home shopping network, Gary travels to Pakistan to complete his mission. While on his quest, Gary encounters old friends back home in Colorado, the new friends he makes in Pakistan, the enemies he makes at the CIA — and even God and Osama themselves.
Trailer: Army of One
Mia Madre- Margherita, a filmmaker, returns home to Rome where her brother spends his days taking care of their ill mother. A perfectionist who's reluctant to delegate, Margherita tries to come to terms with the situation, although with increasing guilt. But when she finds herself struggling with domestic troubles and an American actor who's a pathological liar and is unable to learn his lines in Italian, Margherita, increasingly disturbed by her mother's slow decline, finds herself overwhelmed. On the verge of a nervous breakdown, she finally learns to let go.
The Beatles: Eight Days a Week – The Touring Years- Ron Howard's authorized and highly-anticipated documentary feature film is based on the first part of The Beatles' career (1962-1966) – the period in which they toured and captured the world's acclaim. The film will explore the band's inner workings – how they made decisions, created their music and built their collective career together – all the while, exploring The Beatles' extraordinary and unique musical gifts and their remarkable, complementary personalities. It will focus on the time period from the early Beatles' journey in the days of The Cavern Club in Liverpool to their last concert at Candlestick Park in San Francisco in 1966. Out on DVD this Friday (November 18).
Trailer: Eight Days a Week- The Touring Years
Rush: Time Stand Still- In 2015, Rush went out for a 40th anniversary tour; rumored to be the last tour of its kind and the end of their life on the road. Narrated by Paul Rudd, Rush: Time Stand Still is a documentary event that covers the R40 tour and the unique relationship Rush have with their devoted fans. Candid interviews with Geddy Lee, Alex Lifeson and Neil Peart bring Time Stand Still to an emotional conclusion for a band who built their career the old-fashioned way: one show at a time. Out on DVD this Friday (November 18).
Trailer: Rush: Time Stand Still