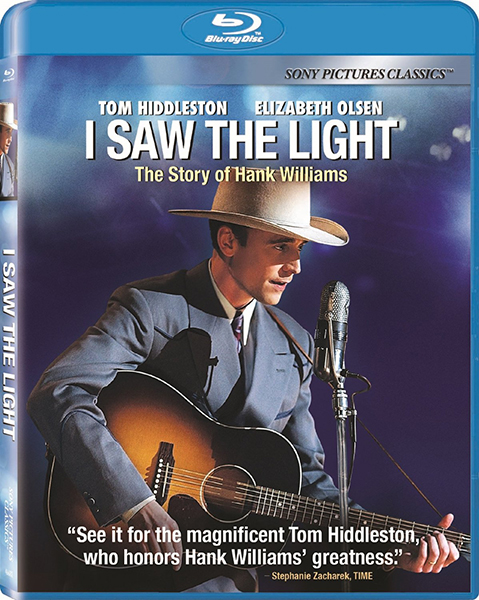 The summer movie season is upon us. It's the perfect time to catch up on movies you may have missed out on seeing in theaters, or simply didn't know about.
Tom Hiddleston plays Hank Williams, a country singer widely regarded as the greatest of all time, in I Saw the Light. All you Brangelina fans are in luck. The two travel the French countryside in the 1970s period piece By the Sea. Comedy fans won't want to miss Mr. Right, starring Anna Kendrick. Daisy Ridley stars in Studio Ghibli's Only Yesterday. The Adderall Diaries will have you on the edge of your seat, while The Boy and the World is the story of a boy looking for his father, told in a visual way. ~Yanis Khamsi
I Saw the Light: Hank Williams (Tom Hiddleston) is a talented and young country music star who marries the beautiful Mae (Elizabeth Olsen), with whom he has his first son. He vows to be the perfect husband, but begins to drink heavily as he becomes more famous. He also starts cheating on Mae on his various tours across America and eventually becomes addicted to painkillers.
Trailer: I Saw the Light
House of Cards: Season 4 comes out today, so wish your loved ones goodbye and start your binge watching. WWE fans rejoice, WWE: Living on a Razor's Edge is out today.
Read on for more info on this week's Blu-Ray, DVD and digital releases.
By the Sea: In 1970s France, former dancer Vanessa (Angelina Jolie) and her American husband Roland (Brad Pitt), a writer, travel together across the country. The two seem to be growing apart, but when they stay for a while in one quiet, seaside town, they form friendships with some of the more vibrant inhabitants.
Trailer: By the Sea
Mr. Right: Martha (Anna Kendrick) has been very upset since her latest breakup. Until a charming man named Francis (Sam Rockwell) asks her out and it seems likes she's found her perfect match — except for one thing. Francis kills the people who hire him to kill people. When Francis is hired by a client who's being chased by an FBI agent (Tim Roth), Martha must decide whether to run away or stay with her hitman boyfriend.
Trailer: Mr. Right
Only Yesterday (Dubbed): Switching between present time and her life as a child, 27 year-old Taeko (voice of Daisy Ridley) reflects on her days as a school girl in 1960s Tokyo while traveling to visit her family in the countryside.
Trailer: Only Yesterday (Dubbed)
The Adderall Diaries: Based on the bestselling memoir by Stephen Elliott, The Adderall Diaries is the gripping and complex story of how an author's fascination with a high-profile murder case leads him to come to terms with his troubled past while embarking on a potentially life-changing romance in the present.
Trailer: The Adderall Diaries
The Boy and the World: A little boy named Cuca lives a happy life in rural surroundings, despite his family's poverty. That is, until his father goes missing on a train trip. Cuca begins searching for his father and meets a wide variety of people as he journeys from a farming camp to the ocean and a large factory and then back to the big city.
Trailer: The Boy and the World
House of Cards: Season 4: President Frank Underwood (Kevin Spacey) is still trying to fix his marriage to Claire (Robin Wright). With the upcoming presidential race, Frank has to put back the pieces and make sure he does everything it takes to make sure he is ahead of the curve. He also goes head-to-head with a new power couple.
Trailer: House of Cards: Season 4