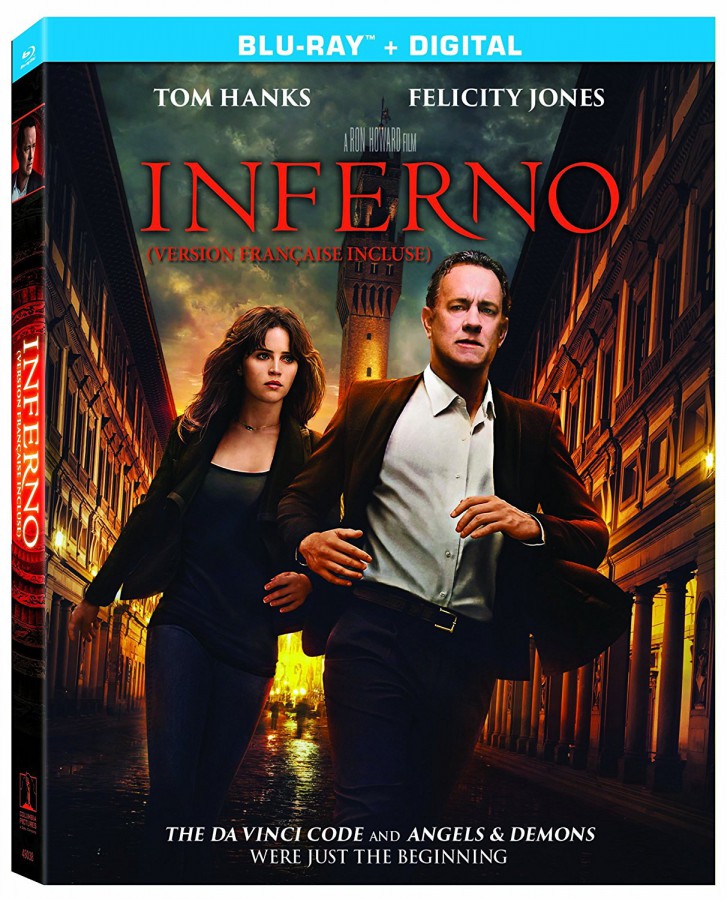 With the end of winter season nowhere in sight, there is no better time to curl up on the sofa with a hot drink and have an all-day movie marathon. Thankfully, with this week's offerings of new releases, you will have plenty to watch to escape the winter blues.
The fate of mankind depends upon Tom Hanks and Felicity Jones in Ron Howard's Inferno.
A family's love is put to the test in The Light Between Oceans, starring Michael Fassbender and Alicia Vikander.
Nicolas Cage takes the lead as captain in USS Indianapolis, the true story of the brave crew that delivered atomic weapons that would end WWII.
A story filled with romance, betrayal and drama — The Handmaiden will keep you on the edge of your seat. ~Ashleen Grange
Inferno– Harvard symbologist Robert Langdon (Tom Hanks) wakes up in a hospital room in Italy with no memory of the last 48 hours. Doctor Brooks (Felicity Jones) explains he's suffering from temporary amnesia. Before he has time to figure out what's happening, he learns he's being chased. Langdon soon finds out that billionaire Bertrand Zobrist (Ben Foster) has plotted a deadly global genocide scheme. It's up to Langdon to solve the clues left behind by Zobrist and save mankind from destruction.
Trailer: Inferno
The Light Between Oceans– Tom (Michael Fassbender) is a lighthouse keeper living with his wife Isabel (Alicia Vikander) on a picturesque island. One day they find an abandoned baby girl in a boat on the shore and decide to raise her as their own. At a social event they meet Hannah (Rachel Weisz), a deeply sad widow who lost her husband and daughter at sea — around the exact same time they found their little girl. As the pieces slowly fall together, Tom is increasingly guilt-ridden at keeping the child from her real mother.
Trailer: The Light Between Oceans
USS Indianapolis– The harrowing true story of the crew of the USS Indianapolis, who were stranded in the Philippine Sea for five days after delivering the atomic weapons that would eventually end WWII. As they awaited rescue, they endured extreme thirst, hunger, and possible shark attacks.
Trailer: USS Indianapolis
The Handmaiden–  In 1930s Korea, a pickpocket named Sookee (Kim Tae-ri) is hired by a swindler posing as a Japanese Count (Ha Jung-woo). He wants her to help him seduce an heiress to elope with him, rob her of her fortune, and lock her up in a madhouse. Sookee agrees, and begins to work as a handmaiden to Japanese heiress Hideko (Kim Min-hee), who lives a secluded life with her domineering uncle Kouzuki (Cho Jin-woong). The plan seems to be going well — until Sookee begins to falls for the vulnerable heiress.
Trailer: The Handmaiden