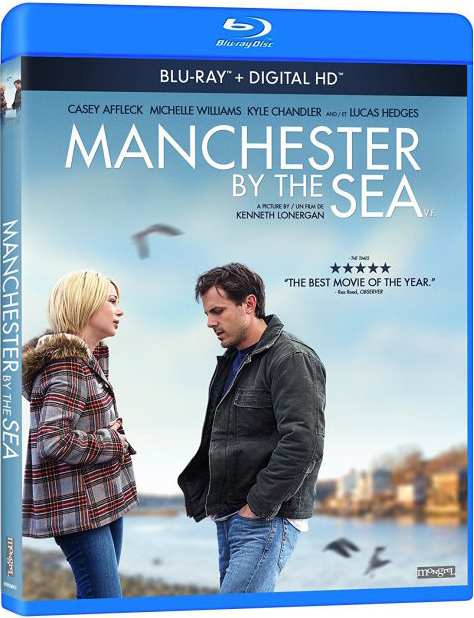 It's your last chance to catch up on some Oscar contenders before the big show this Sunday. Check out the new DVD releases below!
Manchester by the Sea tells the heartfelt tale of a broken man grappling with the loss of his family.
In Hacksaw Ridge, a brave medic inspires peace despite  the gruesome atrocities of war.
See the rest of new DVD releases out today! ~Ashleen Grange
Manchester by the Sea – Reclusive handyman/janitor Lee Chandler (Casey Affleck), has to return home when his older brother Joe (Kyle Chandler) suddenly dies. Lee, who lives a solitary and seemingly unhappy existence, once had a wife and children before tragedy struck. He finds to his dismay he's been named the legal guardian of his teenage nephew (Lucas Hedges). Returning to Manchester, Lee must face his painful past, along with his ex-wife (Michelle Williams) and the community, many of whom are not happy to see him.
Trailer: Manchester by the Sea
Hacksaw Ridge – During WWII, American Desmond T. Doss (Andrew Garfield) was an Army medic who refused to bear arms. In Okinawa, during the bloodiest battle of WWll, Desmond single-handedly evacuated 75 men from behind enemy lines without firing or even carrying a gun. He was the only American soldier in WWII to fight on the front lines without a weapon, and also became the first Conscientious Objector in American history to be awarded the Congressional Medal of Honor.
Trailer: Hacksaw Ridge 
Nocturnal Animals – One day, Susan (Amy Adams), an unhappy art gallery owner in a crumbling marriage receives a package from her ex-husband Tony (Jake Gyllenhaal), whom she left 20 years earlier. Inside is a book manuscript called "Nocturnal Animals," which he notes that she inspired him to write, and he asks for her opinion about it. Left alone in her mansion, Susan begins to read it and quickly becomes obsessed with the script. Susan interprets the violent thriller as a secret threat of symbolic revenge, and finds herself recalling her past marriage, while confronting some dark truths about herself.
Trailer: Nocturnal Animals
Bad Santa 2 -Booze-soaked, foul-mouthed con man Willie Soke (Billy Bob Thornton) is back to his old tricks. Teaming up once again with his sidekick, Marcus, Willie plans to pose as Santa, this time to swindle money from a charitable organization on Christmas Eve. Meanwhile, Willie is infatuated with the curvaceous and prim Diane (Christina Hendricks), who unlike Willie, has a heart of gold. She also happens to be the charity director of the charity he plans on scamming.
Trailer: Bad Santa 2