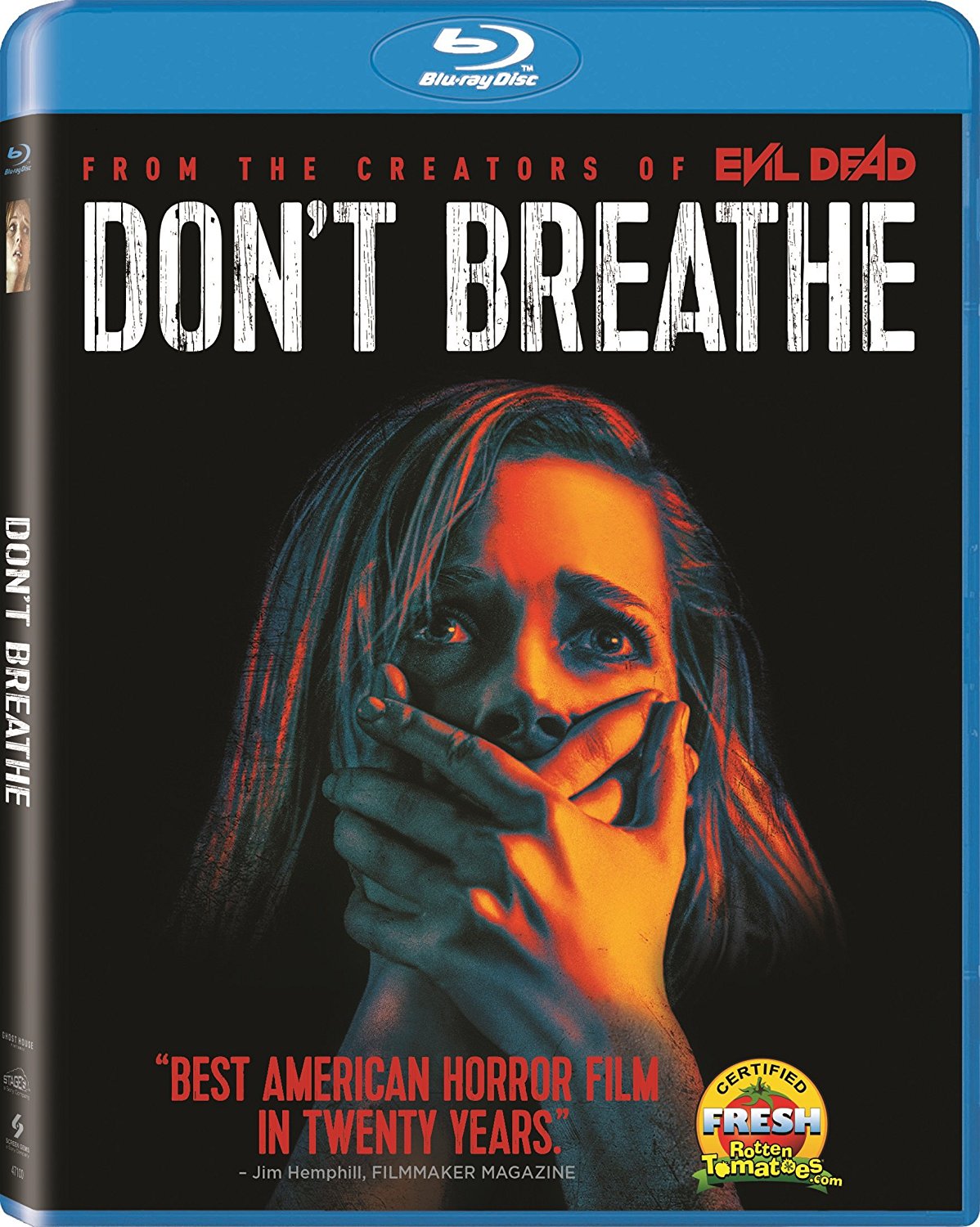 Fear, fantasy and friendship are the ingredients of this week's DVD and Blu-ray releases.
The thriller Don't Breathe, which was highly successful at the box office this summer, screams its way onto the small screen this week. Joining Jane Levy and Dylan Minnette are Bryce Dallas Howard and Robert Redford with their hit Pete's Dragon.
Carrying on with the family-friendly trend, there's also Mark Rylance as The Big Friendly Giant in The BFG, and the Robinson Crusoe-inspired animated film The Wild Life.
To round out the bunch, friendship is depicted in different forms in the hilarious Absolutely Fabulous: The Movie and the moving dramedy The Intervention.
Check out the full slate of releases below! ~Matthew Pariselli
Don't Breathe- A group of young people break into the homes of the wealthy to find things to steal. One of the thieves, Alex (Dylan Minnette), has a father who owns a security company, so they target his customers because Alex knows how to bypass their security systems. He's joined by Rocky (Jane Levy) and Money (Daniel Zovatto). Money finds out about a blind military veteran (Stephen Lang) who won a major settlement after his child's accidental death. He thinks the veteran, who lives alone, has stashed the cash in his house. However, things don't go as planned. Although blind, the veteran is not nearly as helpless as they thought he would be.
Trailer: Don't Breathe
Pete's Dragon- Pete (Oakes Fegley) is a boy who has been living a peaceful life in the woods for years with Elliot the dragon, who rescued the boy. When a logging crew goes further into the forest than they had before, Pete becomes aware of them and is curious. He sees forest ranger Grace (Bryce Dallas Howard), who's checking out the loggers to make sure they don't cut too deep into the woods, and steals her compass. Later, when the logging boss's daughter Natalie (Oona Laurence) spots Pete, she runs after him. Pete is hurt while trying to get away, and Grace takes him in temporarily as she tries to figure out where he came from. When he draws a picture of Elliot and claims the dragon is real, she goes to her father (Robert Redford), who has been telling local kids for years about meeting a dragon living deep within the forest.
Trailer: Pete's Dragon
The BFG- A little girl named Sophie (Ruby Barnhill) is drawn to the orphanage window one night, where she witnesses a massive, frightening creature outside. She runs away from the window and hides under her covers, but is plucked from her bed by a monstrously huge hand. This starts her on her journey with The Big Friendly Giant (Mark Rylance), who is an outcast among giants because he refuses to eat boys and girls, and the Queen of England (Penelope Wilton). They try to capture the giants who have been eating people and terrorizing the human world. Based on the children's novel by Roald Dahl.
Trailer: The BFG
Absolutely Fabulous: The Movie – The hard partying Edina (Jennifer Saunders) and Patsy (Joanna Lumley) make the transition to the big screen after six successful seasons on television with the British series Absolutely Fabulous. When Edina's PR agency runs out of money, the women must give up their lavish life and escape to the French Riviera. It isn't long before their wild antics catch up with them and they're forced to face reality… at least for a moment or two.
Trailer: Absolutely Fabulous: The Movie
The Intervention- A group of friends plan a weekend getaway to a beautiful family summer residence owned by Jessie (Clea DuVall), in order to perform a group intervention. Annie (Melanie Lynskey) orchestrates the reunion, because Jessie's sister Ruby's (Cobie Smulders) marriage to Peter (Vincent Piazza) is imploding and Annie feels something should be done about it. However, when Ruby and Peter find out, they're angry about the others meddling in their business. Peter points out that everyone there has problems, including Annie, who has perpetually been postponing her wedding to Matt (Jason Ritter) and spends a little too much time with wine.
Trailer: The Intervention
The Wild Life- When a human named Robinson Crusoe (Yuri Lowenthal) and his dog Aynsley (Doug Stone) wash up on the shores of their tiny tropical island after a tropical storm, Tuesday (David Howard), an outgoing parrot and his quirky group of animal friends are initially repulsed by his furless appearance. However, they soon come to realize he's harmless and over time, they make friends with him. When villainous pirates come calling and threaten the safety and harmony of the island paradise, Crusoe and his new pals discover the true power of friendship against all odds.
Trailer: The Wild Life