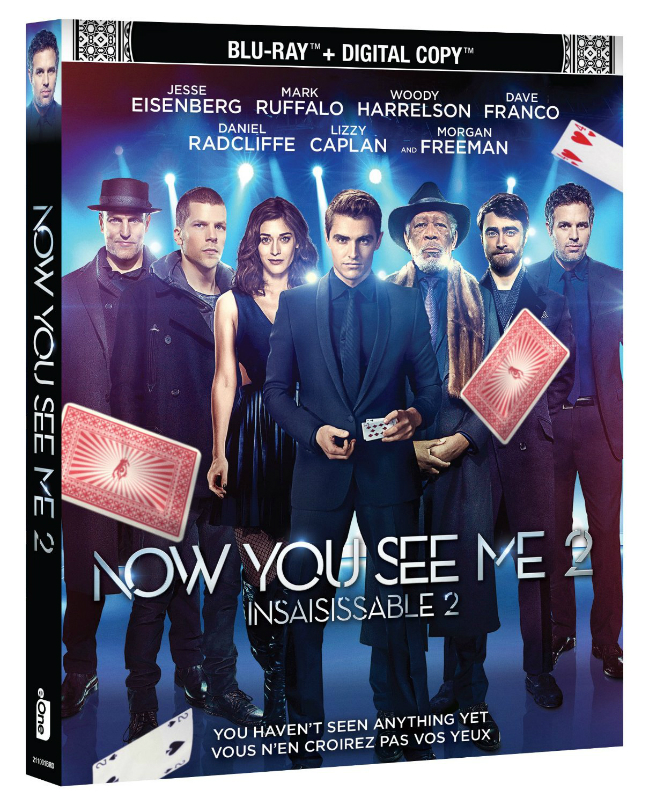 Summer vacation may be over, but there are always new DVD releases to look forward to. And this week is no exception — there are some great releases you're bound to enjoy. Money Monster, a thriller starring George Clooney as a TV host who's held at gunpoint is now available, as is Now You See Me 2, in which we once again enjoy the magical adventures of The Four Horsemen. Also releasing on DVD and/or Blu-ray are a number of smaller releases that you may not even have had the chance to see in theaters – check them out below!
Now You See Me 2: One year after outwitting the FBI and winning the public's adulation with their Robin Hood-style magic spectacles, The Four Horsemen (Jesse Eisenberg, Woody Harrelson, Dave Franco, Lizzy Caplan) resurface for a comeback performance, but they're hijacked by unethical tech magnate Walter Mabry (Daniel Radcliffe), who demands that the magicians steal the key to every computer system on the planet.
Trailer: Now You See Me 2
A Bigger Splash: Filmmaker Paul De Smedt (Matthias Schoenaerts) and rock star Marianne Lane (Tilda Swinton) are enjoying a relaxing vacation on a remote island in A Bigger Splash. The tranquility comes to an end when Marianne's old flame Harry (Ralph Fiennes) and a seductive younger woman (Dakota Johnson), who may or may not be Harry's daughter, arrive on the island and barge into the middle of the couple's vacation.
Trailer: A Bigger Splash
The Darkness: As a family returns home from vacation at the Grand Canyon in The Darkness, they innocently bring home a supernatural force that preys off their own fears and vulnerabilities, threatening to destroy them from within, while consuming their lives with terrifying consequences.
Trailer: The Darkness
Equals: In Equals, Nia (Kristen Stewart) and Silas (Nicholas Hoult) work in the same office in a society where human emotion has been genetically eliminated. Everyone lives calm, violence-free, drone-like lives – until a disease breaks out that causes people to have emotions. When they discover they're both sick, they must decide whether to hide within their society or seek freedom elsewhere.
Trailer: Equals
Love & Friendship: Beautiful and manipulative widow Lady Susan Vernon (Kate Beckinsale), known as "the most accomplished flirt in all England" visits the estate of her in-laws to wait out the rumors about her dalliances circulating through polite society in Love & Friendship, based on a novella by Jane Austen. While there, she tries to find a husband for her eligible but reluctant daughter. In doing so she attracts the attentions three different men.
Trailer: Love & Friendship
The Meddler: Recently widowed Marnie Minervini (Susan Sarandon) won't leave her daughter Lori (Rose Byrne) alone in The Meddler. Always cheerful, Marnie constantly texts, calls and visits her daughter unannounced. Lori attempts to regain control over her life by setting boundaries and unknowingly lets Marnie's mothering nature loose on Los Angeles. Marnie acts as a mother to everyone until a chance encounter with a new man (J.K. Simmons) signals the start of a change in her life.
Trailer: The Meddler
Money Monster: TV personality Lee Gates (George Clooney) gives insider tips on air, aimed at everyday people, which has earned him a title as the money guru of Wall Street in Money Monster. After a young man named Kyle (Jack O'Connell) takes a tip from Gates and loses all his money, he goes to the station and takes Lee hostage on air, threatening to kill Lee unless he gets answers.
Trailer: Money Monster
Nina: Biopic Nina follows the inspirational story of revolutionary singer and songwriter Nina Simone (Zoe Saldana) as she struggles to resurrect her career after years of alcoholism, reclusion and undiagnosed mental illness, with the help of a kind and patient man named Clifton Henderson (David Oyelowo).
Trailer: Nina
Underdogs: The animated feature Underdogs tells the story of a reluctant hero (Matthew Morrison), whose town is threatened when his longtime rival returns home to avenge an old grudge. When the players from his foosball table are magically brought to life, he recruits them to help him enter into the biggest underdog match ever, save the town and win back the love of his life.
Trailer: Underdogs
Urge: When a group of friends take a weekend getaway to a remote island, their trip takes a dangerous turn when a mysterious nightclub owner (Pierce Brosnan) introduces them to a potent new designer drug. What started out as harmless fun quickly turns deadly. One of the friends, Jason (Justin Chatwin), realizes that they have to get away from the island before they're all killed.
Trailer: Urge
Hard Target 2: Retired mixed martial artist Wes "The Jailor" Baylor (Scott Adkins) decides it's worth it to come briefly out of retirement when he's offered a million dollars for one final fight in Myanmar, but when he arrives, he realizes it's a trick and he's there as the target of a human hunt. Wes has to outsmart the heavily armed group that has paid to kill him by turning them into the hunted in Hard Target 2.
Honey 3: Trained by the famous Honey Daniels (Jessica Alba), hip-hop dancer Melea Martin (Cassie Ventura) is a force to be reckoned with at her small Cape Cod college in Honey 3. Her major dance thesis is fast approaching, a competition which she and her classmates have been eagerly preparing for. But when Melea can no longer afford her tuition, she forms her own dance troupe, with the help of a cute dancer named Erik (Kenny Wormald).