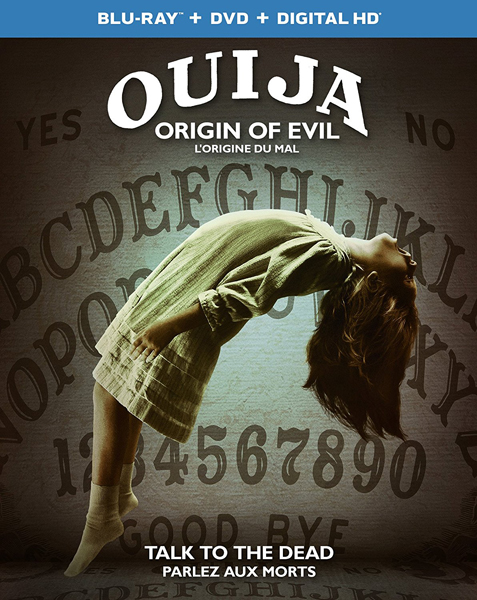 Adapted from Paula Hawkin's bestselling novel of the same name, The Girl on the Train is the first of four entertaining films hitting shelves today. Starring Emily Blunt, the thriller follows an alcoholic whose obsession with a strange woman has her life spiraling out of control.
For some thrills on the more supernatural side, Ouija: Origin of Evil is the prequel to 2014's Ouija and follows a mother (Elizabeth Reaser) whose faux-séance business unwittingly invites a malevolent spirit into the body of her youngest daughter (Lulu Wilson).
Rounding out your binge-worthy choices are the comedy Keeping Up with the Joneses, which has a suburban couple (Zach Galifianakis and Isla Fisher) caught in a dangerous mission with their too-perfect new neighbors (Jon Hamm and Gal Gadot), and the dystopian action thriller Death Race 2050, which centers around a government-run race that leaves behind a lot of (human) roadkill.
Learn more about all the latest Blu-ray/DVD releases below! ~Shelby Morton
The Girl on the Train- After her divorce, a woman named Rachel Watson (Emily Blunt) experiences severe depression. While commuting daily by train to the city, Rachel finds some comfort when she sees what she believes to be the "perfect" couple, Scott (Luke Evans) and Megan (Haley Bennett), and creates an imaginary fantasy life for them. However, when she later witnesses Megan kissing another man, it angers her, even though she doesn't actually know the people involved. The next day, when she wakes up with no memory of the night before and finds out that Megan has gone missing, Rachel finds she can't help but get involved.
Trailer: The Girl on the Train
Ouija: Origin of Evil- A widowed mother named Alice (Elizabeth Reaser) holds séances for clients to speak to their dead loved ones, but her business is actually a scam. Using her two daughters to trick her clients, Alice scams gullible customers using a Ouija board. Little does she know that by using the board, she has invited authentic evil into her home. When her youngest daughter Doris (Lulu Wilson) begins to show signs of aggression and strange behavior, it is revealed that she was overtaken by a merciless spirit. Now, this small family confronts unthinkable fears to save her and send her possessor back to the other side.
Trailer: Ouija: Origin of Evil
Keeping Up with the Joneses- Suburban couple Jeff (Zach Galifianakis) and Karen (Isla Fisher) live normal, boring lives. That is, until the Joneses move next door. Tim (Jon Hamm) and Natalie Jones (Gal Gadot) are not your run-of-the-mill kind of couple. They're accomplished at everything. They're stylish and poised. Too perfect, in fact. Karen and Jeff break into the Joneses' house to see if they can find anything unusual. It turns out their new neighbors are covert operatives and before they know it, Jeff and Karen are involved.
Trailer: Keeping Up with the Joneses
Death Race 2050- In a not-too-distant dystopian America, the new government regime has developed an annual competition used to pacify the masses with virtual-reality entertainment and to control overpopulation. Known as The Death Race, the event has drivers competing in a race across the country, where they score points for each person — from pedestrians to each other — they manage to kill with their vehicle.
Trailer: Death Race 2050