New on DVD – Pirates of the Caribbean: Dead Men Tell No Tales and more
By Alexa Caruso on October 3, 2017 | Leave a Comment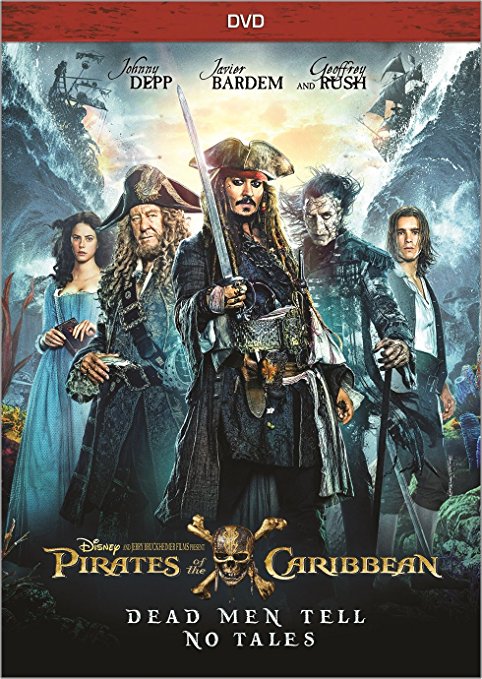 This week's new on DVD/Blu-ray releases are full of chills, thrills and adventure! If a fun ride is your thing, then set sail with the cursed crew of the Black Pearl in Pirates of the Caribbean: Dead Men Tell No Tales. Get on the edge of your seat with the family drama The Book of Henry or prepare to scream as you watch the horror film Cult of Chucky. Check out the full list of movies hitting the home entertainment shelves below! ~Alexa Caruso
The Book of Henry – Single mother Susan Carpenter (Naomi Watts) is raising her two sons — Henry (Jaeden Lieberher) and his younger brother Peter (Jacob Tremblay). Henry, who's preternaturally mature for his age, begins to suspect their next-door neighbor Christina is being abused by her stepfather, who's the police commissioner of the small town where they live. Henry brings his mother in on a plan he's devised to help expose the man, and save the girl.
Trailer: The Book of Henry
Pirates of the Caribbean: Dead Men Tell No Tales – Captain Jack Sparrow (Johnny Depp) finds himself facing off against a legion of deadly ghost pirates led by his old nemesis, the terrifying Captain Salazar (Javier Bardem). Salazar and his ghouls have escaped the Devil's Triangle and are on a mission to kill every pirate at sea.
Trailer: Pirates of the Caribbean: Dead Men Tell No Tales 
Cult of Chucky – Nica Pierce (Fiona Dourif) is spending her days in a mental institution, where she is erroneously convinced that she, not Chucky, murdered her family. It isn't until her psychiatrist begins using an all-too-familiar Good Guy Doll as a treatment tool that bizarre deaths begin to occur, leading Nica to believe that she may not have murdered her family after all.
Trailer: Cult of Chucky
A Ghost Story – C (Casey Affleck) and his wife, M (Rooney Mara), are a happily married couple living in a quiet country house. But the peace is shattered when C is killed in a car crash just in front of his home. He remains a spirit who haunts his wife's steps and the home they shared, until she moves away. Bound to the house, he cannot follow, but notices another sheet-clad ghost in the home next door.
Trailer: A Ghost Story
Jackals – Justin (Ben Sullivan) is kidnapped by a pair of psychos in ski masks and taken to a remote cabin. As members of a cult called the Jackals, they brainwash Justin, but his family will do everything in their power to get Justin back and reverse the influence of the Jackals, even if that means taking on the cult face to face.
Trailer: Jackals
6 Days – After armed gunmen took hostages when they stormed the Iranian Embassy in London in 1980, a grueling six-day standoff ensued that later resulted in a raid the world had never seen the likes of before.
Trailer: 6 Days
---
---
---
Similar Articles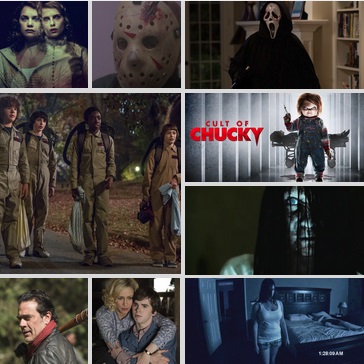 October 20, 2017 | Leave a Comment
Netflix has a wide selection of creepy, gory and funny Halloween picks to enjoy this month. Check out which ones we suggest that you should binge-watch.
---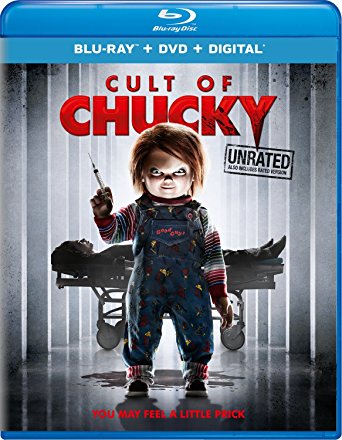 October 6, 2017 | Leave a Comment
Cult of Chucky, the seventh film in the Chucky franchise, is here to scare fans with bloodshed and dark humor. It's available on Blu-ray, DVD and on Netflix.
---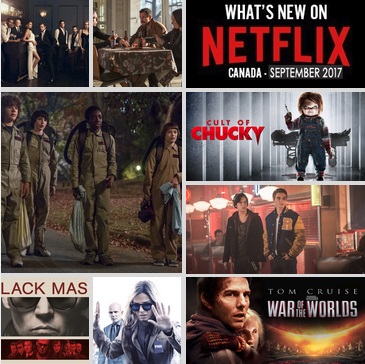 September 29, 2017 | 1 Comment
This Halloween month, there's a scary serving of horror flicks as well as a selection of comedies and drama for the non-horror fans. Here's our October Netflix guide.
---