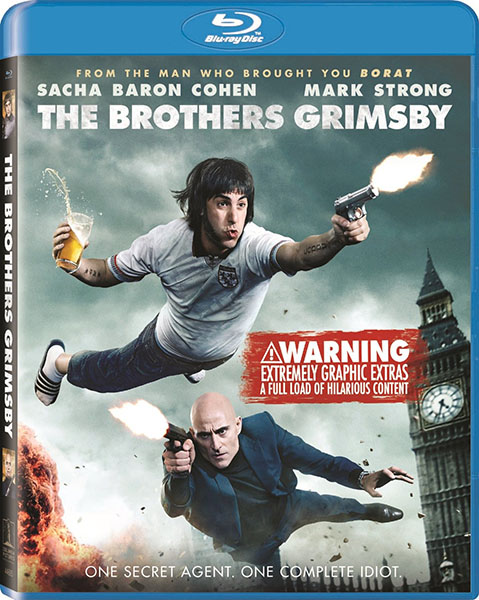 It's been a hot few days outside! Why risk getting a sunburn? Stay indoors and watch a DVD. It's the perfect week for some movie viewing.
Included in this week's releases is The Brothers Grimsby — perfect for Sacha Baron Cohen fans and fans of comedy in general.
Midnight Special is a thriller about a gifted child on the run; Knight of Cups will satisfy fans of drama; while My Big Fat Greek Wedding 2 reunites everybody's favorite Greeks. The Wave is a thriller from Norway that will have you on the edge of your seat and last, but certainly not least, Embrace of the Serpent takes you into the heart of the Amazon.
Read on for more info on this week's hottest DVD releases.
Dimwitted English football hooligan Carl "Nobby" Butcher (Sacha Baron Cohen) has everything a man could want, including children and a girlfriend (Rebel Wilson) in The Brothers Grimsby. But he's missing one thing: his younger brother Sebastian (Mark Strong). When they finally reunite, Nobby learns Sebastian is a wrongfully accused MI6 assassin who has just uncovered plans for a global terrorist attack.
Trailer: The Brothers Grimsby
Rick (Christian Bale) is a successful screenwriter living a life of excess between Los Angeles and Las Vegas in Knight of Cups. He struggles to find meaning in his life and uses a revolving door of women as a distraction from his loneliness, disillusionment, and his dysfunctional relationship with his brother (Wes Bentley) and father (Brian Dennehy).
Trailer: Knight of Cups
Roy (Michael Shannon) goes on the run in Midnight Special with a friend (Joel Edgerton) to protect Roy's young son Alton (Jaeden Lieberher) and to uncover the truth behind the boy's special powers. On the way to the home of Alton's mother Sarah (Kirsten Dunst), they have to dodge the authorities, who have an Amber Alert out in order to capture Alton.
Trailer: Midnight Special
Fourteen years after the original hit movie My Big Fat Greek Wedding, the entire cast is back in My Big Fat Greek Wedding 2. Toula's (Nia Vardalos) parents find out they were never legally married — so, of course, the family decides to plan an official wedding for them. With the addition of Toula and Ian's (John Corbett) teenaged daughter Paris (Elena Kampouris), the movie follows the Portokalos family's shenanigans while planning an even bigger and even Greek-er wedding.
Trailer: My Big Fat Greek Wedding 2
Nestled in Norway's Sunnmøre region, the mountain Åkerneset towers above the small tourist village of Geiranger in The Wave. Although beautiful, the mountain is constantly at risk of collapsing into the fjordt. Geologist Kristian (Kristoffer Joner) has worked for several years at Geiranger's warning centre, but is now moving on to a prestigious job with an oil company. At least, that was the plan. The exact day he's about to drive his family to their new life in the city, Kristian senses something isn't right. Something is shifting in the mountain. When the mountain begins to crumble, every soul in Geiranger has to get to high ground before a tsunami hits.
Trailer: The Wave
The Oscar-nominated Colombian drama Embrace of the Serpent follows Karamakate, an Amazonian shaman and last survivor of his people, over the course of 30 years — between 1909 and 1940 — as he works with two scientists to search for the rare healing plant yakruna. Loosely based on the diaries of German scientist Theodor Koch-Grunberg and American scientist Richard Evans Schultes.
Trailer: Embrace of the Serpent