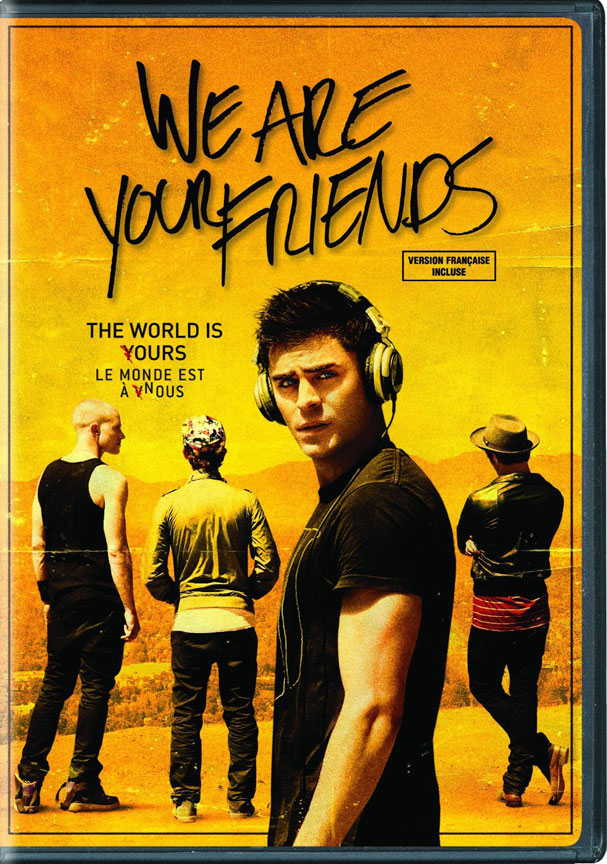 With most of the leaves fallen by now and your raking hopefully done, maybe you have earned some couch time. And even if there are a few errant leaves out there, it's still a good week to pick up one of the new DVD releases, out today.
If you're in the mood for history, Jimmy's Hall will tell you about the life of Irishman Jimmy Gralton, a revolutionary in his time. If you feel like a documentary with more action, pick up Meru, the harrowing journey of three lifelong friends as they attempt to climb the Shark's Fin for the second time. Politics and bad taste come to the forefront in Ego Trip as a talk show host gets his comeuppance and the chance for redemption. Teens and up will enjoy Zac Efron in We Are Your Friends, playing an eager-to-be DJ in Hollywood. Finally, the biggest release this week is the blockbuster The Man From U.N.C.L.E, where we get star power in Henry Cavill, Arnie Hammer, Alicia Vikander, and Hugh Grant.
In the spy/comedy The Man From U.N.C.L.E. from director Guy Ritchie, you can watch CIA agent Napoleon Solo extract Gaby Teller, because her father and uncle are links to a Nazi-sympathizing rich woman who is building nuclear weapons. Along for the adventure is KGB agent Kuryakin who is forced to work with them in order to defeat their mutual enemy. See Henry Cavill and Armie Hammer spoof it up.
Trailer: The Man From U.N.C.L.E.
In the drama We Are Your Friends, Zac Efron plays Cole Carter, who dreams of making it on the electronic music scene as a producer. He gets the opportunity when James (Wes Bentley), an older DJ, begins to mentor him. Things begin to look up and a clear path is ahead until he falls for his mentor's woman. All of a sudden, that clear path has obstacles and some hard decisions will have to be made. Click here to watch our interview with Zac Efron, Emily Ratajkowski and Max Joseph.
Trailer: We Are Your Friends
If you are looking for something more serious and historical, you might want to try Jimmy's Hall, a British filmaker's take of the dance hall opened in Ireland in 1921, where owner Jimmy Gralton supported young men and women dancing at free events, but also encouraged free speech on poverty and cultural oppression. He was arrested and deported to the U.S. in 1933, but returned 10 years later and resolved to reopen his hall. Again, it was a success, but the Church and local landowners weren't happy. This film was entered in the 2014 Cannes Film Festival.
Trailer: Jimmy's Hall
In Ego Trip, talk show host Marc Morin has been at the top of his game, but his insensitive views and sense of humor have caused him to fall off the ladder of success. To recharge his star power, his agent sends him on a media tour to Haiti, with the aid of a sketchy communications officer, a fanatical photographer and an amateur singer. He doesn't want to go, but must, and suffers untold inconveniences both small and large, in an adventure that changes everything.
There has always been a fascination with Mount Everest, the highest mountain in the world, but in the documentary Meru, we learn that for the elite mountain climber, the Shark's Fin on Mount Meru, in the Himalayas of Northern India, is one of the hardest routes in the world. With 1500 feet of smooth granite to maneuver, it may be the ultimate prize for big-wall climbing. The three man team of Conrad Anker, Jimmy Chin and Renan Ozturk made an attempt to climb in October 2008. They failed and swore never to return. But they did in October 2011. No need to be a mountain climber to watch. Stay safe, warm, and dry and see a film that tells the tale of obsession, hope, friendship and sacrifice.
For a full list of new DVD releases, click here. ~ Sharon Salsberg