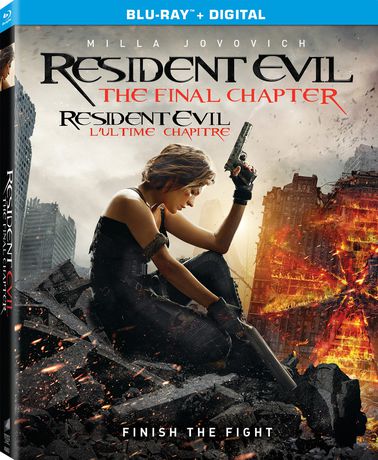 Huge explosions? Check.
Zombie apocalypse? Check.
Romance and space travel? Check.
Extreme stunts? Check.
Corrupt cops? Check.
This week's set of new DVD releases is action-packed from start to finish, so you might want to grab some popcorn and buckle up. First, follow Vin Diesel on a wild motorcycle ride through the jungle in xXx: Return of Xander Cage. If you're a fan of video games, check out the zombie thriller Resident Evil: The Final Chapter. For those of you who like gritty cop films, Jamie Foxx in Sleepless might just be what you wanted. And if you like teen romance and/or space travel movies, we highly recommend The Space Between Us.
Take a look at what's coming to DVD this week below. Leave a comment and let us know what movie you're most excited about! ~Brenden Zerihun
xXx: Return of Xander Cage – When a weapon of mass destruction known as "Pandora's Box" is stolen by former agent Xiang (Donnie Yen), the fate of the world is in shambles. There's only one person who can save the day, and his name is Xander Cage (Vin Diesel). With a brand new team of heroes by his side, Xander sets out to recover the Pandora's Box, but also finds himself in the middle of a deadly conspiracy.
Trailer: xXx Return of Xander Cage
Resident Evil: The Final Chapter – Alice (Milla Jovovich) knows critical information about the possible elimination of humanity. The deadly T-Virus is spreading and the world is being hit with a zombie apocalypse. The former Umbrella Corp. employee teams up with the other survivors as they prepare to travel to Raccoon City for their final mission.
Trailer: Resident Evil: The Final Chapter
The Space Between Us – After the first space shuttle in the world leaves to colonize Mars, one of the astronauts discovers she's pregnant. When she dies giving birth, the child, Gardner (Asa Butterfield), grows up the planet Mars with only astronauts to guide him. He longs to find his father on Earth and makes a friend, Tulsa (Britt Robertson), a teenage girl who lives in Colorado, via the internet, hoping she can help him in his quest. Click here to watch our exclusive interview with Asa Butterfield.
Trailer: The Space Between Us
Sleepless – Police officer Vincent Downs (Jamie Foxx) and his crooked partner (Tip "T.I." Harris) get into hot water after stealing something that doesn't belong to them. What they don't realize is that they have stolen from a major crime family. When casino boss Rubino (Dermot Mulroney) discovers the cops are responsible for the stolen goods, he makes sure to hit Vincent where it hurts the most.
Trailer: Sleepless
A Man Called Ove – Ove (Rolf Lassgard), an isolated retiree with a short temper, spends his days enforcing rules that only he cares about, and visiting his wife at the cemetery. It appears he has given up on life and is satisfied with forever being grumpy. When a new set of neighbors move in next door, an unexpected friendship forms.
Trailer: A Man Called Ove