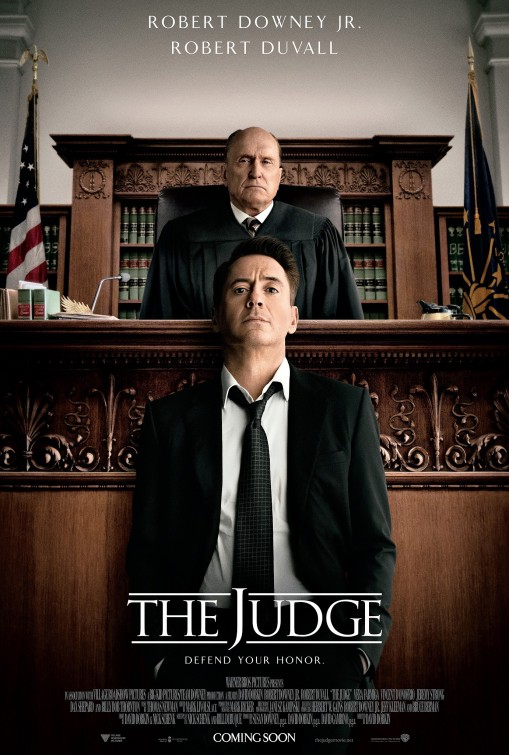 Another week, another assortment of DVDs released today.
First up in our new releases is the drama The Judge starring Robert Downey Jr., Robert Duvall, Vera Farmiga and Billy Bob Thornton. Big city lawyer Hank Palmer (Downey Jr.) returns home after receiving a call from his brother about his mother's death only to find out that his estranged father (Duvall), who is also an honored judge, is suspected of murdering someone he failed to convict. The film is produced by Robert Downey Jr.'s wife Susan Downey and directed by David Dobkin.
Also available for home release is the drama war movie Fury starring Brad Pitt, Shia LaBeouf, Logan Lerman, Michael Peña and Jason Isaacs. Army sergeant Don "Wardaddy" Collier (Pitt) and his five-man veteran team pilot a Sherman tank. With the odds against them, they attempt to take down Nazi Germany during the last months of World War II.
In the comedy category we have The Book of Life, a computer-animated film by Jorge Gutierrez. Manolo, a young man, can't decide what he should do. Should he follow his heart or fulfill his family's expectations. He makes his way through magical worlds to save his true love and his village, all while facing his greatest fears. Voice overs include Diego Luna, Zoe Saldana and Channing Tatum.
Other movies out on DVD today are the dramas The Color of Time and You're Sleeping Nicole and the thrillers The Remaining, Open Windows and Love is the Perfect Crime. For a full list of home releases, click here. ~Sandra D. Sukraj