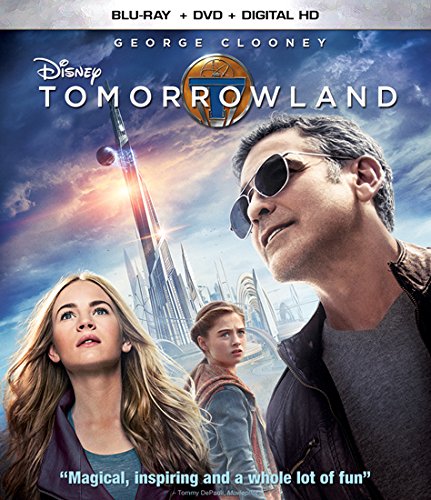 The range of DVD releases coming out today offer quite the variety of topics, from an epic disaster to a romance to a sci-fi adventure. If none of those are your cup of tea, how about an Australian comedy/drama or something the whole family can watch together, like the Diamond Edition of a beloved Disney classic.
In Tomorrowland, a former boy-genius scientist played by George Clooney is tracked down by an ambitious and intelligent young scientist (Britt Robertson), who thinks he can help her get to Tomorrowland, a strange new land whose secrets she wants to find out about.
Trailer: Tomorrowland
San Andreas stars Dwayne "The Rock" Johnson as a rescue pilot, estranged from his ex-wife (Carla Gugino) but whom he now has to go save after a gigantic earthquake hits California. Lots of action and great special effects will keep you on your toes.
Trailer: San Andreas
In The Gallows, a terrible event took place during a high school play when the understudy was found swinging by his neck from a noose onstage during a performance. Thirty years later, the students at the high school decide to remount the play in honor of his memory, but when strange things happen, it looks like the teen's ghost is not at rest.
Trailer: The Gallows
Pierce Brosnan stars as a Cambridge poetry professor in How to Make Love Like an Englishman. He has an affair with one of his students, played by Jessica Alba, and the subsequent pregnancy changes his life completely. Salma Hayek also stars.
Trailer: How to Make Love Like an Englishman
The Little Death tells the story of five couples living in Sydney, Australia and how they deal with their sexual fetishes and the repercussions.
Trailer: The Little Death
You won't want to miss out on the Diamond Edition of Disney's beloved animated film Aladdin, featuring the voice of Robin Williams as the Genie. The Blu-ray/DVD Combo pack includes never-before-seen Genie Outtakes, Genie 101 hosted by Scott Weinger, the voice of Aladdin, Unboxing Aladdin, Aladdin: Creating Broadway Magic and more.
Trailer: Aladdin Diamond Edition
For a full list of this week's DVD releases, click here.