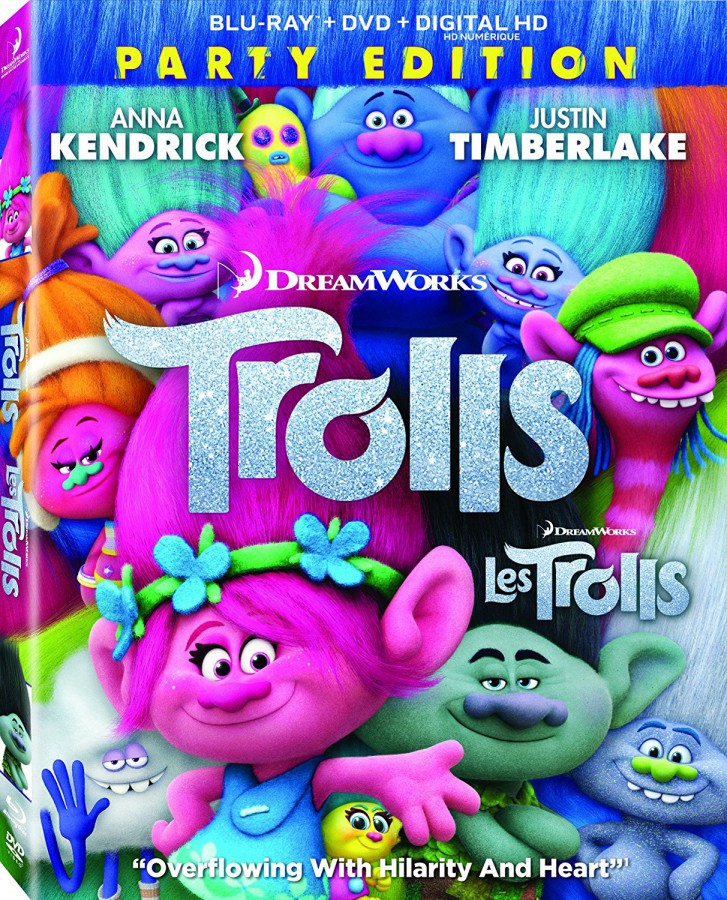 It's a new month with a bunch of exciting movies releasing on DVD today!
In the colorful and musical adventure Trolls, we see the lovable childhood dolls try to stop evil Bergens from invading Troll Village.
Loving tells the true story of a couple (Joel Edgerton, Ruth Negga), an interracial couple who defy Virginia's anti-miscegenation laws.
Almost Christmas is a hilarious and touching comedy that focuses on the importance of family, especially during the holidays.
Check out the full list of new releases below.  ~Ashleen Grange
Trolls – The overly optimistic Trolls' lives of rainbows and happiness are changed when the Troll-hungry Bergens invade their colorful Troll Village. Poppy (Anna Kendrick), the bright and sunny leader of the Trolls, sets off on a journey to save the town along with her polar opposite, the pessimistic Branch (Justin Timberlake).
Trailer: Trolls 
Loving – The true story of Richard and Mildred Loving (Joel Edgerton, Ruth Negga), an interracial couple who defied Virginia's anti-miscegenation laws by marrying in 1958. After their house was raided by local police in the middle of the night, the Lovings were threatened with prison, and instead opted to be exiled to Washington D.C. for violating the law.
Trailer: Loving
Almost Christmas – Following the untimely death of his wife, beloved patriarch Walter (Danny Glover) asks his family for just one gift over the holidays — to spend five days peacefully under the same roof. At his request, members of the Meyers family come and attempt to get along. But even a pickup football game seems like a challenge. If the family can survive the five days, it'll prove there are such things as Christmas miracles.
Trailer: Almost Christmas
The 9th Life of Louis Drax – On his ninth birthday, Louis Drax's (Aiden Longworth) mother (Sarah Gadon) plans a picnic for the family at a cliff on the sea shore. When the boy falls off the cliff and drowns, he's clinically dead for two hours. Miraculously, he comes back to life, though he's in a coma. Dr. Pascal (Jamie Dornan), an acclaimed neurologist, is drawn into the mystery of the young boy, who has survived eight near-death accidents in his life.
Trailer: The 9th Life of Louis Drax
Desierto – A group of Mexicans attempting to cross the Mexican-American border are hunted by Sam (Jeffrey Dean Morgan), a Confederate flag-waving vigilante armed with a shotgun. Sam is determined to protect his country from foreign invaders and sets out to kill the Mexicans one at a time. Moises (Gael García Bernal), the reluctant leader of the dwindling group, must rely on luck and wits to outmaneuver his more knowledgeable and ruthless opponent.
Trailer: Desierto
The Eagle Huntress – The epic journey of a 13-year-old girl who has a fascination with her father's and grandfather's practice of hunting with a golden eagle. One day, her father allows her to capture a golden eagle chick, which she trains in order to compete against much more experienced men in an annual competition.
Trailer: The Eagle Huntress

Antibirth – Lou (Natasha Lyonne), a young alcoholic drug user, spends her days stumbling around in a stupor. But when Lou wakes up after a night of partying with hazy memories of what happened the night before, she finds to her surprise and dismay that she's pregnant. When she spots a strange growth on her neck and experiences hallucinations, she begins to wonder what is growing inside her.
Trailer: Antibirth 
Blackway – When Lillian (Julia Stiles) returns to her hometown after the death of her mother, she unwittingly raises the interest of Blackway (Ray Liotta), a crazed ex-cop turned violent crime lord. Blackway's stalking and relentless harassment force Lillian to seek help from the faint-hearted local sheriff, who advises her to leave town. Together with a young, introverted friend, they set out for justice and revenge against the sociopathic Blackway.
Trailer: Blackway
Frank & Lola – Frank (Michael Shannon), a talented chef living in Las Vegas, meets Lola (Imogen Poots), a beautiful and mysterious young girl new to the city. The two fall in love and enter into a deeply passionate relationship. But what began as a fairytale romance soon turns into a story of jealousy, obsession, and distrust, as Lola's twisted former life comes back to haunt her.
Trailer: Frank & Lola
Justice League Dark – Batman (voiced by Jason O'Mara) brings together a group of occult supernatural heroes to help save the world from dangerous supervillains, forming the task force known as Justice League Black. Classic superheroes Superman (Jerry O'Connell) and Wonder Woman (Rosario Dawson) also join the fight.
Trailer: Justice League Dark 
Two Lovers and a Bear – In a small town near the North Pole, Lucy (Tatiana Maslany) and Roman (Dane DeHaan) are in love. When Lucy gets an admission letter from a university where she hopes to study biology, she's elated. However, Roman is not happy about the news, and drinks away his sorrow as he wallows in self-pity while also talking to a roaming polar bear (voiced by Gordon Pinsent). As Roman sinks deeper into depression, Lucy decides the two must run away and they set off for the south on their snowmobiles.
Trailer: Two Lovers and a Bear
What Happened Last Night – Danny Barker and Sarah Dawson are two college students dealing with very similar breakups. To aid in their heartbreak, their respective roommates and best friends, Joe and Mindy, convince them to attend the party for the annual Gamma Bash. After a night of hard partying, Danny and Sarah wake up next to each other in bed. With no recollection of what happened the night before, it's up to them to figure it out.
Trailer: What Happened Last Night