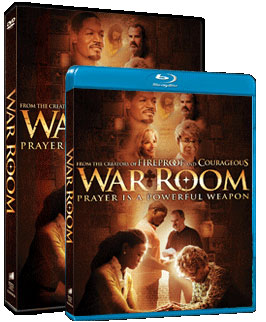 Several new DVDs are releasing just in time for Christmas, including the children's movie Pan starring Hugh Jackman, Pawn Sacrifice starring Tobey Maguire and Liev Schreiber, and the popular Christian drama War Room.
War Room was a big box office hit this year. It tells the story of a couple who seem to have it all – lucrative careers, a lovely home and a beautiful daughter – but their marriage is falling apart. With the help of an elderly woman, Elizabeth learns to fight for her family instead of against it.
Trailer: War Room
Pan is the origin story of Peter Pan and how he came to Neverland. Peter, who lives in an orphanage, is kidnapped, along with the other boys, by pirates in a flying ship and brought to Neverland to work as slaves.
Trailer: Pan
In Pawn Sacrifice, American chess champion Bobby Fischer (Tobey Maguire) prepares for a legendary game against Russian Boris Spassky (Liev Schreiber).
Trailer: Pawn Sacrifice
Jake (Jason Sudeikis) and Lainey (Alison Brie) lost their virginity to each other in college in the new release, Sleeping With Other People. When their paths cross again 12 years later, they realize they're both serial cheaters. Bonding over their chronic infidelity, they form a friendship to support each other in their quests for healthy relationships.
Trailer: Sleeping With Other People
In Dragon Blade, when corrupt Roman leader Tiberius (Adrien Brody) arrives in China with a giant army to claim the Silk Road, Huo An (Jackie Chan) and his group of trained warriors team up with an elite legion of defected Roman soldiers led by General Lucius (John Cusack) to maintain the delicate balance of power in the region.
Trailer: Dragon Blade
If you're looking for action, try the new DVD release 12 Rounds 3: Lockdown, in which Police Detective Shaw returns to active duty after the death of his partner. When he uncovers evidence linking his fellow officers to a murder, they frame him for a homicide he didn't commit. Trapped in his own precinct, Shaw will do whatever it takes to expose the dirty cops and clear his name.
Trailer: 12 Rounds 3: Lockdown
For a full list of DVD releases, click here.