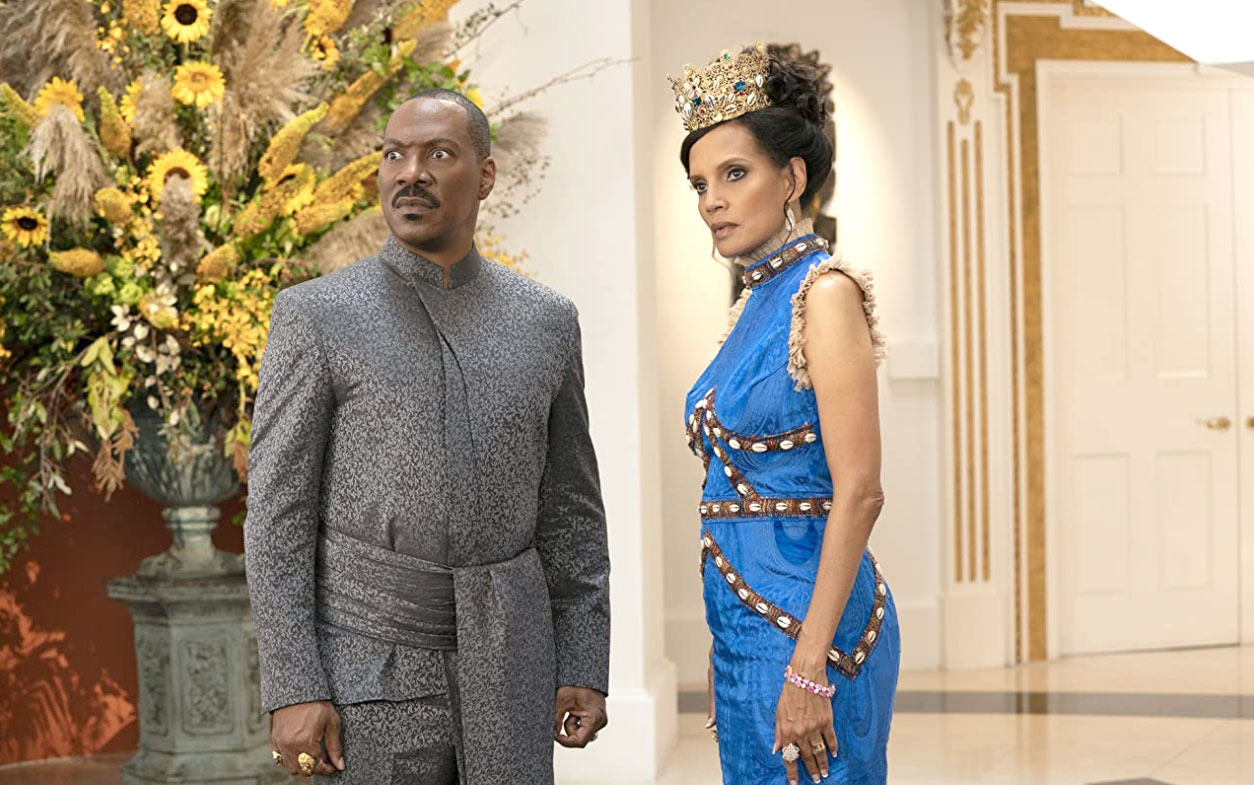 Check out the new DVDs, Blu-rays and streaming shows (Netflix, Amazon Prime Video, BritBox, Disney+, Acorn TV and more) coming out this week, including Coming 2 America starring Eddie Murphy. ~Alexandra Heilbron
Coming 2 America – When Akeem (Eddie Murphy) discovers he has a son who is the heir to the throne of Zamunda, he returns to New York City with his trusted confidante Semmi (Arsenio Hall). Akeem finds his son, whose name is Lavelle (Jermaine Fowler), and convinces him to come live in Zamunda and prepare to be King. However, in order to make up for all the years of royal training he missed, a young woman named Mirembe (Nomzamo Mbatha) is assigned the task of getting Lavelle ready. Debuts on Amazon Prime Video March 5.
Jermaine Fowler, who plays Lavelle in Coming 2 America and Nomzamo Mbatha, who plays Mirembe, talk about what it was like to work with Eddie Murphy in the long-awaited sequel to 1988's Coming to America. They reveal what they like best about each other's characters and let us in on the secret of how Nomzamo was able to walk in a 100-pound red gown in one scene with Jermaine's help.
Coming 2 America director Craig Brewer discusses working with Eddie Murphy again in the sequel to 1988's Coming to America. He also talks about the difference between directing comedy versus drama and which is easier. As far as directing actors in a sequel who are reprising their roles, he says he'd watched the original movie so many times over the years that he may have known their roles better than they did!
Moxie – Vivian (Hadley Robinson) prefers to fly under the radar at her high school. When the arrival of a new student forces her to examine the unchecked behavior of her fellow students, she decides to do something about the sexist and toxic status quo. Inspired by her mom's (Amy Poehler) rebellious past, Vivian anonymously publishes an underground zine called Moxie to expose bias and wrongdoings at her high school. Debuts on Netflix March 3.
All My Life – When Jennifer Carter (Jessica Rothe) and Solomon Chau (Harry Shum Jr.) meet, sparks instantly fly. They fall in love, and when they get engaged they seem to have their whole lives in front of them. That is, until Sol is diagnosed with terminal liver cancer and their plans for a wedding the following summer become impossible. In a race against time, their friends and family launch an online fundraiser to help the couple create their dream wedding in just two weeks. Available March 2 on DVD and Blu-ray.
Monster Hunter – When Captain Natalie Artemis (Milla Jovovich) is sent on a U.N. mission with a group of U.S. Army Rangers to track the disappearance of Bravo Team, a dark sandstorm closes in on them, overtaking the unit and transporting them to a desert on another planet. As Artemis and her unit drive, trying to get their bearings, they come across a giant skeleton. They're soon met by the monster that killed the giant creature and have to cross the desert in a desperate battle for survival against enormous enemies with incredible powers. Available March 2 on DVD/Blu-ray/VOD and Digital.
March 1
10 Years (Netflix)
The American (Netflix)
Biggie: I Got a Story to Tell (Netflix)
Blanche Gardin: Bonne Nuit Blanche (Netflix)
The Bucket List (Netflix)
Cat Hospital (Acorn TV)
Coroner: Seasons 1-2 (Netflix)
Diana (Netflix)
Happy Feet Two (Netflix)
Hit & Run (Netflix)
How to Be a Latin Lover (Netflix)
Jonah Hex (Netflix)
Just One of the Guys (Netflix)
The Karate Kid Part II (Netflix)
The Karate Kid Part III (Netflix)
Mary, Queen of Scots (Netflix)
The Mask of Zorro (Netflix)
Monday, Monday (Acorn TV)
The Pianist (Netflix)
Power Rangers Beast Morphers: S2 (Netflix)
RocknRolla (Netflix)
Rush Hour (Netflix)
Rush Hour 2 (Netflix)
S.W.A.T. (Netflix)
Serendipity (Netflix)
Shazam! (Netflix)
The Texas Chainsaw Massacre: The Beginning (Netflix)
Thomas & Friends: Marvelous Machinery: A New Arrival (Netflix)
Thomas & Friends: Marvelous Machinery: World of Tomorrow (Netflix)
Top Gun (Amazon Prime Video)
Trickster: Season 1 (Netflix)
U.S. Marshals (Netflix)
Welcome to Marwen (Netflix)
When Calls the Heart: Season 5 (Netflix)
You Don't Mess with the Zohan (Netflix)
March 2
All My Life (DVD/Blu-ray)
Crazy Samurai: 400 vs 1 (DVD/Blu-ray/VOD/Digital)
Dispatches From Elsewhere: Season 1 (Amazon Prime Video)
Fatale (DVD/Blu-ray/VOD)
Half Brothers (DVD/Blu-ray/VOD)
The Mallorca Files: Season 2 (BritBox)
The Mauritanian (VOD/Digital)
Monster Hunter (DVD/Blu-ray/VOD/Digital)
Notturno (VOD/Digital)
Pinocchio (DVD/Blu-ray)
Scare Me (DVD/Blu-ray)
Word Party: Season 5 (Netflix)
Zappa (DVD/Blu-ray/VOD)
March 3
Being John Malkovich (Netflix)
Blue Crush (Netflix)
Fletch (Netflix)
Friday Night Lights (Netflix)
How To Build a Girl (Netflix)
Moxie (Netflix)
Murder Among the Mormons (Netflix)
Oblivion (Netflix)
Pitch Perfect (Netflix)
Pitch Perfect 2 (Netflix)
Scarface (Netflix)
Take Me Home Tonight (Netflix)
The Tale of Despereaux (Netflix)
March 4
The Flash: Season 7 (Netflix)
Pacific Rim: The Black (Netflix)
The Sunlit Night (Amazon Prime Video)
March 5
The Aftermath (2019) (Disney+ STAR)
Agatha Christie's Sparkling Cyanide (BritBox)
City of Ghosts (Netflix)
Coming 2 America (Amazon Prime Video Original)
Dogwashers (Netflix)
Flicka 2 (Disney+ STAR)
Flicka: Country Pride (Disney+ STAR)
Helstrom: Season 1, New Episode (Disney+ STAR)
Love in the Time of Corona: Season 1 (Disney+ STAR)
Love, Victor: Season 1, New Episode (Disney+ STAR)
My Salinger Year (VOD/Digital)
Nevenka: Breaking the Silence (Netflix)
Raya and the Last Dragon (Disney+)
Sentinelle (Netflix)
Solar Opposites: Season 1, New Episode (Disney+ STAR)
Stray (VOD/Digital)
Vice (Netflix)
WandaVision: Final Episode (Disney+)
Yes, God, Yes (Netflix)
March 6
Ladies in Black (Netflix)