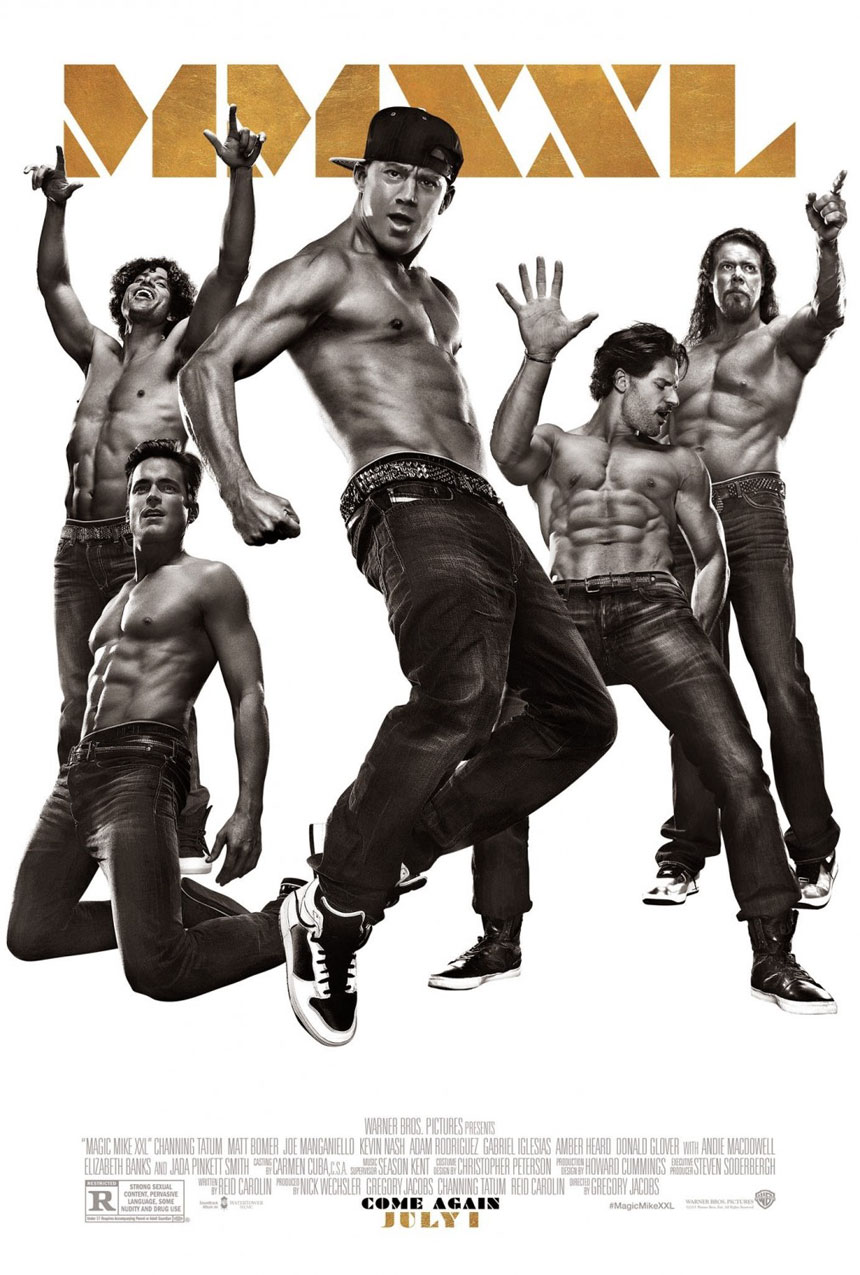 Jurassic World has held the top spot at the box office for the past three weekends in a row, but could one of these new releases bump it from its throne?
Magic Mike XXL is the continuing story of former stripper Mike (Channing Tatum), who catches up with Ken (Matt Bomer), Big Dick Richie (Joe Manganiello) and Tito (Adam Rodriguez), some of his old friends from his stripping days. They decide they want to get out of the business too, but not until they've done their final shows in Jacksonville and Savannah. This movie opened in wide release across Canada on Wednesday – if you want to see it, click here for showtimes.
Trailer: Magic Mike XXL
There's been big buzz about this new release in the Terminator franchise, now in theatres across Canada! Arnold Schwarzenegger is back in Terminator Genisys. It takes place in 2029, and John Connor (Jason Clarke), leader of the resistance, continues the war against the machines. John's fears of the unknown future begin to emerge when TECOM spies reveal a new plot by SkyNet that will attack him from both fronts—past and future—and will ultimately change warfare forever. Click here to find out where Terminator Genisys is playing near you and to get tickets.
Trailer: Terminator Genisys
Infinitely Polar Bear screened at the Toronto International Festival last year. It's the heartwarming story of Cameron (Mark Ruffalo), a man with a mental illness that isn't diagnosed until after he's married Maggie (Zoe Saldana). When Maggie realizes that Cameron will never be able to support her and their two young daughters, she decides to go back to school to get a degree so she can support her daughters. The problem is, she has to study in another city and leave their daughters with Cameron. Opening today in Toronto, Vancouver and Montreal, this movie expands through summer. Click here to find where it's playing near you.
Trailer: Infinitely Polar Bear
Suite Française takes place in 1940, during WWII. Germany has invaded France and Nazi soldiers begin to move into the homes of the people who live there. Lucille Angellier (Michelle Williams) lives with her overbearing mother-in-law, Madame Angellier (Kristin Scott Thomas), while they wait for Lucille's husband to return from war. The pair must contend with German commander Bruno Von Falk (Matthias Schoenaerts), who's been assigned to their home. This movie opens today in select cities – click here to find out if it's playing near you.
Trailer: Suite Française
Which of these movies do you want to see?