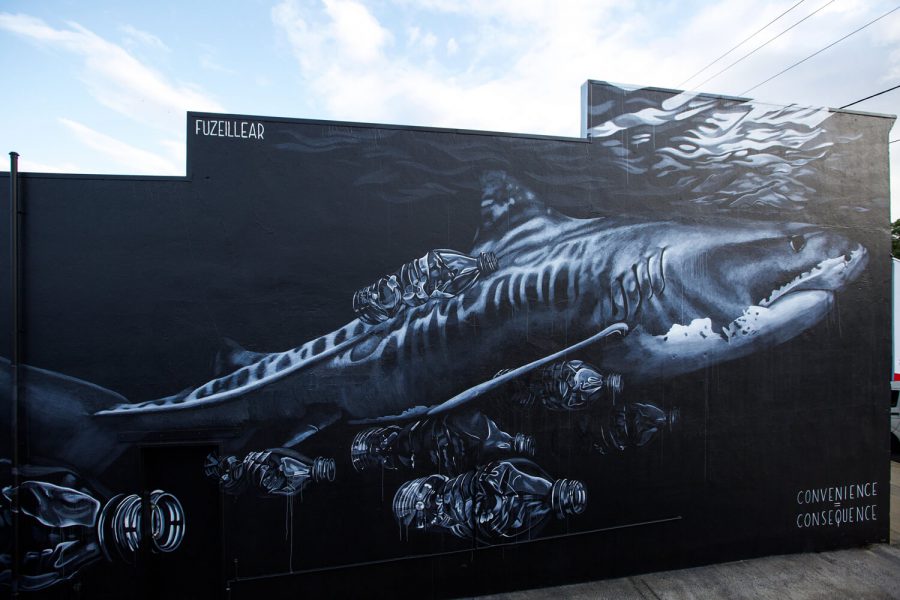 Ocean conservation foundation PangeaSeed has partnered with English artist Claire Matthews to create a mural in Australia as a tribute to late Sharkwater filmmaker, Rob Stewart.
The mural is titled "Convenience = Consequence" and is the latest tribute in the Dakuwaqa Project, which has pledged to paint five more murals around the globe in memory of the late filmmaker. This one was painted in Cairns, Australia, regarded as the gateway to the Great Barrier Reef.
The previous three murals are on display in Miami, Florida; Hawkes Bay, New Zealand and Rob's hometown of Toronto, Ontario.
The monochrome painting depicts a tiger shark attempting to swim among unrecycled plastic bottles that have littered its waters. The bottles stick to the shark's body, much in the same fashion as remora fish who attach themselves to sharks and use them for transportation as well as leftover food consumption.
In a statement, Matthews — also known as Fuzeillear — explained her mural is a commentary on single-use plastic and is meant to highlight the ways in which "our love for convenience has led to its infiltration in every part of our natural world."
"Using the mutually beneficial relationship that exists between sharks and remora fish, I highlighted how our pollution would result in the loss of species and have a detrimental effect on all life in the ocean," Matthews said.
At the beginning of the project, the artist arrived in Cairns and was introduced to Rob's award-winning documentary, Sharkwater, which she says opened her eyes to the neglect of the ocean's health and its creatures.
"I came to raise awareness of one issue, and during my time in Cairns, I was made aware of so many other important issues that also need our attention and care," Matthews said. "I came to educate and influence and was myself educated and influenced."
Rob went missing during a dive in January 2017 while working on a sequel to Sharkwater, titled Sharkwater: Extinction, aimed at exposing the illegal shark fin industry and the political corruption behind it. The film is set for theatrical release in October 2018. ~Caitlyn Clancey