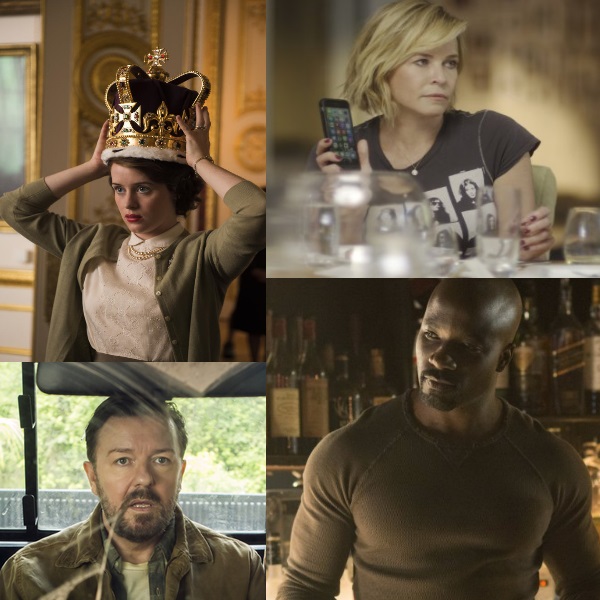 Binge watching might be a tad hard to resist as Netflix has promised twice the original content for the coming year – be it documentary series, feature films, TV series or stand-up comedy. The success of Marvel's Daredevil, Marvel's Jessica Jones and Making a Murderer proves that you might run over your monthly internet data this year. But hey, we ain't complaining. You gotta do what you gotta to make room for Marvel's Luke Cage and Brad Pitt's War Machine. So here's some of what's to flow on the streaming channel in 2016.
War Machine
Brad Pitt, Will Poulter, Topher Grace and Emory Cohen lead this military satire focusing on the American war with Afghanistan and the campaigns that surround it. It is based on Michael Hastings' novel The Operators: The Wild and Terrifying Inside Story of America's War in Afghanistan. Brad Pitt will play the role of Gen. Stanley A. McChrystal.
Marvel's Luke Cage
We first met the broodingly handsome ex-con bartender with unbreakable skin in Marvel's Jessica Jones and now the superhero will bring forth his story in a solo show on Netflix. Joining Mike Colter, who plays the title character in this superhero series, is Alfre Woodard, who plays a local politician Mariah Dillard, and Rosario Dawson as nurse Claire Temple. We can't wait to see what this show brings to the table. Word on the street is it will unravel a bit of the experiments that led to Luke's unbreakable skin.
Fuller House
The '90s classic show returns for a 13-episode run and picks up after DJ Tanner's husband dies. Aside from the missing Olsen twins, many of the original cast members will be reprising their roles and a bunch of other characters might make an appearance and bring back the good ol' days. Fuller House will be available on Netflix starting February 26.
Chelsea Does
Chelsea Handler uses this platform to explore four topics: marriage, racism, Silicon Valley and drugs.  From examining modern relationships to the consequences of internet shaming, Chelsea opens a conversation that will connect individuals and maybe even open more discussions on the subjects. Chelsea Does premiered on January 23.

Love
Judd Apatow's Love follows nice guy Gus (Paul Rust) and wild-child Mickey (Gillian Jacobs) as they navigate the  humiliations of intimacy, commitment, love and other things they were hoping to avoid. Sound familiar ? Be prepared for an honest take on modern relationships. All ten half-hour episodes will debut on February 19.
The Get Down
Baz Luhrmann's music-driven drama will mix disco, punk and hip-hop that will take you back to the late 1970s in New York. The lives and music of the South Bronx kids is a story yet to be told and we can't wait to watch this one either. Part-one premieres globally on Friday, August 12.
Stranger Things
This new drama series has already got us hooked. When a little boy vanishes, the police and his family do everything in their power to find him. Their discovery leads to mysteries including top secret experiments and supernatural forces at play. Even a mysterious little girl plays a hand. The drama stars Winona Ryder, David Harbour, Finn Wolfhard and Millie Brown. Stranger Things premieres globally Friday, July 15.
Pee-wee's Big Holiday 
This new, original Netflix film stars fun-loving hero Pee-wee Herman and follows his first ever holiday. The film stars Joe Manganiello, Jessica Pohly and Alia Shawkat. It premieres on Friday, March 18.
The Crown
The Crown tells the inside story of Queen Elizabeth II and her early reign uncovering political rivalries and romances behind some of the biggest events that revolve around the second half of the 20th Century. The 10-episode series will premiere later in 2016 and stars Claire Foy as Queen Elizabeth II, Matt Smith as Prince Phillip, John Lithgow as Sir Winston Churchill and Victoria Hamilton as the Queen Mother.
Flaked
Will Arnett headlines Flaked in this new comedy series.The story follows a self-appointed "guru" who falls for the object of his best friend's fascination. Sound interesting? Well, we can't wait for it either.
Special Correspondents
Special Correspondents is a new Netflix original feature film was written and directed by Ricky Gervais. Ricky stars in the film alongside Eric Bana. It follows the story of a struggling New York based radio journalist who has his job on the line due to his increased arrogance and elite lifestyle. In order to save his career he fakes front line war reports from…well, not the usual war site but in a room above a Spanish restaurant in Queens. This has already got us giggling.
Did this peak your interest? Did this tickle your fancy yet? Well, it's about time.
Here's to more content, more drama and more internet bills (just kidding!)
~ Marriska Fernandes