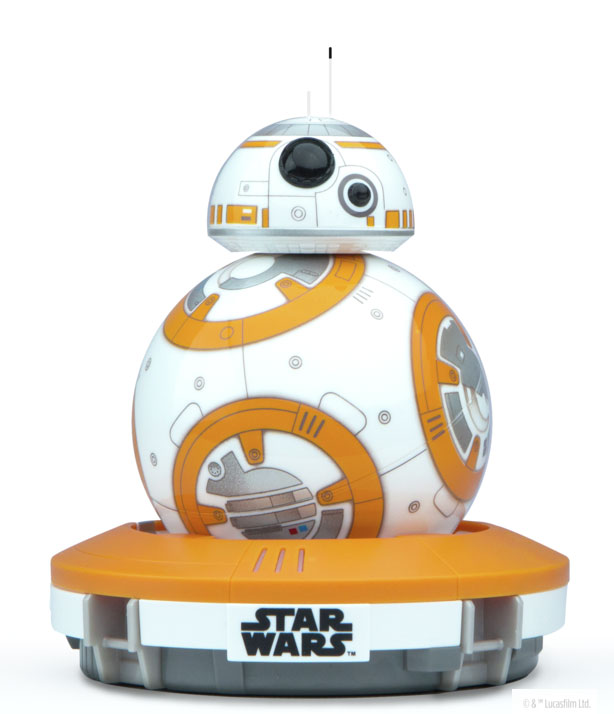 Star Wars: The Force Awakens is this year's most anticipated movie and the day that Star Wars fans have been anticipating prior to the release on December 18, 2015, is today – Force Friday!
This is the day that companies are revealing their merchandise for Star Wars' seventh installment and we feel the BB-8 from Sphero is the most exciting Star Wars toy so far.
We were invited to get an advance look at this unbelievably cool little app-enabled Droid. If you've been watching the trailers for the movie, you'll see it's based exactly on the new Droid you'll be seeing in the movie.
Sphero worked closely with Disney on the BB-8, and you'll be amazed at what it can do and how real it is.
BB-8 has an adaptive personality that changes as you play. Based on your interactions, BB-8 shows a range of expressions and even perks up when you give voice commands. You can set it to patrol and then watch your Droid explore autonomously.
You can guide BB-8 yourself through an app on your phone, and here's what we thought was the coolest feature – you can record a short message and then view it as a hologram, just like in the movies!
The BB-8 is more than a toy, it's so advanced that it feels like the Droid is your own little Star Wars companion. Kids and adults alike are going to love this little guy.
Check out the video below to see how lifelike the BB-8 is – you are definitely going to want one of your own! Click here for more about this cool new Droid from Sphero.