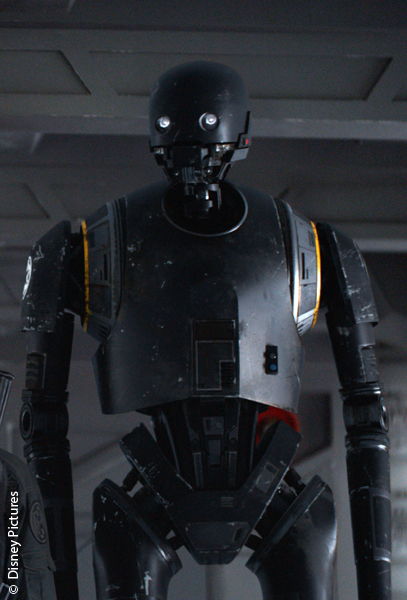 A life-size replica of new Droid K-2SO, one of the characters in Rogue One: A Star Wars Story, has been touring Canada in the weeks leading up to the film and next week he'll be on view in Toronto.
K-2SO is a former security droid for the Empire that has been reprogrammed and is now loyal to the Alliance. Rogue One director Gareth Edwards has described the towering, powerful security droid, who's voiced in the film by Alan Tudyk, as "the antithesis of C-3PO" and "…a little bit like Chewbacca's personality in a droid's body."
The replica was created by Prop Shop, a London, UK-based company that created the official props used in the production of the film. K-2SO was a popular draw at Vancouver's Fan Expo, where it made its first stop last weekend. He has also appeared in Calgary and Montreal. These Canadian stops are the only places in North America where this K-2SO replica can be seen.
Our Senior Editor Alexandra Heilbron spoke with Walt Disney Canada Vice President Greg Mason about K-2SO. If you'd like to get your picture taken with this exciting new and very tall droid, check him out at Vaughan Mills from Monday Dec. 5 to Friday Dec. 11, 2016.
Rogue One: A Star Wars Story stars Felicity Jones, Diego Luna, Ben Mendelsohn, Donnie Yen, Mads Mikkelsen, Alan Tudyk, Riz Ahmed, Forest Whitaker and Genevieve O'Reilly and debuts in theaters December 16, 2016.