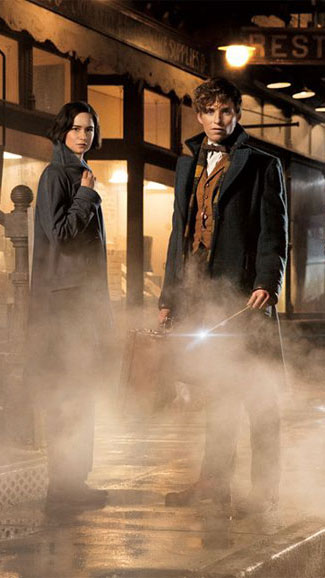 During the MTV Awards ceremony last night, three new trailers made their debuts and we're especially excited about the new teaser trailer for Fantastic Beasts and Where to Find Them, based on J.K. Rowling's 2001 novel.
Although it's not about Harry Potter, it's set in the same world of Wizards and Muggles, approximately 90 years earlier.
Newt Scamander (played by Eddie Redmayne) was a Hogwarts student until he was expelled for endangering human life with a beast. Albus Dumbledore argued against the severe punishment for Newt, who was one of his favorite students.
Later, Newt is seen arriving in New York. He's got a suitcase that's making noises and he flips a switch that reads "Muggle Worthy," which disappears again before the suitcase is passed to customs.
Once in New York, we're treated to Newt's fantastic, magical adventures as Muggles come to realize he's not one of them.
The movie also stars Colin Farrell, Ezra Miller, Ron Perlman, Katherine Waterston, Samantha Morton, Jon Voight, and Dan Fogler.
Audiences are going to be treated to a whole new era of the wizarding world when Fantastic Beasts and Where to Find Them hits theaters Nov. 18, 2016.