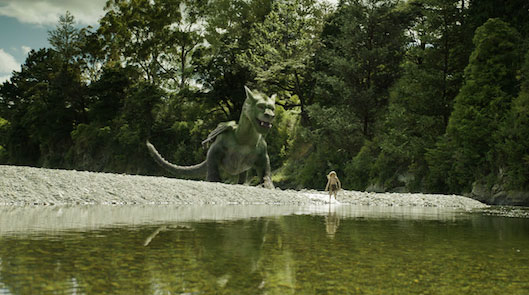 In the new official trailer for Disney's much anticipated reboot Pete's Dragon, we catch an exciting look at never-before-seen footage of Pete's giant, green dragon named Elliot.
Forest ranger Grace (Bryce Dallas Howard) discovers a 10-year-old orphan named Pete (Oakes Fegley), who has been living in the woods for years.
With the help of her father (Robert Redford), Grace takes the boy out of the woods and attempts to care for him.
With stunning visual effects, the audience witnesses several of Elliot's magical abilities, such as invisibility, flight and of course powerful fire-breathing!
Exemplifying the magical essence of friendship, love and support between Pete and Elliot, the trailer promises a great deal of action, adventure and suspense from the film.
Directed by David Lowery, Pete's Dragon is a reimagining of one of Disney's most cherished family films. It hits theaters August 12, 2016. ~Emily Hatfield