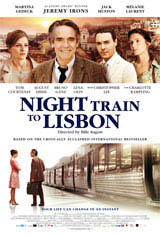 Jeremy Irons stars in Night Train to Lisbon, an intelligent thriller about an English professor, Raimund, who saves a woman from leaping off a bridge. He takes her with him to his classroom, but when she slips out of the class, leaving her coat behind, he grabs it and runs after her.
Raimund loses sight of her and checks her coat pockets, hoping for identification. Instead, he finds a book and inside, a train ticket to Lisbon. He goes to the train station, hoping she'll show up, but when she doesn't, and the train is departing, he suddenly decides to get on the train.
He reads the book, which is by Amadeu Prado (Jack Huston), a young doctor who's also quite a philosopher, and Raimund is completely fascinated by Amadeu's wisdom and escapades. Propelled out of his quiet life through this book, he goes on a search for Amadeu and finds the mystery that began with the woman on the bridge only deepens. Eager to know the whole truth, Raimund meets people who knew Amadeu and slowly begins to puzzle out what has happened.
The mystery keeps audiences on their toes and Jeremy Irons turns in a wonderful performance as a man who doesn't hesitate to put his life on hold as he searches for something more than the answer to this mystery – he's searching for meaning and passion in his up-to-now predictable life. Also getting home releases this week are: The Fifth Estate, Rush, Cloudy with a Chance of Meatballs 2, Jackass Presents: Bad Grandpa, Metallica Through the Never, Violet & Daisy and the TV mini-series Bonnie and Clyde.