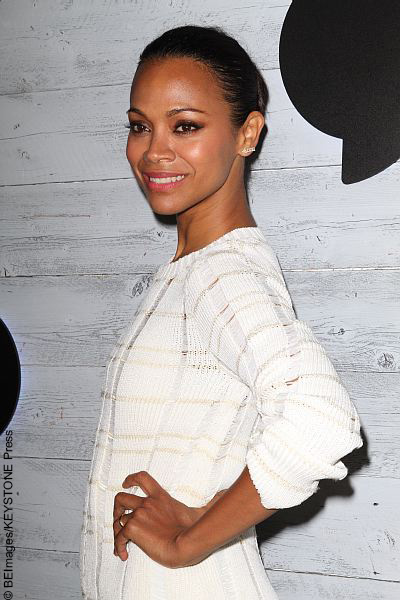 It's safe to say that many people are not happy with who's playing jazz legend Nina Simone in the newest biopic, Nina — including the late singer and songwriter's own estate. 
The film's star Zoe Saldana tweeted out a quote from Simone yesterday, presumably in response to the film's new trailer: "I'll tell you what freedom is to me- No fear… I mean really, no fear. #NinaSimone."
And Simone's estate fired back almost immediately with: "@zoesaldana Cool story but please take Nina's name out of your mouth. For the rest of your life."
The trailer for the film was released yesterday, and fans and critics alike were quick to notice Saldana's drastically altered appearance — specifically her darkened skin and widened nose.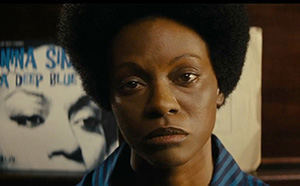 Since the movie's announcement back in 2010, fans have taken issue with the Guardians of the Galaxy star's casting, but it wasn't until they saw Saldana on screen that they really began to voice their opinions on social media. 
And, like that from Simone's estate, reactions have not been kind.  
Many are calling the use of a light-skinned, more "delicately featured' actress in the role of the dark-skinned singer as "colorism," comparing the use of makeup to darken her skin tone as a form of blackface.
One Twitter user wrote: "Zoe as Nina Simone is extremely offensive and a prime example of colorism. When I heard its finally being released, I cringed. (sic)."
Jazz and R&B artist Simone was well known for celebrating her African American features in songs like "Four Women," with lyrics like "My skin is black, my arms are long. My hair is woolly, my back is strong. Strong enough to take the pain, inflicted again and again."
Fans of Simone's are citing this exact reason as to why the Afro-Latin American Saldana is not right for the part, with one tweeting: "Nina Simone being darkskin is not a small detail. It was a huge part of her art & identity. Not casting appropriately is an affront to that."
Critics have already named actresses like Viola Davis and Uzo Aduba as better casting choices for the upcoming biopic, which will be released in theaters in the U.S. only on April 22. ~Shelby Morton