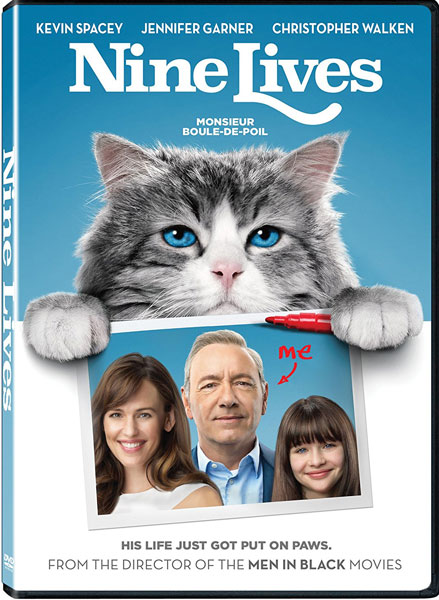 What could make for a more adorable movie than a man who gets stuck in the body of the cat he's just picked out as a birthday present for his little girl? Well, okay, maybe the plot of Nine Lives sounds a little cheesy. Kevin Spacey plays the lead, and in the trailer he appears to be a grumpy, much-too-busy dad. I also had the impression he was a divorced or unhappily-married father (especially when he throws down his cell phone in disgust when his wife calls his cell) who didn't really want to spend time with his daughter.
Watching the movie, I was surprised to find Tom Brand (Spacey) is much more likable than I'd expected. He's happily married to his daughter's mother (Jennifer Garner) and he's an extremely busy, accomplished man, but not an uncaring one. When he's transferred into a cat's body by cat store owner Felix Perkins (Christopher Walken), he's told he has one week to reconnect to his family or he'll stay a cat forever. Felix tells him it's not enough to say you love someone, you have to show it.
It's a smart premise, and we get a lot of funny cat hijinks as Tom the cat is at first desperate to escape his feline body and set things right in his world, including with Firebrand, his company, but then eventually starts to see what his wife, daughter and son are going through. He's always been too busy being amazing to appreciate them, so as he's stuck being a cat, he gets new appreciation of his loved ones.
There are some twists and turns along the way, and the normal frustrations you see in situational comedies as things keep going wrong, but in the end, this is a heartwarming story and an entertaining family movie. Malina Weissman, the young actress who plays the daughter, in addition to looking like a younger version of Jennifer Garner, is sweet without being cloying.
Jennifer Garner provides a strong presence as a woman who lives the good life in a Manhattan penthouse with her husband and daughter, while trying to keep her husband involved in family life without getting in the way of his position as the head of a large firm. Needless to say, her comedic timing is spot on.
Robbie Amell, who has a larger role than I expected, plays Tom's son, David, from his first marriage. He has a role in Firebrand and despite being underappreciated by Tom, he works diligently to improve the company.
The cat who plays the lead cat is absolutely adorable. Some special effects are used for his motion, but when he's just hanging out being a cat, he looks very snuggly and sweet.
Special features on the Blu-ray include The Making of Nine Lives, in which director Barry Sonenfeld talks about casting his lead actors. French costume designer Marylin Fitoussi discusses the challenges behind designing costumes for an American movie and reveals that Barry loves green, and so she clad the character of Felix in a green jacket, but he also wanted to have the lead characters wear blue, because he feels it's eye-catching. Production designer Michael Wyle agreed that Barry loves to have a lot of green in his movies and showed off the sets with an ample amount of green. Producer Jonathan Vanger and writers Ben Shiffrin and Daniel Antoniazzi chimed in as well, and it was clear that most of the cast and crew were working with Barry for the first time. I found that refreshing, because there are a number of directors who insist on working with the same people over and over and I find their films become repetitive.
The Russian for Herding Cats featurette is all about the cats hired for the movie. Because Barry is allergic to cats, the cat trainers looked all over for a specific cat. They wanted a blue-eyed, long-haired cat and finally found what they were looking for in Russia. The main cat, Gene, was the one who did the quieter takes, like sitting and looking at the camera or the actors, and cuddling. Jennifer Garner jokes that Gene was quite a diva and sometimes didn't feel like coming out of his trailer to do a scene. They had other similar looking cats who did the jumping and running scenes. Robbie Amell reveals that having just done a movie in which he worked with dogs, he was amazed at how equally trainable cats are. Christopher Walker, who's obviously a cat lover, says there are a lot of misconceptions about cats. The trainers reveal that they only had six weeks to train the cats, who did a myriad of tricks and in the featurette, we see cats doing things like jumping down from a counter and hitting a green mark on the floor, and one running and jumping on Mark Consuelos (the villain of the movie) as if he's attacking him.
Nine Lives is now available on DVD and Blu-ray. If you have seen the movie and would like to write your own review, click here.