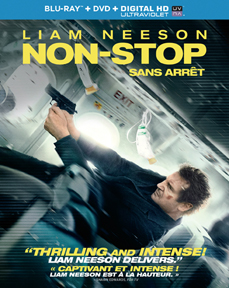 Non-Stop is an apt title for this movie because the action and tension are non-stop in this edge-of-your seat thriller. Liam Neeson plays Bill Marks, a United States Air Marshal with a drinking problem. The film opens with him sitting in his car and having a drink in the airport parking lot before he heads in to start his job. He's taking a transatlantic flight from Halifax to London and as he's having a smoke outside the airport, he watches happy couples saying goodbye. It's obvious this man has some sadness in his past. He's approached by a man who says he's going to Amsterdam, but oddly, he turns up on Bill's flight. There are a lot of odd things that occur, and some of them may mean something, and others may not. That's what keeps the audience guessing throughout.
Once in the plane, Bill gets a woman named Jen Summers (Julianne Moore) as a seatmate. She was actually supposed to be sitting in front of him, but because she's desperate for an aisle seat, she asks Zack, the man sitting next to Bill, if he wouldn't mind switching. After a glance from Bill that shows he doesn't think much of Zach (they've already had a minor run-in in the airport), the latter decides to be gracious and consents to the switch.
Soon, Bill starts getting strange messages on his cell phone on a private network to which only air marshals and other security personnel are supposed to have access. The texts warn Bill that unless $150 million is put into a secured bank account, someone on the plane will die every 20 minutes. Trained to take every threat seriously, Bill begins to scan the plane to see who is texting, but it seems almost every passenger has a cell phone out. Bill first suspects another air marshal, then he begins to wonder if it was really a coincidence that Jen wound up sitting next to him – or was that part of a conspiracy?
He calls the threat in, but finds out the bank account is registered in his name. Soon, he's become a suspect and when news of what's happening in the air winds up on television, the passengers fear Bill is a terrorist. Bill has to find out who's sending him the messages and why, save the passengers and hopefully, clear his name in the process.
Neeson plays his role perfectly. He portrays Bill as a sad man with an unhappy history, who is prone to drinking away his problems, but who takes his job seriously, even when everyone is accusing him of being a terrorist. Julianne Moore is a standout as Jen – she's plays her role effortlessly and watching her is an acting lesson in itself for anyone hoping to have a career in the performing arts.
The DVD includes one special extra – a behind-the-scenes featurette called Suspense at 40,000 Feet in which the director and actors talk about the plot and what it was like to play their roles in this tense thriller. They also discuss what it was like to film for almost two months in a cramped space like an airplane while wearing the same clothes the entire time. The Blu-ray includes a featurette called Non-Stop Action, in which director Jaume Collet-Serra, stunt co-ordinator Mark Vanselow, producer Joel Silver and Liam Neeson talk about the action sequences. ~Alexandra Heilbron
Other home releases available today include: Alan Partridge, The Animal Project, True Detective, Torment (Click here to read our interview with Torment star Katharine Isabelle) and Jack Ryan: Shadow Recruit.