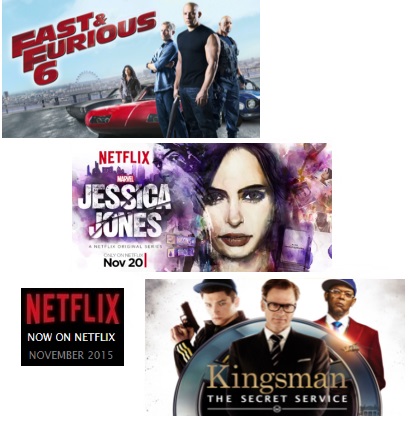 It's here! The naughty or nice November list of Netflix nuggets. From the highly anticipated Marvel's Jessica Jones and Fast & Furious 6 to Colin Firth's Kingsman: The Secret Service, there's something for everyone. So go on, get the cocoa (I ain't going anywhere), and let's talk movies.
Netflix Originals
Marvel's Jessica Jones (Nov. 20) is the latest TV series to come down the pipeline from the Marvel universe. If you binge-watched Marvel's Daredevil (guilty), then Jessica Jones is a must! W/ Bob & David  Season 1 (Nov. 13) is a new comedy which reunites Bob Odenkirk and David Cross. River Series 1 will also hit the streaming channel on November 18. The kids also have something to smile about as Care Bears & Cousins: Season 1 (Nov. 6) streams this month.
Supernatural 101
Things get spooky when Bruce Willis tries to help a little boy in The Sixth Sense (Nov. 1).  Or you can catch Mel Gibson is all his glory in Signs (Nov 1). Some of you might also like cozying up to Ryan Reynolds in R.I.P.D. (Nov. 1).
Cars, Scars and Veronica Mars
Vin Diesel, Paul Walker and The Rock bring all the action and adrenaline in the popular flick, Fast & Furious 6 (Nov. 1). Hollywood hunks Brad Pitt and Orlando Bloom battle it out in Troy (Nov. 1) while Colin Firth takes the lead in the spy film Kingsman: The Secret Service (Nov. 1). If you were a fan of the Veronica Mars series, you might want to watch the movie as well (Nov. 14). If that doesn't satisfy your fill, Grudge Match (Nov. 25) and American Heist (Nov. 21) are here to help.
Fallin' for Funny
Vince Vaughn and Dave Franco will keep you in company in Unfinished Business while Naomi Watts and Ben Stiller learn a thing or two about living young and wild in While We're Young (Nov. 5). The Big Bang Theory's very own Jim Parsons and pop sensation Rihanna join forces in the animated film Home. 
Around the World TV
White Collar Season 6 (yes, please) is now available for the mystery/drama lovers on November 6. For you teens, Worst Year of My Life, Again: Season 1 might just be your cup of tea…or pop? Still Game Season 1 to 3 are also available starting November 1. Want some more? Cristela: Season 1 (Nov. 16) is yours for the taking!
Police & Politics
The three dishes from this category calling for your attention are Last Days in Vietnam (Nov. 1), Oranges and Sunshine (Nov. 1) and Closer to the Moon (Nov. 14).
Last Call, folks!
As much as we love these movies, they all gotta go sometime. You have until November 1 to soak up these classics. "Had I been in love, I could not have been more wretchedly blind. But vanity, not love, has been my folly." Oh, Jane Austen. She had a way with words. This is your last shot to watch Pride & Prejudice again…and again. No one says, "That's the way the cookie crumbles" better than Jim Carrey in Bruce Almighty so catch him while you can. Leap Year is a modern day romance starring Amy Adams and Matthew Goode, that will satisfy your need for romance and comedy in one sitting. You'll feel the fireworks, I tell you. The popular TV series Gossip Girl is also going to bid us farewell (sniff!) on November 15. You may want to watch X-Men: First Class and Scarface one last time. Also, My Sister's Keeper will keep you and the Kleenex company for a while and if you haven't seen this tearjerker…I can't even.
Until next time, happy streaming!
~Marriska Fernandes