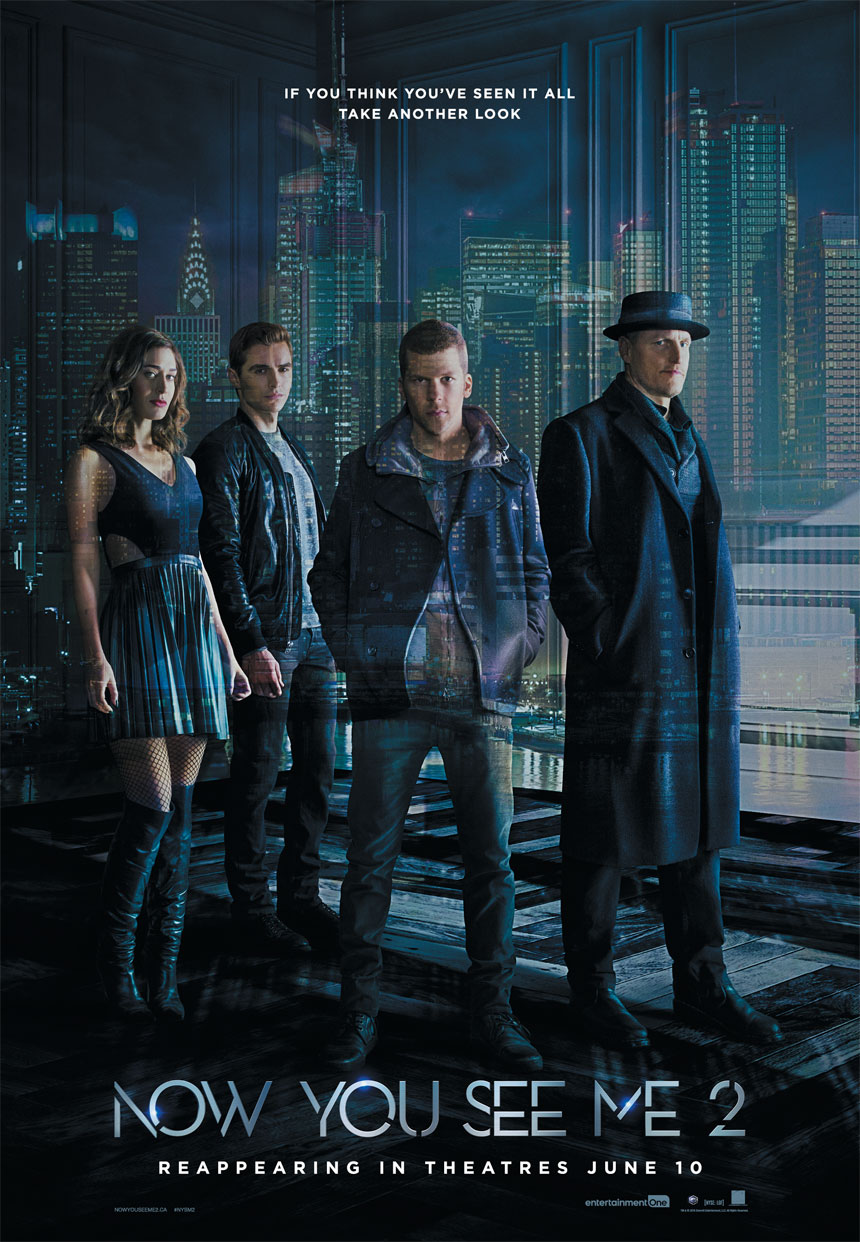 Jesse Eisenberg returns with twice the flamboyance and flair as he charms his way through Now You See Me 2, the sequel to the 2013 film, Now You See Me. Also returning for the magical ride are Mark Ruffalo, Dave Franco, Woody Harrelson and Morgan Freeman. Joining the cast is wizard-turned-non-magician Daniel Radcliffe and the hilarious Lizzy Caplan, who brings her wittiest foot forward.
Danny Atlas (Eisenberg), Jack Wilder (Franco) and Merritt McKinney (Harrelson) return as the Horsemen, who are currently in hiding after the events that took place in the previous film. They patiently wait for instructions from The Eye, a secret magician tribe who are keeping the Horsemen safe. Danny, however, is impatient and wants to go back in front of the audience and perform again. FBI agent Dylan Rhodes (Ruffalo) is gladly sending the cops on a wild goose chase. Did I say goose? I meant dove chase – literally.
When Dylan finally gets instructions for a new mission, he introduces the team to a new addition to the team — Lula (Caplan). Together, they are tasked with exposing a tech entrepreneur. But just as they are charming the audience, their plans go poof and well, they land in China. Want to know what gives? Easy. Magic.
Eisenberg provided the much-needed comic relief, and lending a hand in that department is Caplan, who had her own tricks up her sleeve. Her performance was probably the most surprising as she delivered well-timed one-liners that were nothing short of hilarious.
For his part, Ruffalo dove into his character's backstory (picking up from the last film). He and Morgan Freeman had quite a few scenes together and it's always a delight watching these actors build on their rapport.
This review might probably not be complete without a shout-out to Hogwart's favorite wizard — Daniel Radcliffe. Playing a bratty billionaire with daddy issues, he brought his A-game to the card table. I loved how he left his usual roles aside and nonchalantly slipped into the billionaire's very expensive shoes.
The film was sprinkled with laugh out loud moments and wicked dialogue that kept the film light and entertaining. The film lures us in with some interesting tricks that will keep you guessing for quite a while.
If you enjoyed the first film, you'll get a kick out of this one as well. Now, go disappear — and reappear in a theater to watch this movie! ~Marriska Fernandes
Once you've seen this movie yourself, we'd love for you to write your own review and give your rating by clicking here.