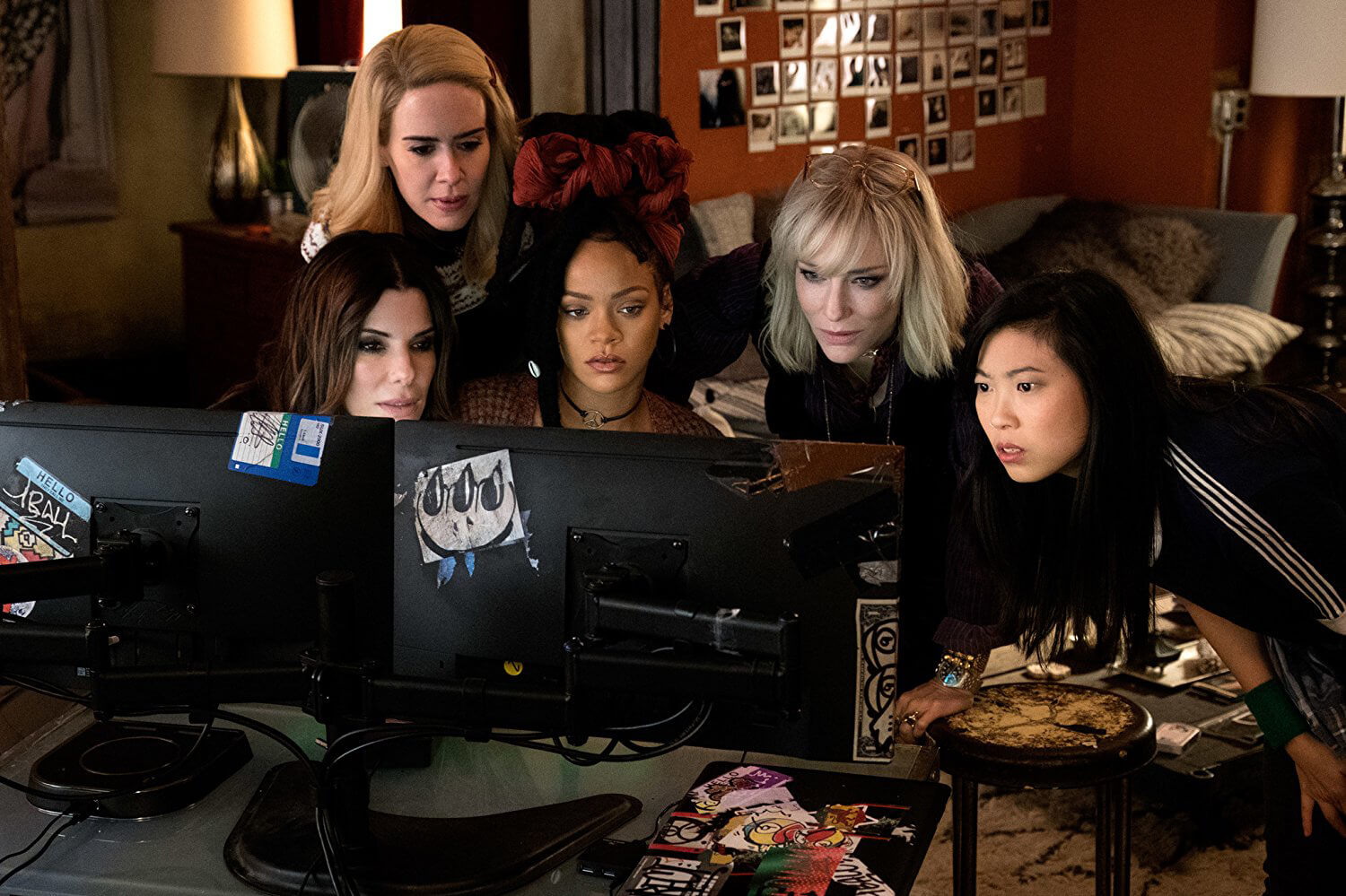 Sandra Bullock, in the title role of Debbie Ocean (Danny Ocean's sister), leads an all-star cast in Ocean's 8. Having served a little over five years in prison, a tearful Debbie is paroled, promising the parole board that all she wants to do is live a simple life.
As she's checking out and gathering her belongings, it quickly becomes clear that Debbie intends to do anything but live a simple life. To the audience's delight, she immediately begins pulling off small cons that wind up with her carrying a large number of shopping bags filled with luxury goods into her free 5-star hotel room.
Teaming up with her former partner-in-crime, Lou (Cate Blanchett), Debbie reveals her plans to steal a Cartier necklace valued at $150 million from the neck of a famous actress (Anne Hathaway) at no less than the high-security Met Ball.
What follows is a series of capers as the women gather talented team members and as they carry out their plot, they discover there are serious setbacks that could ruin their plan. Lou finds out that not only does Debbie want to steal a necklace, but she wants revenge on the man who put her behind bars, all accomplished by the heist.
The action is non-stop and the cast is outstanding, from beloved veteran actors such as Bullock and Blanchett, as well as Helena Bonham Carter and Sarah Paulson, to newcomers such as Awkwafina and Rihanna.
However, it's Anne Hathaway who steals the movie, with her multi-faceted portrayal of the egotistical diva Daphne Kluger. Daphne is so full of herself and such a temperamental person that we never know what she's going to do next. Hathaway plays this to the hilt, with so much range of expression that she commands attention as she fascinates with her unexpected behavior.
Overall, the film is a delight to watch — you won't want to miss a minute of what these ladies are up to as they work to pull off their extremely complicated caper and surprise us with a few twists and turns. ~Alexandra Heilbron
If you have seen Ocean's 8 and would like to rate/review it yourself, click here.