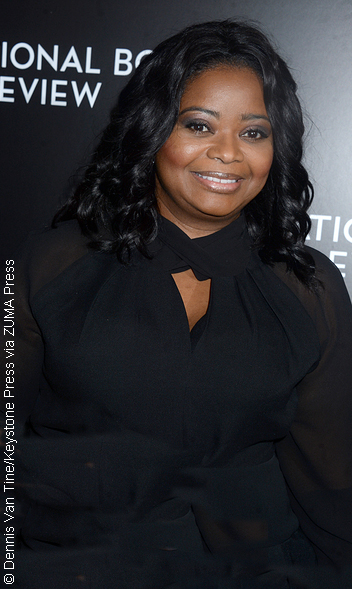 Not only is Octavia Spencer a talented actress (and she has the Oscar to prove it), she's also an incredibly generous human being.
The star bought out a movie theater in Baldwin Hills, California on Friday to treat low-income families to a free screening of her film Hidden Figures to celebrate Martin Luther King Jr. weekend.
"If you know a family in need that would like to see our movie but can't afford it have them come. It's first come first served," Octavia wrote on Instagram.
Octavia made this kind gesture in honor of her late mother, Dellsena Spencer, a single mom who worked as a maid and took on other various odd jobs to support her seven children.
"My mom would not have been able to afford to take me and my siblings," she continued. "So, I'm honoring her and all single parents this #mlkweekend Pass the word."
The actress' Hidden Figures co-star Taraji P. Henson did indeed pass on her friend's message, re-posting it to her own Instagram profile.
Taraji captioned the post, "This is how phenomenal this woman is @therealoctaviaspencer bought out the movie theatre for TONIGHT'S 8pm showing of #hiddenfigures at Rave cinemas Baldwin Hills in Los Angeles California for poverty stricken families who want to see this movie with their children on #MLK day. If you are in #LA & don't have the money to see the movie with your children go watch for free tonight! 1st come first serve so get there early."
Hidden Figures has done very well at the box office, landing at the top spot for the second week in a row this past Martin Luther King Jr. Day weekend. Along with Octavia and Taraji, the film also stars Janelle Monáe and follows three real-life African American NASA mathematicians who paved the way for America during the "Space Race" in the 1960s.
Octavia took to Instagram again yesterday (Jan. 15) to congratulate her co-star on the film's number-one weekend, writing, "Shout out and tip of my hat to my sis [Taraji]. … So, in the spirit of living the dream and advocating for my sisters, so proud of you sis. So glad to be your wing woman." ~Shelby Morton
What do you think about Octavia's commemoration? And why do you think her film has done so well at the box office? Sound off below!