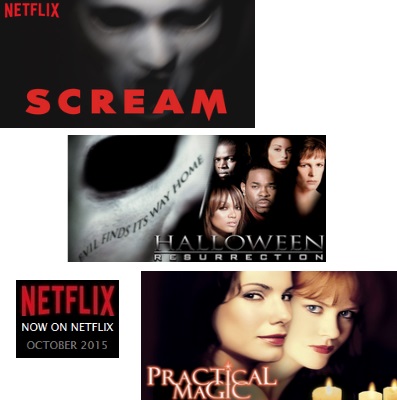 As the weather gets colder and the couch calls us closer, it's time to hit the Netflix scene. Whether you plan to scare your pals with a Halloween-friendly slasher flick or join Hannibal Lecter as he dishes out his best, there's something for everybody. Netflix Originals creep over with the new Scream TV show while James Wan's The Conjuring promises you a Halloween worth remembering. Here's your jaw-dropping trick-or-treat in advance. You're totally welcome.

Netflix Originals
Lock your doors and get ready! Fans of slasher flicks will enjoy the TV series Scream (Oct. 1) as new faces will relive the classic horror film that was a definite teen favorite. Another original series from Netflix, Hemlock Grove, will run a chill down your spine as season 3 promises a triple dose of you-know-what. This new season will stream starting October 23. Also: Beasts of No Nation (Oct 16.), Anjelah Johnson: Not Fancy (Oct. 2) and Winter on Fire (Oct. 9).
Calling All Kids
Kids can enjoy a few smile-promising and kid-friendly shows like The Peabody and Sherman Show (Oct. 9) Season 1, All Hail King Julien Season 2 (Oct. 16) and Popples Season 1 (Oct. 30).
Squeak-uels!
What better way to enjoy a day other than with the way-too-adorable Minions? Despicable Me 2 will keep you giggling starting October 25 and you might pick up Minionese! Poopaye! The Smurfs 2 (Oct. 1) and Cloudy with Chance of Meatballs 2 (Oct. 25) are also a few delightful options this October.
Hollywood Heart Racers
Tom Hanks gives you a run for your money as he saves the day in the thriller Captain Phillips (Oct. 21) which is Barkhad Abdi's debut film. Sandra Bullock takes the reins in Gravity (Oct. 11) while we look back at one of Heath Ledger's best performances as the Joker in The Dark Knight (Oct. 1).
Action Overload
Men and their guns take control in a few well-shot action flicks. Hollywood hunk Channing Tatum and Jamie Foxx save the day in the fast-paced White House Down (Oct. 1), Sean Penn takes the reins in The Gunman (Oct. 16) while Matt Damon comes to the rescue in Elysium. Liam Neeson also returns to reprise his role in Taken 3 (Oct. 1). Of course, we can't forget the bad-ass women! Alicia Vikander stuns in Ex Machina (Oct. 19) – a thriller for thrill-seeking movie manics.
Scream-Worthy Shrills for the Thrill
Some of my favorite Halloween classics are here for slicing and dicing. Halloween: Resurrection, The Conjuring and Seed of Chucky (um, yes please) are currently available to scare you! Eeps! Sandra Bullock and Nicole Kidman cast a spell as they chant away in Practical Magic (Oct. 1). If that doesn't satisfy your thrill, you have a problem. Just kidding! There are new thrillers to work your way through – Creep (now available) and The Nightmare (Oct. 1).
Happy nightmares, until next time!
~Marriska Fernandes