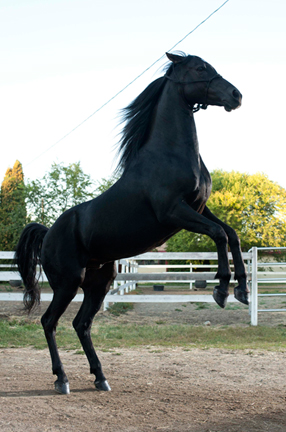 Walking up to the grounds of the ranch, the spectacular view of British Columbia's Okanagan Valley really does take your breath away — mountain peaks on the horizon, far-stretched fields, and bands of tall trees already bearing their autumn leaves. You can't see the horses but you can hear them whinnying somewhere in the distance.
A dirt path leads to the ranch's main house, a large but classic Victorian-style home surrounded by pots of colourful flower arrangements and a plush green lawn. Further down the path, winding around the back of the house, is an enclosed riding area where a young girl dressed in a sharp navy show jacket, beige breeches and black riding boots, is taking a stunning black horse through a series of short hurdles.
There's silence around her, except for the sound of the horse's hooves hitting the dirt. Everything she's worked for comes down to this moment, the regional championships. Another young rider watches from the sidelines and as the two girls cross paths, short words of praise are exchanged. Even from a distance, you can feel the budding tension between them.
The pair is in the middle of shooting a scene for the upcoming follow-up feature Flicka: Country Pride, directed by former soap star Michael Damian. Tribute had the opportunity to head out west to visit the set and talk to the cast about creating the next chapter of the Flicka franchise.
The film reintroduces country star Clint Black as Toby, a ranch foreman who moves from the quiet countryside to a town in Wyoming, bringing the black Mustang, Flicka, with him. While many of the local riders openly object to having a cowboy and his wild horse in hunter-jumper territory, the spirited steed finds an unusual companion in Kelly (Kacey Rohl), a young equestrian champion who vowed never to ride again after her father's unexpected death. But in spending time with Flicka, Kelly realizes that perhaps all she needed was the right partner to show her that she's not quite ready to give up on her dream.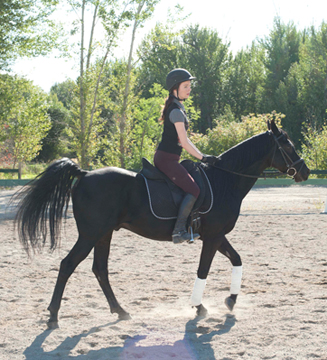 "It's a story of finding yourself again after a loss," said Rohl. "I think it's sort of a rebirth." The 20-year-old Vancouver native had just finished filming the championship scene with co-star Siobhan Williams and before heading off for the next shoot, she stopped to talk to Tribute about working on this film, which she feels might be her biggest role yet.
Despite having a few big titles under her belt, including a part alongside Amanda Seyfried in Red Riding Hood and a spot on the AMC series The Killing, playing the part of Kelly proved to be a challenging but rewarding project for Rohl.
"I probably went riding twice in my life, and western style, so this was like the hugest learning curve you can imagine," said Rohl, who had to attend an intense horse training boot camp weeks before shooting began. "We had like three lessons in and we were jumping. It was crazy, but exhilarating. I wanted to keep going and now I can't stop."
Rohl also had another barrier to cross in believably portraying the emotional depth of her character. "It's quite epic, as in the journey that she goes through. And it was also a challenge in terms of emotionality, to be able to go to those deeper places." But Rohl took the challenge head on and pulled it off, so well in fact, that even Clint Black felt like he had a thing or two to learn from her. "I'm watching her act and later on I thought, well that must be what it's like to sit up close and personal with Meryl Streep because it was that good," Black said of the young star. "It was so good that it just made me better, made me want to be better."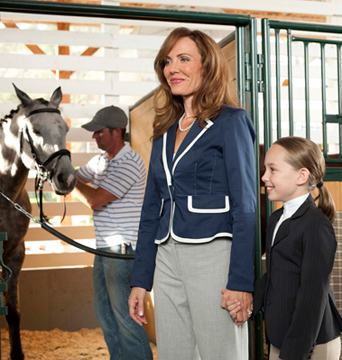 Black isn't a total newbie when it comes to acting though, with appearances in big name films like Maverick and Anger Management. But Flicka: Country Pride is his first lead role. Luckily, he had a director that welcomed, encouraged him even, to let some of his own quirky personality shine through in his character. "In [Flicka] 2, Michael said, 'Bring anything you have, any lines.' There were several instances where he said, 'We need something here. What would Toby say? We need something funny.' And through the rehearsals I would come upon something to use that he really loved and we've injected some of that here as well," said Black. This helped the cowboy get a little more comfortable in Toby's boots. He certainly looked the part when we met with him on set, dressed in faded jeans, a wide-brimmed cream cowboy hat and matching brown western boots. "What I love the most about Toby is that he's a cowboy and I'm a cowboy at heart. I would've loved to be a ranch foreman in another life."
Fortunately for us, Black ventured into making music instead, which has worked to his advantage as an actor too. The award-winning artist often finds himself using his songwriting skills to explore the feelings and emotions of his on-screen persona, which helps him bring a sense of authenticity to his characters. "To write a song, I'll have an idea and I have to tear it up and explore it and really dig deep and find all of the profundity and truth. And find a way to feel what I'm writing about," said Black. "Acting is performing, in a different way."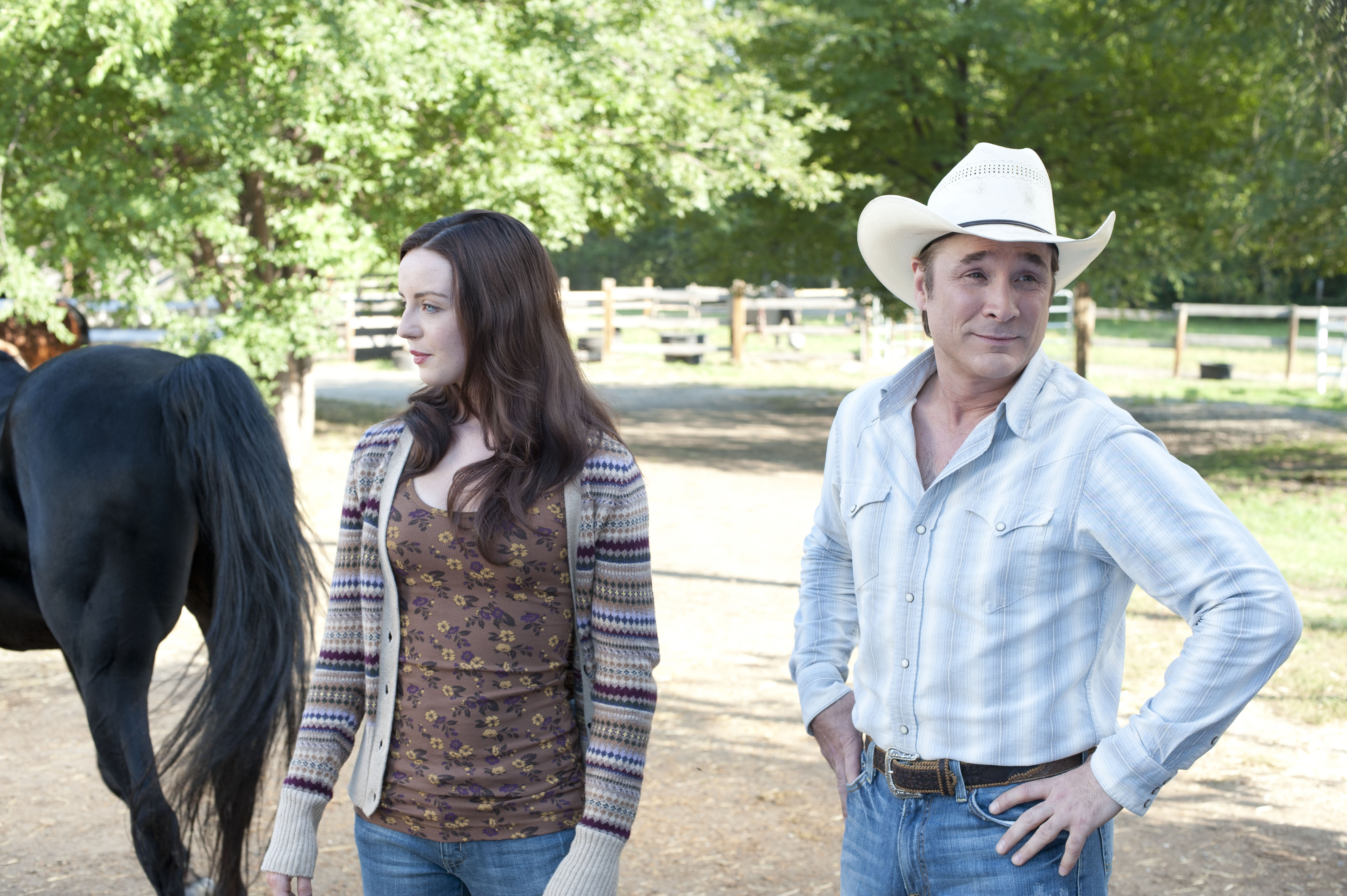 Black also gets a little extra support on set from his leading lady, Lisa Hartman Black, who not only plays Kelly's mother in the film but also his wife of 20 years off screen. Their 10-year-old daughter, Lily, also has a small role in the film. "It's just a matter of usually being away from my family when I'm working and now I have them here," Black said. When asked about his daughter, his face projected the smile of any proud parent. "She's been trying to entertain from a very early age and we knew she could do it. But it's more fun to see her do it."
It wasn't quite as much fun for Hartman Black at first, who realized early on that it wouldn't be easy juggling the part of an actor, a wife, and a mom. "I was very afraid to come and do this. I had some anxiety and I had concerns about balancing it all," she says. It seems though, that the ideas of willpower and inner strength that drive the Flicka stories carried through behind the camera as well with the Black family, or what Mrs. Black proudly calls, The Flicka Three. After seeing how well their daughter took to being in front of the camera, both Clint and Lisa realized that they had nothing to worry about. "It's been interesting in a lot of ways being here," said Hartman Black as we chatted on the porch steps of the main house. "It's a beautiful place to film, a beautiful environment. Just the script is terrific and then bringing the family in and doing all of that. I'm really proud of everyone that's been involved with the movie."
Catch the magic of Flicka: Country Pride when the DVD releases May 1, 2012. ~ Soriyya Bawa