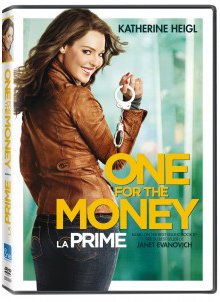 One for the Money, based on Janet Evanovich's bestselling book, is a comedy/action hybrid. The movie starts off with Stephanie Plum (Katherine Heigl) losing her job selling lingerie at Macy's. She is unemployed, broke and needs a job quickly. Her grandmother recommends that she work in her scumbag cousin's bail bond office. Reluctantly she agrees and begins to work, making ten per cent for each bond. When an assignment worth $50,000 comes through the office, Stephanie begs for it. The assignment is to catch officer Joe Morelli (Jason O'Mara), who's wanted for murdering a man. Luckily Stephanie knows him and holds a grudge. Morelli took Plum's virginity in high school and never bothered to call her afterwards. She would do anything to humiliate him, to even the score.
From there on the storyline becomes predictable and unlike the book, it lacks suspense. It's clear Stephanie has the hots for Morelli and will likely end up with him. However, similar to The Bounty Hunter starring Jennifer Aniston and Gerard Butler, it's nevertheless amusing. Even though the plot is established before the movie hits any action-filled parts, you still keep your eyes glued to the screen for the humor. Just like the book, there are many comedic moments. Whether it's Heigl handcuffed to her shower rod naked, or an enraged O'Mara locked in a meat truck with a few dead bodies, the movie will surely have you cracking a smile, if not laughing out loud. Special features include the featurettes "Making the Money: Behind-the-Scenes" and "Bond Girls: Kicking Ass in the Bail Bonds Industry" as well as a gag reel, deleted scenes and the theatrical trailer. ~Krystin Edgerton
One for the Money goes on sale on DVD and Blu-ray Tuesday, May 15, 2012. Other new releases this week include: Chronicle, Miss Bala, Rampart, Fear of Water, Hard Core Logo 2 and The Devil Inside.