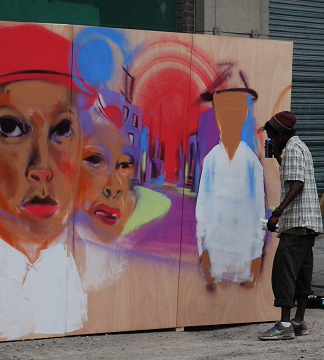 Last week at the Amsterdam Brewery, the Open Roof Festival continued its summer-long, Thursday night event program. On the docket for the evening: a screening of Angad Singh Bhalla's Herman's House, as well as a live graffiti showcase alongside the debut teaser trailer for director Jake Chirico's upcoming street-art documentary, Between the Lines. Opening the night was the very talented Stacey Bulmer, who entertained the crowd with her live band.
We caught up with the co-producer of Between the Lines, James Gen Meers, to talk about the film. With street artists Jabari "Elicser" Elliot and Pascal "Chou" Paquette painting huge murals behind him and the first unveiling of the film's teaser mere hours away, his grin was infectious. "I'm really, really excited," he says. "Open Roof has been super generous in their support of the film and allowing us to engage with film lovers, and Torontonians, and urbanites, and all that – it's just our target audience. The theme that we're looking at – with graffiti, street art and public spaces – I think really resonates with this audience, so to have the chance to sort of throw them a little something is really fun."
Elicser and Chou, both of whom have had their work featured in the AGO (with the latter having co-curated an exhibition there earlier this year), work tirelessly in the background to create the murals which are to be silent-auctioned off to help fund the film. "Right now we're partnered with Hot Docs for the DocIgnite campaign," Meers continues. "So part of tonight is just telling people that we have six days left – so if anybody wants to support, please do. [laughs]"
The program also includes an incentive-based fundraiser, where the filmmakers will be offering up rewards for your donations. "We're going to be having a big concert at the Mod Club," says Meers, referring to a show for which $40 supporters will receive a ticket. "The Virgin Mobile Mod Club generously offered their entire venue to host a huge concert for us. We're hoping to get a serious, cool, wicked band." Also on the list of rewards are shirts designed by the street artists themselves. "They're kind of limited-edition art pieces/t-shirts, and that's probably something that we'll continue on after the campaign is done to continue raising funds."
In addition to the full-length documentary, their project also includes a series of webisodes, co-directed by Kelli Kieley. "One thing that actually helped us get content out there – because it's sort of a time issue, this whole debate about public space and the war on graffiti – is that the Torontoist magazine reached out to us and said, 'guys, can you do something with us?'" Meers explains.  "So we put together a web series, a webisode series, and we have three out so far. We're essentially profiling in a five-minute piece certain street art and graffiti artists in Toronto, so that's something that's ongoing."
Later, we also had a chance to sit down with Chirico to talk about his film. Though the director has already shot a ton of material – at one point during the proceedings, he pulled out his camera to snag a little footage right then and there – he says they'll need to do a lot more before the feature-length version will be ready. "We're already in production," says Chirico. "We've shot a lot. Everything for the webisodes we can use, but I want to step up the production value and do a different style for the longer doc, make it a bit nicer, a lot more refined." He also mentions the importance of investing the time to network their way up the artistic ladder of street artists. "It helps us get some credibility," he says, describing their networking plans. "I really want to get some people who are integral to the scene to talk with us and work with us, to have that level of credibility in the film. As long as we can get enough people to make the emotional impact, and we have a big list of people we want to get – from business owners who have been affected, to members of city council, the policy makers and people all across the city that can build the story. Everybody has something interesting about them to follow."
Once the doors had opened and Stacy Bulmer and her band had finished their set, the audience filed into their seats and waited patiently for the lights to drop. When Meers and Chirico finally took the stage – followed later by Herman's House producer Lisa Valencia-Svensson and editor Ricardo Acosta – the filmmakers were immensely grateful and noticeably excited. They introduced their work, thanked everybody who needed to be thanked and retreated off the stage, eager to let the project speak for itself.
Check out the gallery below for photos from the event.
~Photos and story by Devin Garabedian