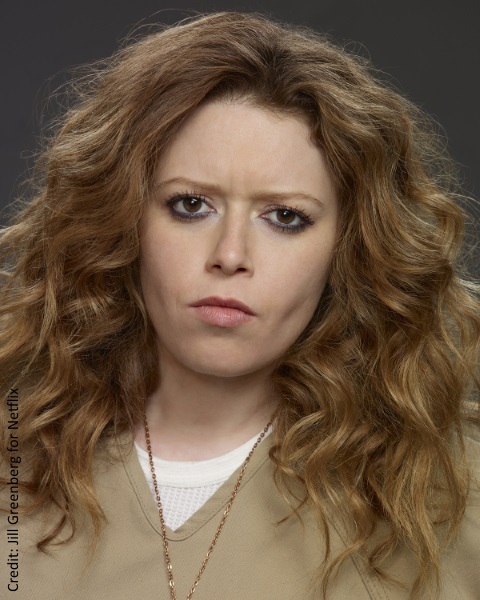 The Litchfield ladies have made headlines with their fiery performances on the hit Netflix show Orange is the New Black. Season 3 debuted on Netflix last month and we couldn't be more happy to binge-watch the entire series. Recently, we caught up with Natasha Lyonne who plays the sassy Nicky Nichols. She dishes on how her own brush with the law helped her get into her character's orange jumpsuit and she also reveals how she'd like Nicky's storyline to play out if she had any say in it.
You and Nicky have a few things in common – including run-ins with the law. Has that influenced the way you portray Nicky?
I think that actually helped me a great deal.  Certainly, at the time of my arrest I didn't think it was going to come in handy and I thought it was a real career ender, in fact, a life ender. But I think it helped me to have a certain levity with Nicky otherwise I would get very bowed down with the heaviness of it. Only because I have my own experience, it lets me know that despite having experienced very heavy and intense times in my life that were very dark,  my basic spirit has remain unchanged.
Nicky has some great relationships with several characters, from Big Boo to Red and Morello. Which was your personal favorite?
It's a tricky one. I would say they're all very special relationships. I do think that the dynamic with Kate Mulgrew is really what grounded me the most early on. I think everything grew from that. It makes sense that Red is her de facto mother figure, which is kind of her primary relationship. It's like playing a tough guy, when in fact, as we feel with Red, she is pretty broken and emotionally vulnerable. On a side note, on a personal level, Kate Mulgrew is a wild woman and a phenomenon; I just adore working with her.  Certain actors have this ability to "suck the air out of the room," where all of a sudden you're in an alternate reality where you really become these people. That's why I think actors love working with other actors because it elevates you. I really enjoy working with her. She's real and I just love her.
Following in the footsteps of Johnny Cash, which artist you would like to see perform in front of the inmates at Litchfield?
I would enjoy seeing Lil' Kim perform in prison. Especially if you came in a specific '90s outfits involving pasties, I think we can have a really good time with that. I can just picture it with Big Boo, me and Taystee, having a grand old time with that. You know, I'd say maybe a very specifically outfitted Lil' Kim. I think everybody would enjoy themselves in that performance.
Natasha, if you could decide a storyline for Nicky, what would you have her do?
You know, the good news is I can't, which is for the best. I tend to feel that what the writers come up with always exceeds my limited imagination of these characters. So I really feel that's the great joy of having such an incredible creator and great writers that are really visionary, the way they think of things. But just in general, I'm curious about the way prison will end up affecting Nicky. I think on a personal level I have a real understanding of where Nicky is at now. I'm curious to see almost like a flash forward of her in 20 years, to see if she turns out okay. I think it would make me sleep better at night knowing that she was all right. I'm just curious to see how she's going to make a living on the outside.
Do you have a vision or expectation in your head of how Nicky would deal with maximum security?
Yeah, you know, I do think about that. I think in general, that this is not a maximum security facility, it's like antics that are somewhat realistic but of course, that all goes out the window, I'm guessing, in a maximum security facility. Personally, I've only been in a holding cell, and I remember I got pretty close, they were giving me my uniform and then I got the call that I was released. It was a very scary moment and Taylor played it very well in that first episode. It's terrifying recognizing your freedom is being taken away. Maximum becomes a whole other thing. I don't think that the one-liners and undercutting people with your charisma and IQ would really fly and I think that, in fact, would get the shit beat out of you. It's actually pretty terrifying to picture Nicky in max. I mean she's certainly not physically tough enough to stand on her own ground. Probably the smartest move for her would be to be like Tim Robbins and Morgan Freeman in Shawshank Redemption and get involved in a library or accounting. I mean I don't imagine that she would fare well mouthing off to people in maximum security prison.
Thanks so much for chatting with us, Natasha.
Thanks!
~Marriska Fernandes