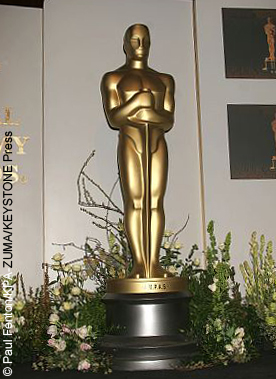 The nominees for the 2015 Academy Awards were announced this morning in all 24 categories. Birdman and  The Grand Budapest Hotel led the way with nine nominations each. Angelina Jolie, who was not nominated in the directing category for her movie Unbroken at the Golden Globes, was snubbed again by the Oscars, although her movie received several nominations. Jennifer Aniston, who appeared to be a shoo-in for her incredible transformation in Cake after getting a Globe nod, was also overlooked.
As expected, Richard Linklater, who won the Golden Globe for his groundbreaking film Boyhood was nominated, as was his film for Best Picture. In total the movie received six nominations. Golden Globe winners Julianne Moore, Michael Keaton and Eddie Redmayne were nominated in the Best Actress/Actor categories, while Supporting Actor/Actress winners at the Golden Globes – J.K. Simmons and Patricia Arquette – also received nods.
Surprises came in the form of American Sniper, which was completely absent from the Globes. It received a Best Picture nomination, with Bradley Cooper nominated in the Best Actor category. It also was nominated for Best Adapted Screenplay and several other awards.
The LEGO Movie, which received a Golden Globe nod, was left off the list for the Oscars, replaced by two lesser known animated features.
The Academy Awards ceremony will take place at the Dolby Theatre in Hollywood on February 22, 2015 and will be hosted by Neil Patrick Harris.
Full List of Nominees:
Best Picture
Boyhood
The Imitation Game
Selma
The Theory of Everything
Birdman
The Grand Budapest Hotel
Whiplash
American Sniper
Best Actor
Eddie Redmayne (The Theory of Everything)
Steve Carell (Foxcatcher)
Bradley Cooper (American Sniper)
Benedict Cumberbatch (The Imitation Game)
Michael Keaton (Birdman)
Best Actress
Julianne Moore (Still Alice)
Rosamund Pike (Gone Girl)
Reese Witherspoon (Wild)
Marion Cotillard (Two Days, One Night)
Felicity Jones (The Theory of Everything)
Best Supporting Actor
Ethan Hawke (Boyhood)
Robert Duvall (The Judge)
J.K. Simmons (Whiplash)
Mark Ruffalo (Foxcatcher)
Edward Norton (Birdman)
Best Supporting Actress
Patricia Arquette (Boyhood)
Meryl Streep (Into the Woods)
Emma Stone (Birdman)
Keira Knightley (The Imitation Game)
Laura Dern (Wild)
Directing
Richard Linklater (Boyhood)
Bennett Miller (Foxcatcher)
Wes Anderson (The Grand Budapest Hotel)
Alejandro González Iñárritu (Birdman)
Morten Tyldum (The Imitation Game)
Cinematography
Birdman
The Grand Budapest Hotel
Ida
Mr. Turner
Unbroken
Costume Design
The Grand Budapest Hotel
Inherent Vice
Into the Woods
Maleficent
Mr. Turner
Makeup and Hairstyling
Foxcatcher
The Grand Budapest Hotel
Guardians of the Galaxy
Foreign Language Film
Ida
Timbuktu
Wild Tales
Tangerines
Leviathan
Original Score
The Imitation Game
The Grand Budapest Hotel
Mr. Turner
The Theory of Everything
Interstellar
Adapted Screenplay
Jason Hall (American Sniper)
Paul Thomas Anderson (Inherent Vice)
Damien Chazelle (Whiplash)
Anthony McCarten (The Theory of Everything)
Graham Moore (The Imitation Game)
Original Screenplay
Richard Linklater (Boyhood)
Alejandro G. Iñárritu, Nicolás Giacobone, Alexander Dinelaris, Armando Bo (Birdman)
E. Max Frye, Dean Futterman (Foxcatcher)
Wes Anderson (The Grand Budapest Hotel)
Dan Gilroy (Nightcrawler)
Animated Feature Film
How to Train Your Dragon 2
Big Hero 6
The Boxtrolls
Song of the Sea
The Tale of the Princess Kaguya
Documentary Feature
CitizenFour
Finding Vivian Meier
Last Days in Vietnam
The Salt of the Earth
Virunga
Documentary Short Subject
Crisis Hotline: Veterans Press 1
Joanna
Our Curse
The Reaper (La Parka)
White Earth
Film Editing
American Sniper
Boyhood
The Grand Budapest Hotel
The Imitation Game
Whiplash

Original Song
Grateful (Beyond the Lights)
Everything Is Awesome (The LEGO Movie)
Selma (Glory)
Lost Stars (Begin Again)
I'm Not Gonna Miss You (Glenn Campbell…I'll Be Me)
Production Design
The Grand Budapest Hotel
Imitation Game
Interstellar
Into the Woods
Mr. Turner
Animated Short Film
The Bigger Picture
The Dam Keeper
Feast
Me and My Moulton
A Single Life
Live Action Short Film
Aya
Boogaloo and Graham
Butter Lamp
Parvaneh
The Phone Call
Sound Editing
American Sniper
Birdman
The Hobbit: The Battle of the Five Armies
Interstellar
Unbroken
Sound Mixing
American Sniper
Birdman
Interstellar
Unbroken
Whiplash
Visual Effects
Captain America
Dawn of the Planet of the Apes
Guardians of the Galaxy
Interstellar
X-Men: Days of Future Past