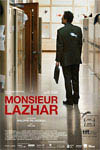 Monsieur Lazhar is the story of a group of school children whose teacher hangs herself in the classroom, and the man who tries to help them cope with their loss.
One of her students, Simon, is the first to see her in the morning; then his classmate, Alice, takes a peek before teachers pull her away. Both are traumatized by what they saw, but in different ways. The school finds it difficult to get a replacement, that is, until Monsieur Lazhar (Mohamed Fellag) shows up, asking the principal for the job. She's reluctant, but also desperate.
Monsieur Lazhar has experienced loss back home in Algiers, and can relate to what the children are going through. He has a problem of his own to deal with—he's asked for refugee status and if he doesn't get it, he'll be shipped home where he will be tortured and likely killed.
Fellag as Lazhar is wonderful with the children—always willing to listen to what they have to say about the death, even though the principal frowns on it. She believes it should stay in the past, that it's not something to be discussed.
Lazhar also has to deal with parents who tell him it's not his job to raise their children. And he learns that the previous teacher was given a warning after hugging one of the children—teachers are not to touch students in any way. A male colleague who thinks the rule is ridiculous, says it's like children are nuclear waste—don't touch them, or you may get hurt.
Two of the child actors stand out. Sophie Nelisse, who won a Genie Award for playing Alice, gives a strong performance as a child who feels anger towards her former teacher, and towards another student, Simon, whom she blames for the death. Played by Emilien Néron, Simon is a complex child who acts like the class clown, but is carrying a huge burden. The scene in which he talks about his indirect involvement in the suicide is a powerful moment.
The movie won six Genie Awards in total, including Best Motion Picture. Director Philippe Falardeau won two Genies—one for screenwriting and one for direction, while Mohamed Fellag, who's known for his stand-up comedy but did an incredibly moving job in this drama, won for Best Lead Actor.
The film was also nominated for Best Foreign Language Film at the 2012 Academy Awards. If you enjoy movies with meaning and depth, you won't want to miss this one. The DVD is in French but provides English subtitles as well as a behind-the-scenes look at the film.
Also opening on DVD this week are: The Flowers of War starring Christian Bale, The Raid: Redemption, Warriors of the Rainbow: Seediq Bale, Community: The Complete Third Season, Creature, Dalziel & Pascoe: Season Six, Glee: The Complete Third Season and A Monster in Paris, starring Johnny Depp's ex, Vanessa Paradis.