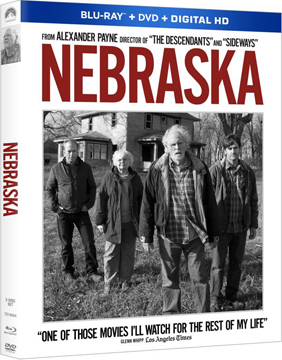 Bruce Dern stars in Nebraska in the role of Woody Grant, a senior who's experiencing cognitive dysfunction. When he gets a sweepstakes letter telling him he "may have" won a million dollars and offering him the opportunity to buy magazine subscriptions, he believes he actually has won a million dollars. Because he's no longer allowed to drive, he starts walking to Lincoln, Nebraska, where the sweepstakes headquarters is located.
The police keep picking Woody up from the side of the road and returning him to the care of his son, David (Will Forte), who tries to reason with his father, but Woody refuses to believe it's a scam. Realizing his father will never give up, David calls in sick to his job as a sales clerk and takes his dad on a road trip to Nebraska.
Along the way, Woody, who's a longtime alcoholic, manages to hurt himself and winds up in the hospital, so by the time they get back on the road it's too late to get to the sweepstakes headquarters before the weekend. David decides to take Woody on a detour to his hometown, which happens to be on the way. There, David learns things he never knew about his dad and begins to understand him better.
The movie, which is a Best Picture nominee at this year's Academy Awards, is full of eccentric characters who provide laugh-out-loud moments. Underneath it all is a heartwarming story about a man who lived his life the best way he knew how and now just wants some comfort in his last years. Dern turns in a brilliant performance as the lovable, irascible, and sometimes absent Woody. He may not have been the best husband or father, but he lived his life in a matter-of-fact way, accepting his responsibilities, drinking too much but feeling he'd earned the right to do so.
Dern is nominated for a Best Actor Oscar for his performance, and although he deserves to win, he's up against a lot of other great performances this year. June Squibb as his wife also turns in an Academy Award-nominated performance. She seems to have come out of nowhere, having spent much of her career on stage and in minor roles on screen, but she's a hoot as Woody's long-suffering and insufferable wife of many years.
Nebraska is highly entertaining, heartwarming and funny. Special features on the Blu-ray include a featurette called The Making of Nebraska. ~Alexandra Heilbron